Mel, our oldest loves birds.  She has a bird guide that helps her identify certain types of birds.  For Christmas one of the items on her list was a bird house.  Our state bird is the cardinal plus, our elementary school's mascot is a cardinal and I have a love for handprints, so these red cardinal handprints  seemed like a win-win;)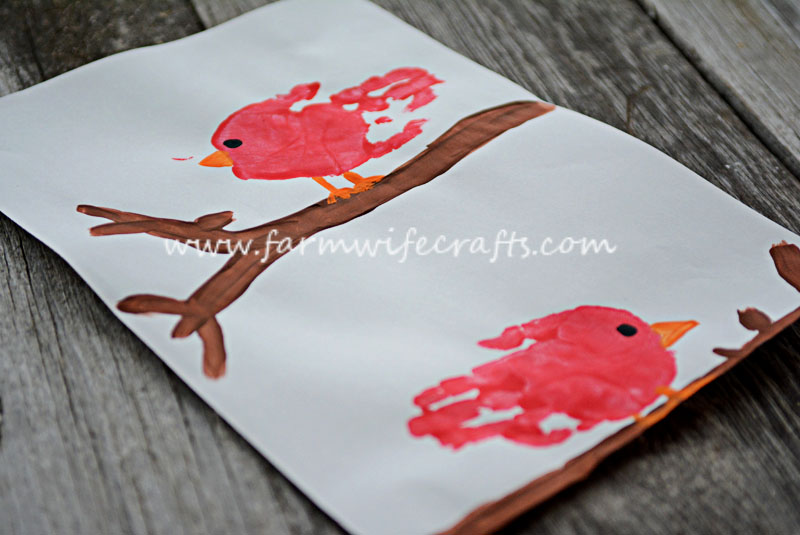 Red Cardinal Handprint Craft
This craft required us to do it in two steps, since we had to let the handprints dry.  Luckily, we had a two hour delay from school one morning because of the cold and since my kids always wake up super early on those days (seriously, on the days they can actually sleep in, they are up way before the crack of dawn, then when they have to be somewhere you can shake them!) we decided to do step one of this craft.
For this craft you will need: white paper (you can also use blue to match the color of the sky) red, orange, brown, and black paint, and paint brushes.
Begin by painting each hand with red paint.  You could also dip the hands directly in to the paint, but painting them seemed less messy to me.  This step always ensues a lot of laughter because it tickles.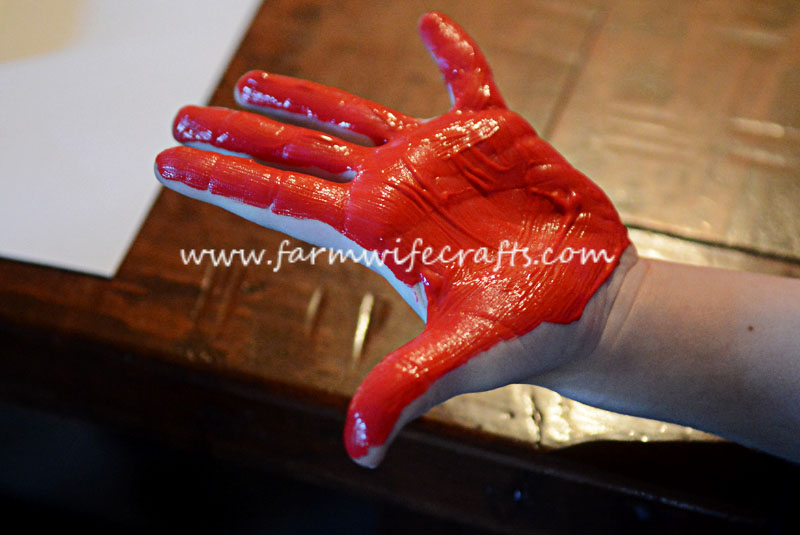 Next, stamp each hand onto the paper, so they face opposite directions.  The thumb will be the crest of the head.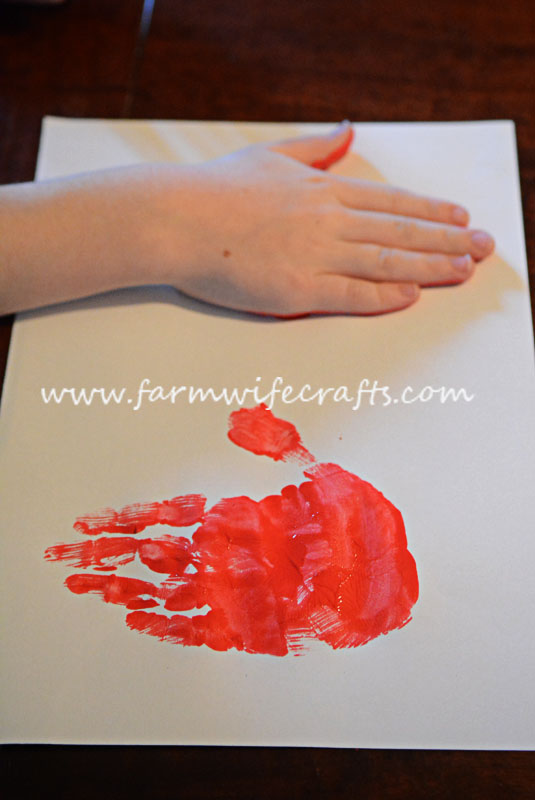 Allow the handprints to dry, then add some tree branches and allow them to dry.  Finally add the beak, eyes, legs and feet and your cardinals are complete!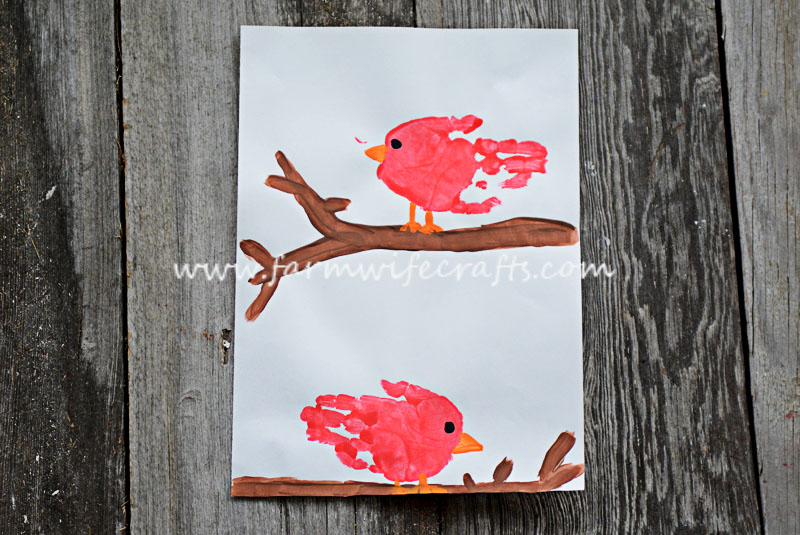 How cute are these?  I love how something as simple as a handprint, turned into a pretty red cardinal!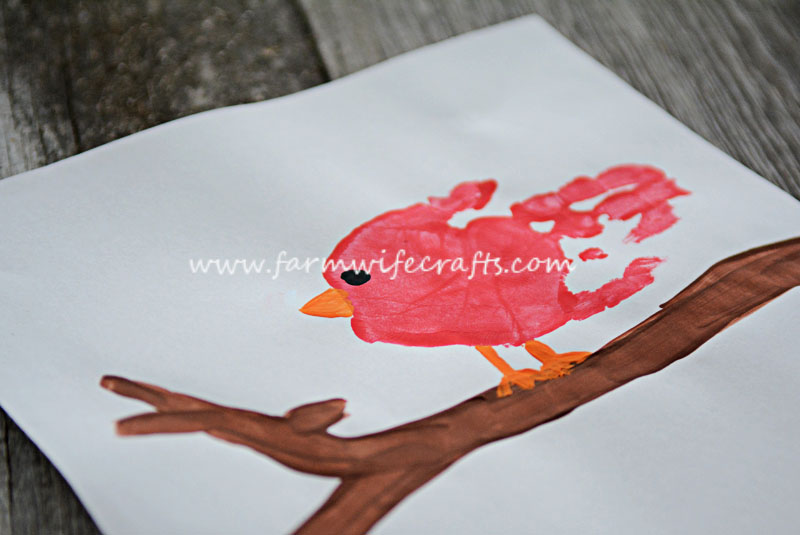 Red Cardinal Handprint Craft
Instructions
Paint hands with red paint, or dip them into red paint.

Gently stamp the hands onto the white paper in opposite directions, so the thumbs are the crest of the cardinal's head. Allow the handprints to dry.

Once the handprints are dry, make tree branches using the brown paint.

Lastly, add the eyes, beak, legs and feet and allow to dry.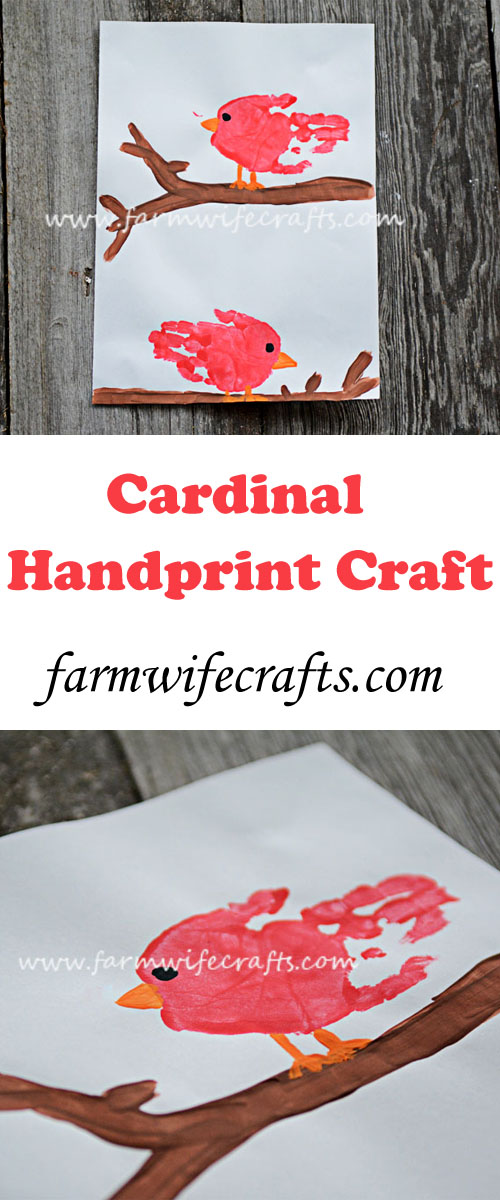 If you liked this craft, you might also like: