The last craft that I posted was the Red Cardinal Handprint Craft, so in keeping with the bird theme we decided to make some all-natural bird feeders.  Since Mel loves birds, she often wonders what they eat in the winter when there is snow on the ground.  I know that birds are supposed to fly south for the winter, but not all birds seem to as we still have several hanging around our house and they probably won't be leaving anytime soon since we decided to start feeding them with these Orange Bird Feeders.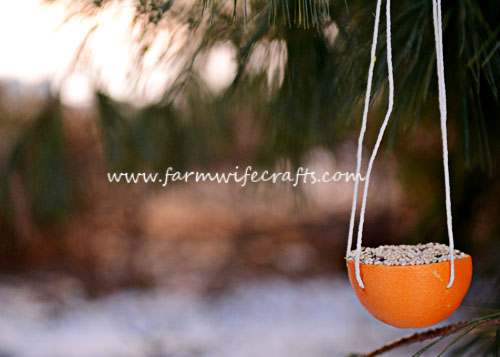 This is probably a craft meant for an older child.  It was a little hard for Mel to scoop out the orange and push the string through the holes, but she did pretty well.  And it is sticky, but that just adds to the fun, right?
Orange Bird Feeder
For this craft you will need: an orange, knife, spoon, string (I used hemp cord only because it was what I had on hand, but any string will work) , birdseed.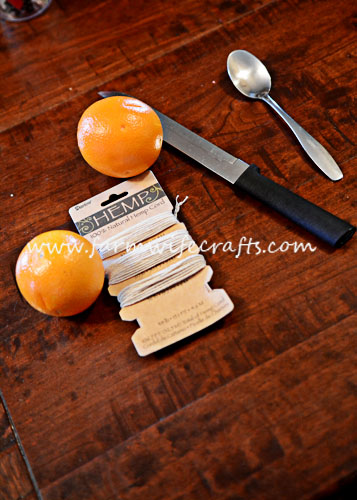 Begin by cutting the orange in half.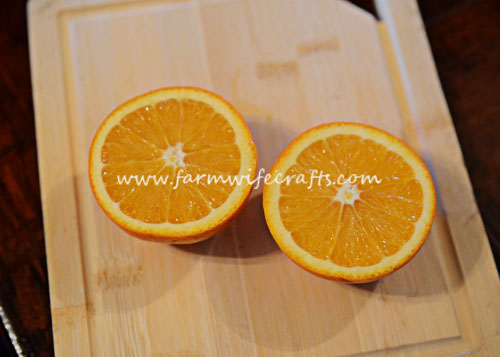 It's always fun to be a little goofy especially during craft time.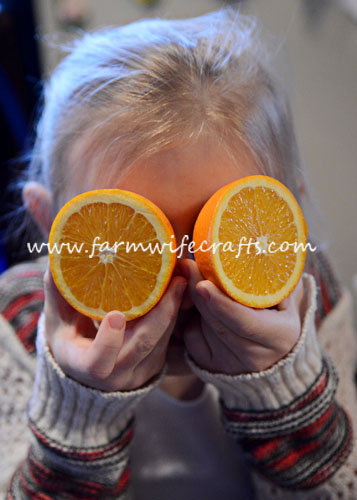 Next, scoop out the flesh of the orange with a spoon.  We found that by squeezing and squishing it a little bit to loosen it up helped.  Also, these were fairly fresh, so if you have some that are a bit on the ripe side, I think that would make this step a bit easier too.  This is the stickiest part!;)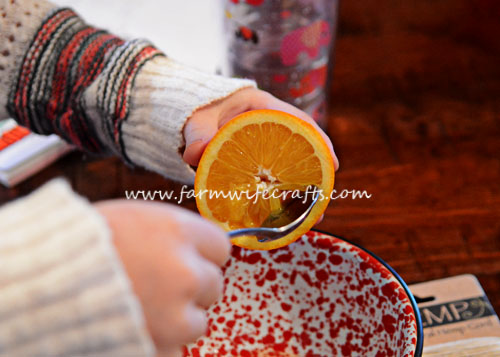 Once the inside is scooped out, punch four holes around the outside of the orange.  I found that a skewer seemed to get the job done!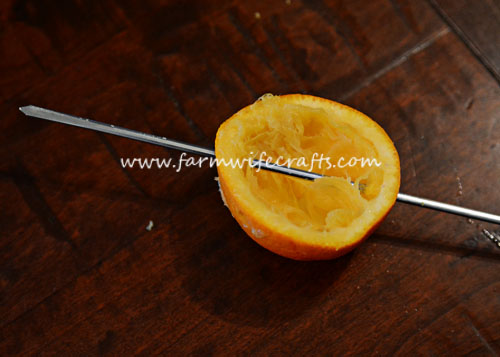 Next, cut 4 pieces of string about 12 inches long and place 2 strings in each orange to form an "x" inside the orange like so…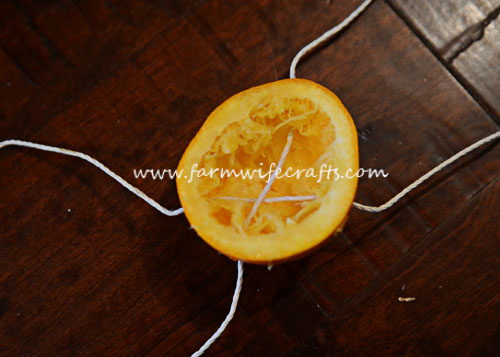 This part seemed to be a little tricky, so I used my handy dandy skewer during this step also.  I placed the string on the edge of the skewer and poked it through the hole.
Now, tie the strings in a knot.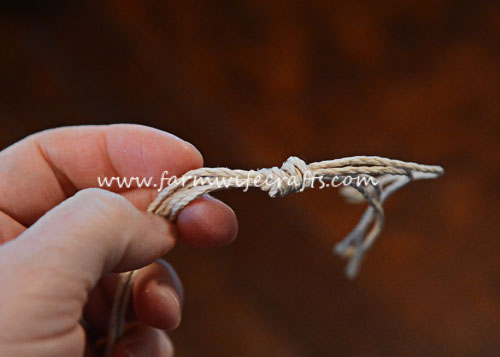 Hang the orange bird feeders outdoors.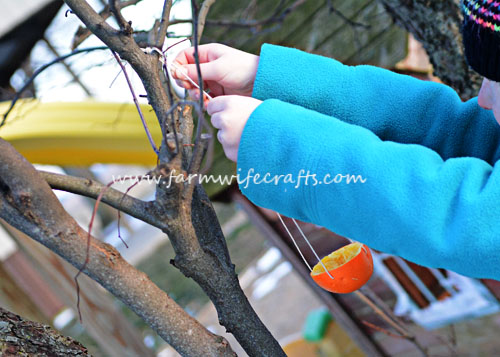 And last, fill them with birdseed.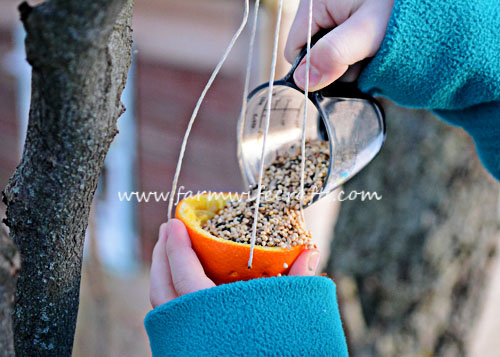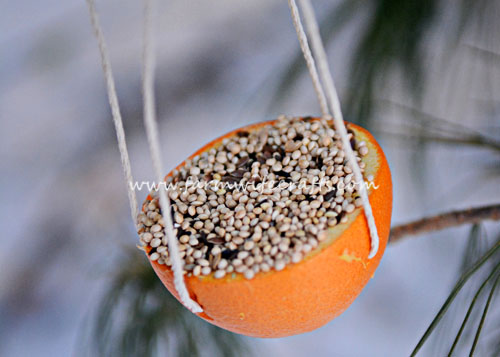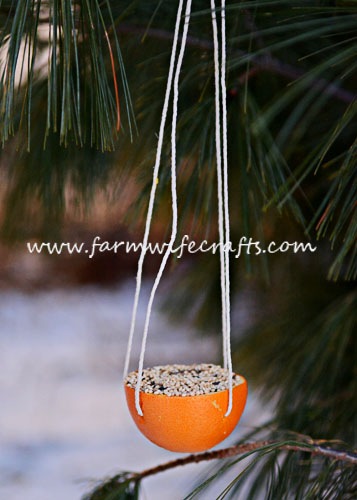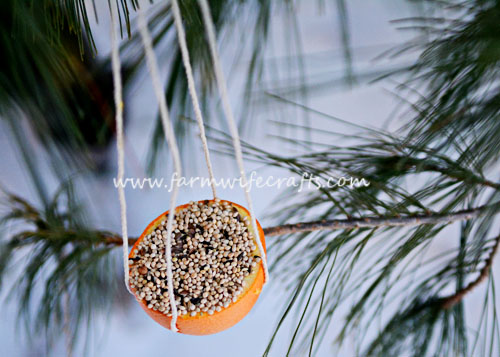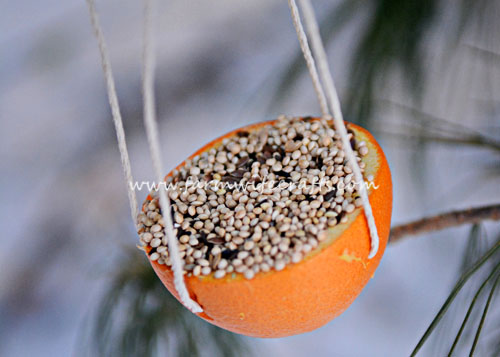 What You Do
Cut the orange in half.
Scoop out the flesh of the orange with a spoon.
Cut four pieces of string 12 inches long.
Poke four holes around the outside of the orange. (I used a skewer)
Using two pieces of string per orange half, thread the string through one hole and out the hold opposite of the first hole to form an "X".
Tie the strings into a knot.
Hang the orange bird feeders outside and fill with birdseed.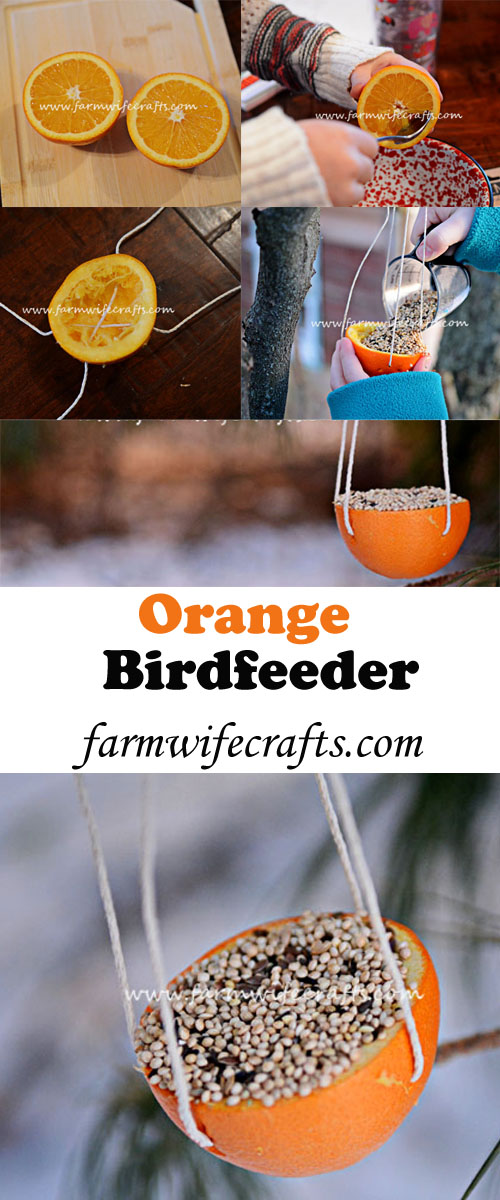 If you liked this craft, you might also like: