A couple Christmases ago, B and Mel asked for marbles.  It seemed like a great idea at the time.  Marbles brought back memories from my childhood.  I had a collection of marbles.  Cool, huh!?;)  At one of the places where my dad had pigs sat an old abandoned farmhouse and, for some reason, I could always find a ton of marbles there.  I don't know if they were left from kids who used to live there and played marbles outdoors or if someone just dumped a big ole bucket full of them, but I would pick them up, put them in my pocket, and wash them when I got home.  I stored them in a cookie tin and thought they were pretty much the coolest things ever!  They all seemed so unique and different to me.  So, when they asked for marbles for Christmas they got some…100 each in fact!  I don't know how many times those marbles have been dumped all over the living room floor and if you don't see them then it quickly becomes a scene from Home Alone where he breaks the "pearl" necklace on the sidewalk to make the bad guys fall!  But, I have found a use for them in my kitchen when I make these Heart Shaped Cupcakes.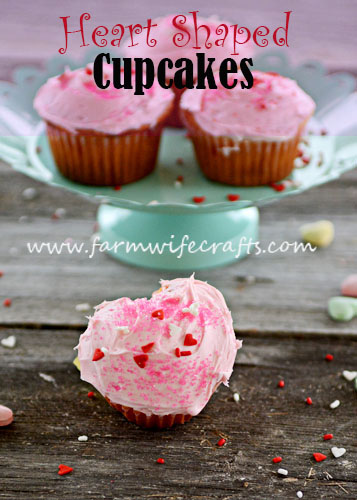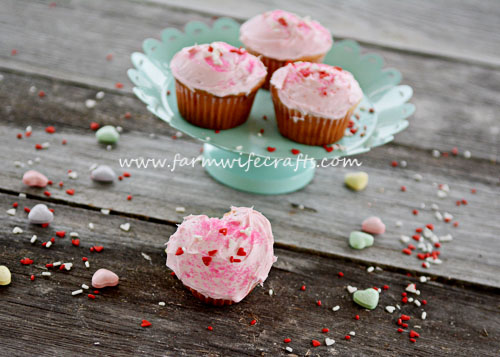 I'm not a huge gushy person, so Valentine's Day isn't one of my favorite holidays, but I have found myself enjoying it more and more every year.  I try to do something fun each year and the last couple I've made these cupcakes.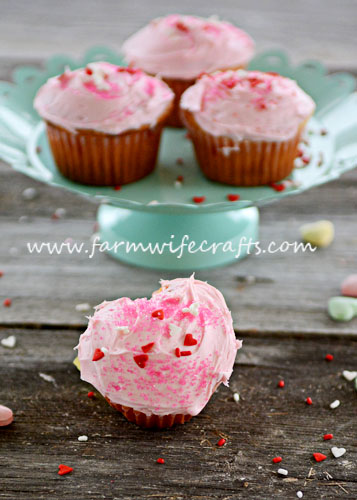 My girls will be the first to tell you they don't like cake. (They get that from me.  I'll eat sweets, but bring on the salt and I am in heaven!)  For their birthdays they usually request cookies, pies, or another dessert…but for some reason they like cupcakes.  I think cupcakes are different;)  They also thought that taking these heart shaped cupcakes in their lunches was just about the coolest thing ever!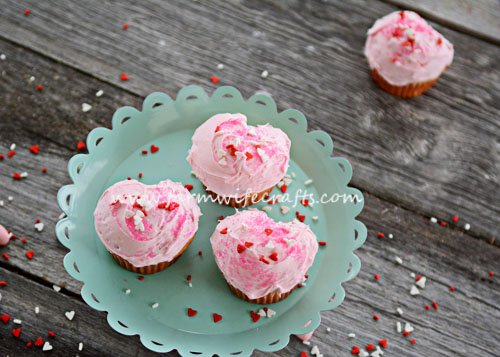 Heart Shaped Cupcakes
All you do is mix up your cupcake mix according to package directions.  Place cupcake liners in a muffin tin.  Pour the batter into the cupcake liners about 1/2 full.  Place a marble between the muffin tin and the cupcake liner and bake according to package directions.   If you don't have any marbles, then just use a small piece of aluminum foil rolled into a ball.  Please don't pay any attention to my old stained muffin tins. Pretty please!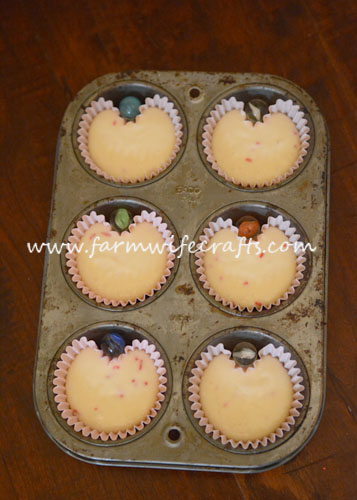 Once the cupcakes are cool, decorate them however you please!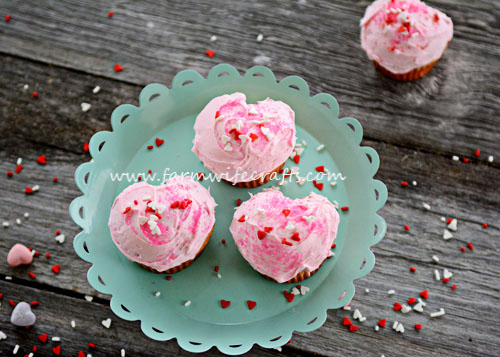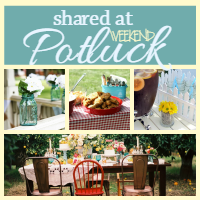 Heart Shaped Cupcakes
Ingredients
1

box cupcake mix

icing

sprinkles

marbles

cupcake liners
Instructions
Prepare cupcake batter according to package directions

Place cupcake liners in muffin tin.

Add batter to cupcake liners and fill them half way.

Place a marble between the liner and muffin tin.

Bake according to package directions.

Remove cupcakes from tin and allow to cool.

Once cool, decorate.