It's that time again!  I'm teaming up with Crystal of Mom for Less and Indiana's Family of Farmers to help bring Ag to your classroom or homeschool.  This month we are talking about popcorn.  Since Valentine's Day is next month, I thought it would be neat to make Wire Popcorn Hearts.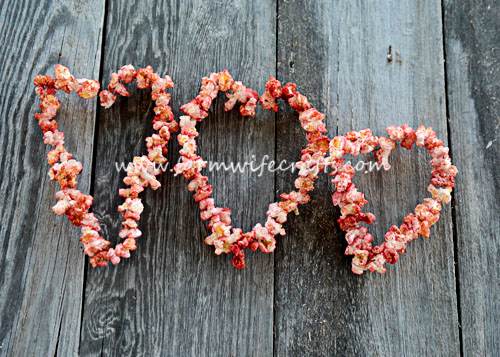 Did you know Indiana ranks second in the nation in popcorn production?  Nebraska is the leading producer of the buttery goodness.  I had no idea until a couple years ago that Indiana is one of the leading producers of popcorn..proof that you learn something new everyday!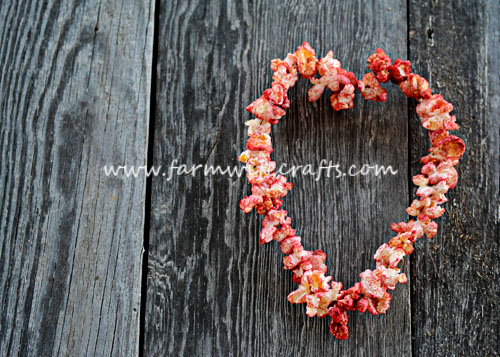 Popcorn is one of my favorite snacks.  I could eat a big bowl full of it every night if my waistline would let me.  Of course, it is a healthier snack option, but it's all the "extras" that I add to it that make it not so healthy;)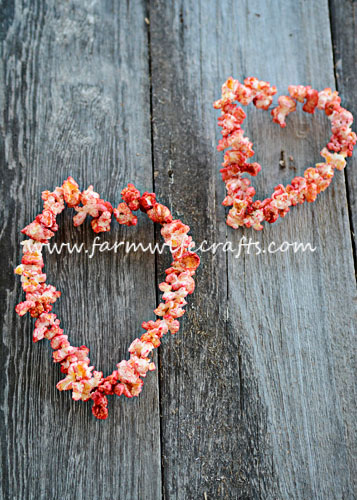 Popcorn Hearts
A new spin on the traditional popcorn garland at Christmas time, I decided to add some wire and make them into hearts.  This project did seem  to be a bit messy, but that just added to the fun!  This project is probably geared more towards older kids.  My 7 and 10 year olds did fine, but my toddler had a bit of trouble…in fact we waited to finish at nap time.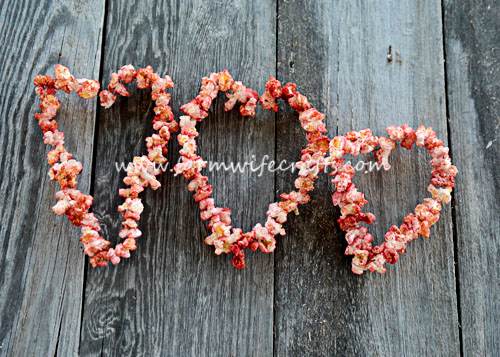 All you need is: popcorn (we popped one bag and still had plenty left over to snack on), red food coloring powder, green floral wire, and clear acrylic sealer.
First, pop the popcorn and allow it to cool.  Then place the popcorn in a gallon sized ziploc bag.   Add the powder and shake!  You can add more powder if a deeper color is desired.  Finally, add the popcorn to the wire(you fingers will turn red, but they will wash), then twist the ends and shape into a heart.  You can make the hearts any size your little hearts desire;)  Lastly, spray the popcorn lightly with acrylic sealer and allow it to dry.  This will help prevent the powder from rubbing off on other items.  You can string the hearts together with ribbon if you choose to.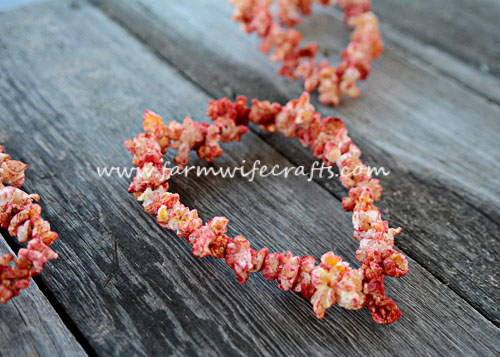 Now that you've seen the craft, head over to Crystal's blog for a homeschool lesson about popcorn.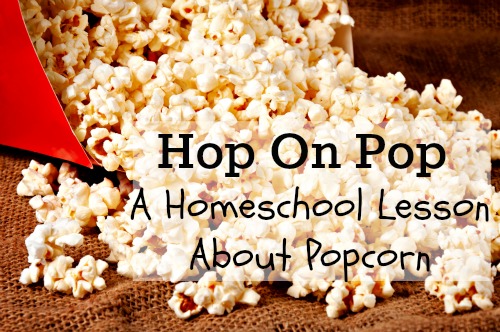 Popcorn Hearts
Instructions
Pop the popcorn and allow it to cool.

Place popcorn in a gallon sized ziploc bag and add food coloring, then shake.

String the popcorn on the floral wire, then twist the ends.

Shape into a heart, then spray lightly with acrylic sealer and allow to dry.