Affiliate links were used in this post for products I love.
This post is sponsored by The Glass barn, funded by Indiana Soybean Farmers.
Father's Day is just a few days away and if you are scrambling trying to find something for the kids to make for their dad, this simple picture frame might just be the thing!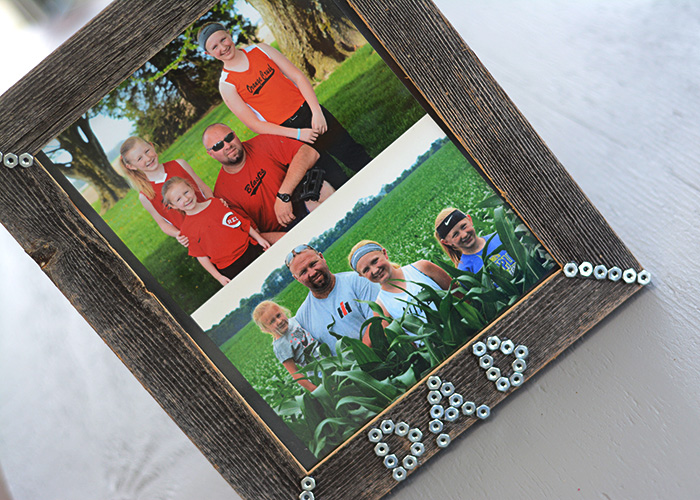 My husband doesn't EVER give me any gift ideas, so gift buying for him can be extremely difficult!  Every once in a while he will drop a subtle hint and I make a mental note to add that to his gift list.  Now, he is getting something other than this frame, but I won't give all of his gifts away on the blog because he does read it, occassionally and I think he has a pretty good idea that the girls are making something for him because we haven't been very secretive about it!
Brad decided to be assistant coach for our two oldest girls' softball teams.  I reminded him that the practices and some of the games, depending on weather, would be during planting time which is one of the busiest times on the farm.  He assured me that he could handle it and he did.  The weather was definitely in his favor and he only missed one practice because he was applying anhydrous ammonia and he was so close to finishing and there was rain in the forecast.
We usually have softball every night between the three girls and when we get home, it's time to work on 4H and livestock projects.  Sometimes that can go late into the night, but he is an early riser and still beats us all out the door to head to the farm!
For this Father's Day gift project, the girls and I decided to make a picture frame and add pictures that show him as softball coach and farmer.  I found this barnwood picture frame and thought it was perfect!
We also picked up some machine screw hex nuts at our local farm store, but you can also find them on Amazon.
The first step is to glue the hex nuts on to the picture frame.  You can do whatever design you choose.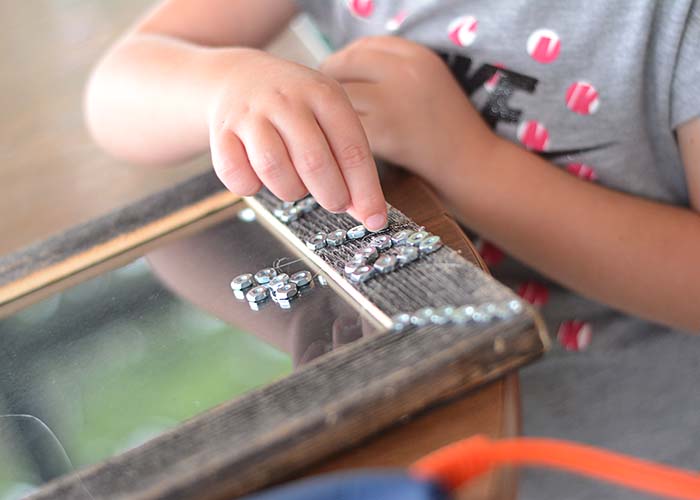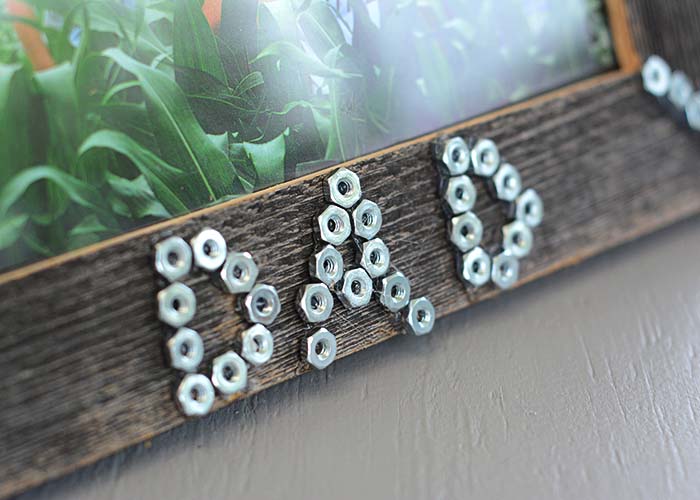 Allow the glue to dry, then add the pictures and this project is complete.  I bought an 8×10 frame because I wanted to add two pictures, but you can purchase any size you choose, just make sure there is enough border room to add the design you choose!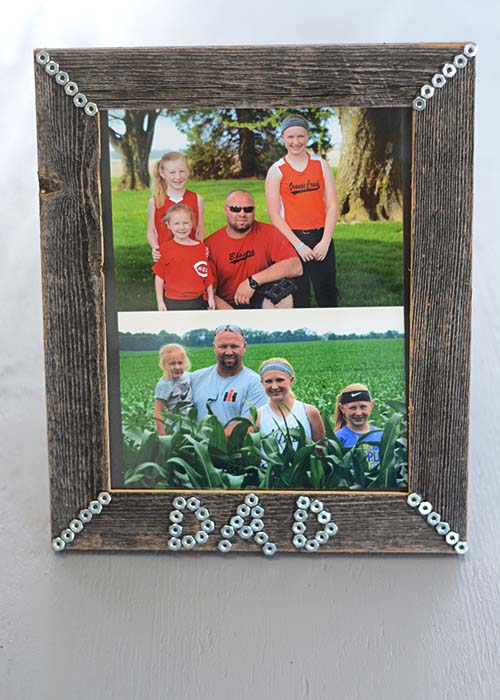 The letters for "DAD" aren't perfect, but that's what makes it special.  This would look great in a shop or Man Cave.  So simple to make!
Father's Day Picture Frame
Instructions
Choose the design for your picture frame.

Using hot glue, glue the hex nuts to the picture frame and allow to dry.

Once dry, add the photos.