The girls and I had so much fun making this wreath as well as picking out the spooky things to go on it.  Party City is a pretty fun place.  This Spooky Spider Wreath would be the perfect addition to any Halloween party or just as a decoration in your home.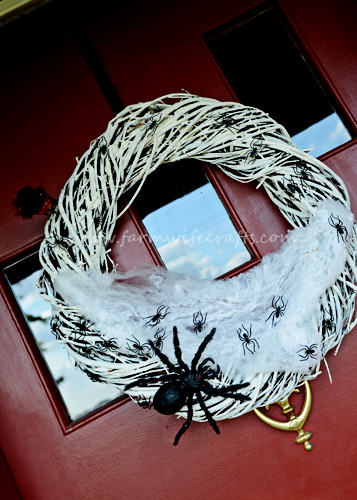 Spooky Spider Wreath
You will need: 18″ grapevine wreath, white acrylic paint
, paintbrush, cobweb
, spiders
and various other spooky critters, hot glue gun
, glue sticks
,and a door hanger
.
.
The first step is to paint the wreath white.  Don't worry about covering up all the brown.  I think it adds to the spookiness;).  Allow the paint to dry.  Then add the cobweb, spiders, and all the other spooky critters you picked out to use with hot glue.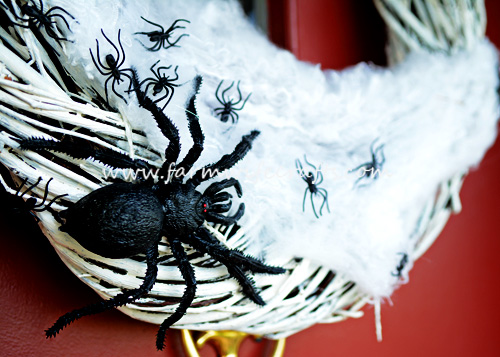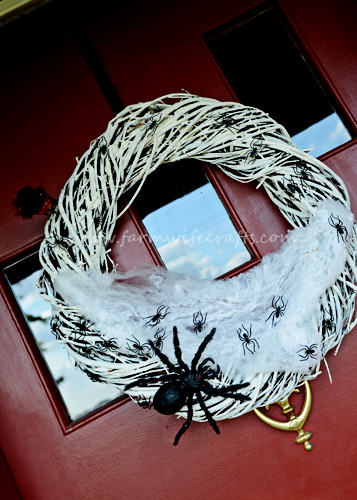 What You Will Need
18" grapevine wreath
white acrylic paint
paint brush
cobweb
spiders and other spooky critters
door hanger
hot glue
glue sticks
What You Do
Paint the wreath white and allow it to dry.
Attach the cobwebs, spiders and other spooky critters with hot glue.