Are you looking for a fun recipe to make for the kids this Thanksgiving?  Or maybe the kids are begging to help in the kitchen and you need a simple recipe.  These Pumpkin Rice Krispie Treats may be exactly what you are looking for and the kids will gobble them right up!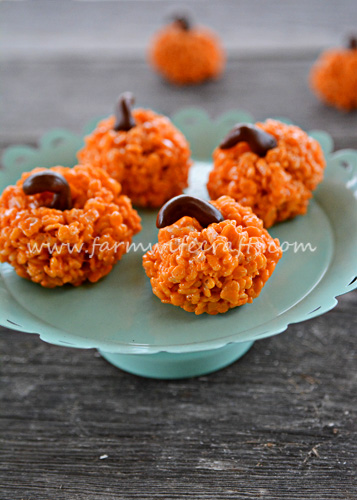 B, our oldest, is just starting to ask to help in the kitchen.  She has mastered Rice Krispie Treats.  I try to keep all the ingredients on hand and if I'm in a pinch and don't have time to prepare a dessert or just flat out don't feel like baking something, I enlist her to help.  She loves it!  These Pumpkin Rice Krispie Treats are the perfect treat for any Thanksgiving meal, or surprise your kids by putting them in their lunchbox in the days before Thanksgiving.  Their friends will be jealous!
Pumpkin Rice Krispie Treats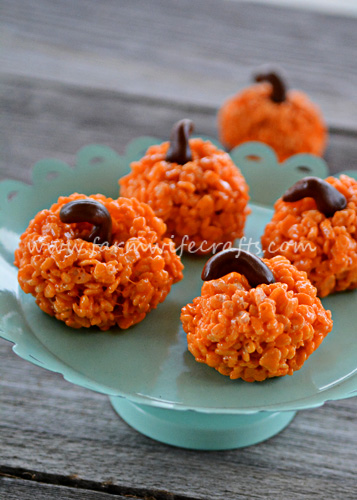 You make them just like you do regular Rice Krispie Treats except right before you mix in the Rice Krispies, you stir in orange gel food coloring.  Make sure to use the gel as the regular will add too much liquid.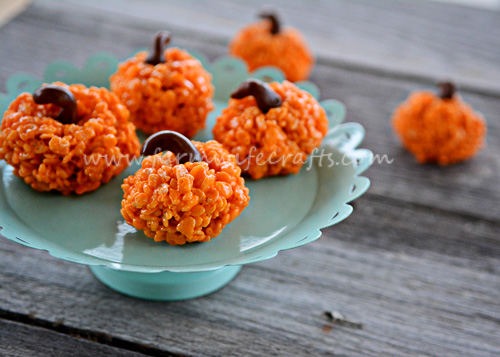 Spray your hands with cooking spray to form small pumpkin shaped balls.  Add a Tootsie Roll to the top and let them sit for a few hours before enjoying.  So festive and easy!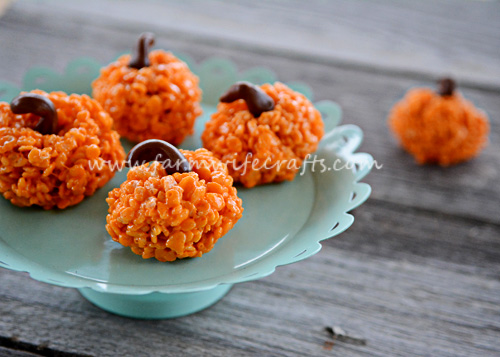 Pumpkin Rice Krispie Treats
Ingredients
3

Tablespoons

butter

1 10

ounce

bag miniature marshmallows

1

Tablespoonorange gel food coloring

6

Cups

Rice Krispies cereal
Instructions
In a large saucepan, heat butter over low heat until melted.

Add marshmallows, stirring occasionally until melted completely.

Add food coloring and stir until the orange is evenly spread throughout.

Remove from heat and stir in Rice Krispies cereal.

Coat your hands with nonstick cooking spray. Form pumpkin shapes using 2/3 Cup of the mixture for each pumpkin.

Roll and shape Tootsie Rolls to resemble stems. Add stems to pumpkins.

Let stand 3 hours before serving. Store in airtight container.