Halloween is over, Christmas is quickly approaching, but Thanksgiving and Fall are not to be overlooked.  Are you looking for a fall wreath for your front door?  I was stuck in a rut after Halloween and couldn't quite figure out what to hang on my door.  I just did a post on making a good first impression with your front porch, so my front door just felt a little blah.  Luckily, I created this Fall Floral Wreath at the perfect time.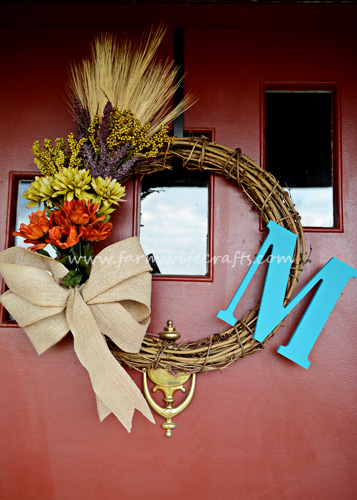 This wreath combines three of my favorite things into one: turquoise, burlap, and wheat.
Fall Floral Wreath
For this Fall Floral Wreath craft you will need: an 18″ grapevine wreath, 6″ wooden letter, acrylic paint of your choice,  fall floral of your choice, burlap ribbon, hot glue, hot glue gun,  floral wire, and wire cutters.
First paint the wooden letter and allow to dry.  I used turquoise, but use whatever color you please.
Next, secure the fall floral to the wreath using the floral wire.  I suggest laying the floral items out how you want them displayed to save you from having to remove the wire and starting over. (I'm not saying from experience or anything;))
I put the wheat on top since it was the tallest.  I secured the bundle with wire before adding them to the wreath because they kept falling all over the place.  I got the dried wheat from a local florist and it was what I had leftover from the Be Thankful Mason Jar craft I made in the previous post.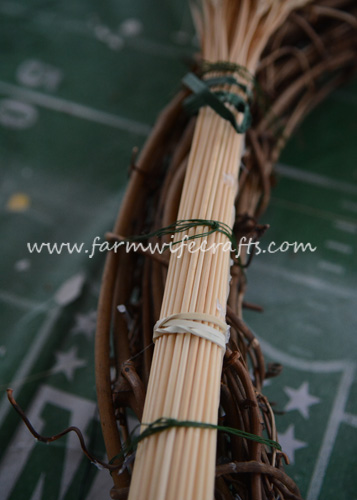 Attach your other floral items.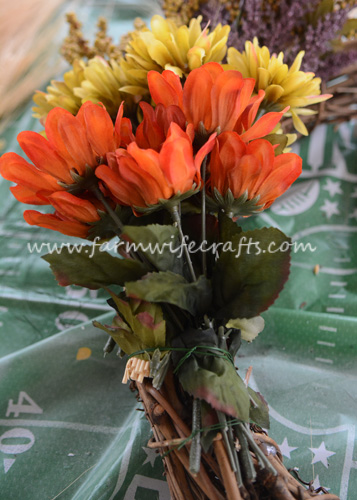 Lastly add the bow and place it to cover up any wires or stems that may be showing.  I stink at making bows, so I visited my local florist and they hooked me right up!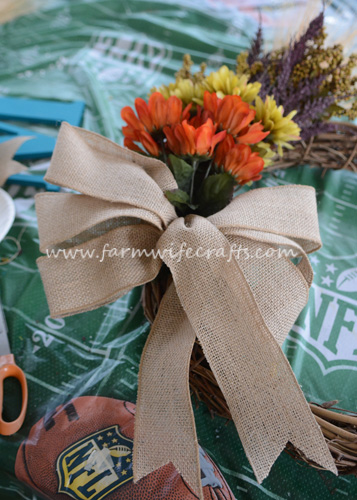 Now it's time to add the letter.  This part can be a little tricky, but add a generous amount of hot glue to the back of the letter where it will be touching the wreath.  Place a heavy object on the letter and allow the glue to dry well.  I waited about six hours.  It probably didn't take that long as hot glue sets up pretty quickly, but I didn't want to take any chances!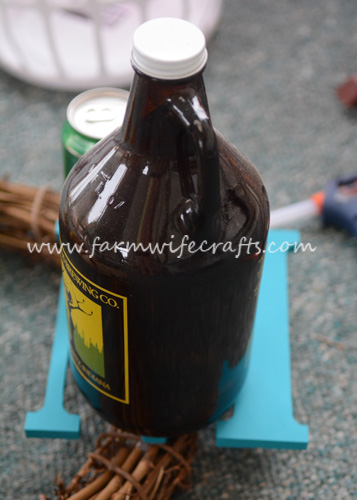 Like my weights?!;)  It was a complete afterthought that I might need something to hold the letter in place, so I had to use what was within arm's reach which included a Sprite and an empty growler from our favorite micro brewery.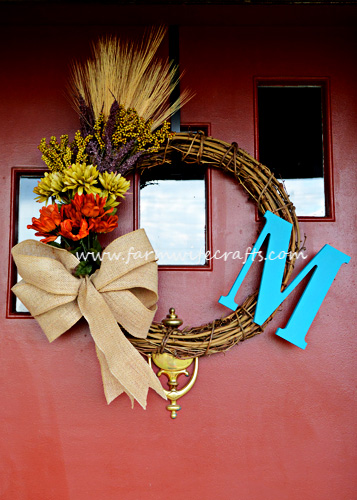 Once the hot glue is dry, the wreath is ready to hang.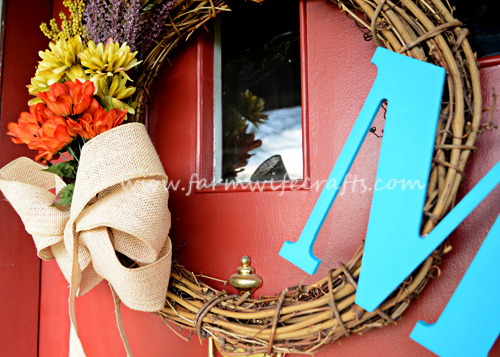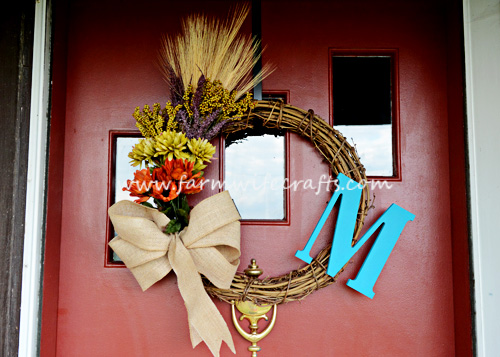 Fall Floral Wreath
Ingredients
acrylic paint

paintbrush

fall floral
Instructions
Paint the wooden letter and allow to dry.

Add the fall floral to the wreath using the floral wire.

Add the bow and cover up and wires or stems that might be showing.

Add the letter with hot glue. Add some weights to the letter until the hot glue is dry.