Thanksgiving is a week away!!!  I'm sure you're preparing the grocery lists and the house.  Are you looking for a simple centerpiece?  This Be Thankful Mason Jar may be just the thing.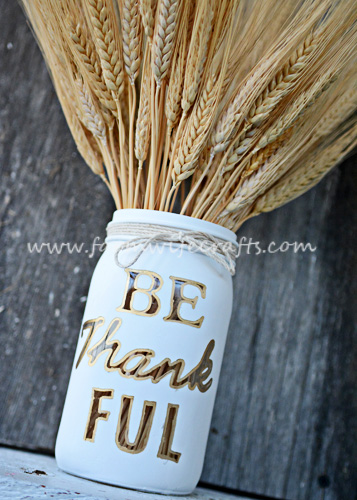 I have been on the hunt for the last month or so for dried or artificial wheat that doesn't look artificial.  Everything I found in stores looked plastic.  I found exactly what I wanted online, but didn't want to charge an arm and a leg for shipping, plus I didn't know if it would arrive on time.  I was doing some antique shopping in one of my favorite towns and walked by a florist shop that had a floral arrangement in the window with some sprigs of exactly what I had been searching for.  I thought, what the heck.  I'm tired of searching so I'm just going to ask if I can buy some.  The girls were all with me and they thought I was crazy.  It never hurts to ask, right?  They weren't able to give me what they had in stock, but told me they would be more than happy to order some for me.  Figuring it would take at least a week to get it in, I was completely shocked when they said they would have it the next day!!!!!!  I am so glad I decided to go out on a limb and ask because I am in love with how this thankful jar turned out!
Be Thankful Mason Jar
For this craft you will need: a quart sized wide mouth glass jar, rubbing alcohol, cotton balls, dried wheat, gold paint pen, white spray paint (for glass), hemp cord, 1.25 inch sticker letters, and sticker words.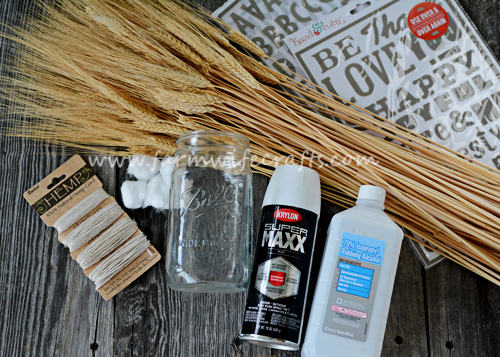 Begin by cleaning the outside of the jar well to make sure the paint sticks.  I used rubbing alcohol and cotton balls.
Next, place the letters and words on the jar.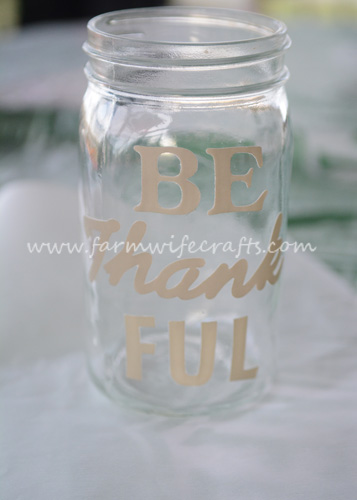 Now spray paint the jar.  I had good luck with Krylon's Super Maxx spray paint.  You can use whichever brand you prefer, but I highly suggest using one that specifically states that it will work on glass.  I applied about three coats letting it dry between coats.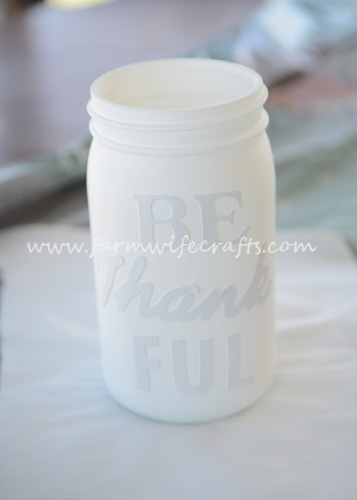 Allow the paint to dry well.  I let mine set for about 24 hours before removing the stickers.  Carefully peel the stickers off the jar.  You can use an X-acto knife if needed.
Once the letters are removed, trace the outer edge of each letter with the gold paint pen.  This will help clean up any edges where paint may have dripped.  I had a helper for this part and I couldn't blame her.  Painting on glass with a paint pen is fun!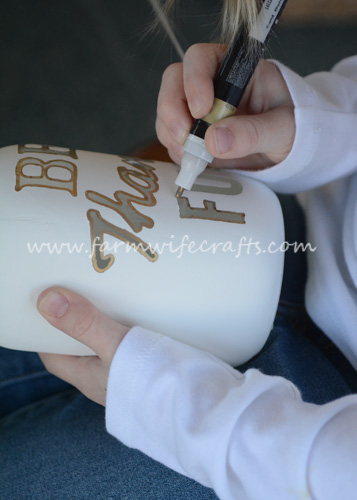 Allow the gold paint to dry well.  Once the gold paint is dry, you are ready to add the hemp cord.  I wrapped the cord around the lip of the jar about five times before tying it off with a bow.  Now, you are ready to add the wheat.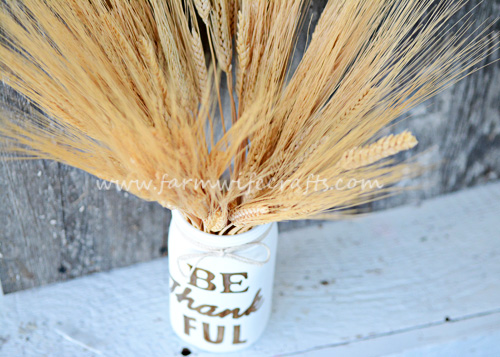 Once the wheat is added, you are finished!  Love, love, love this jar!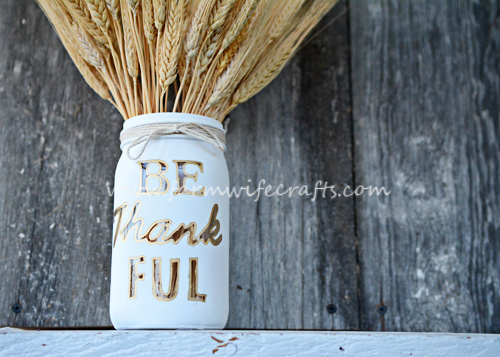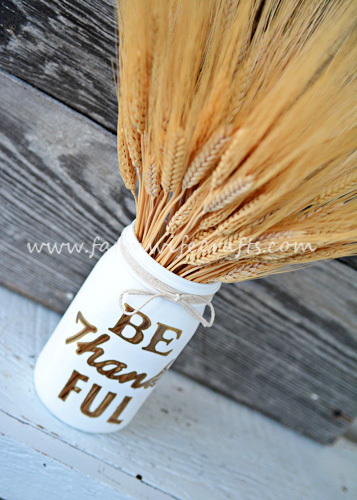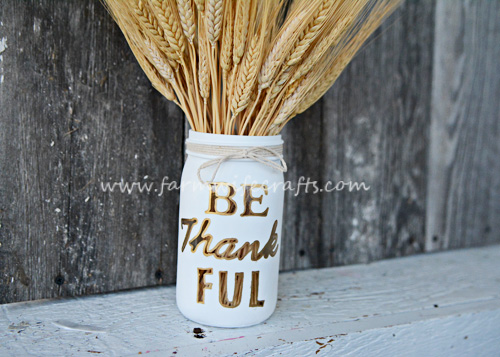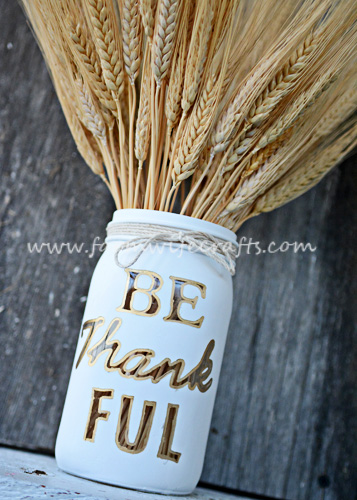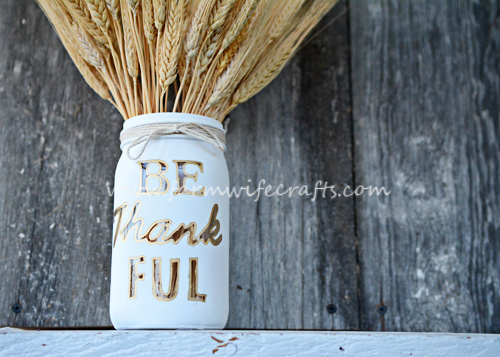 Thankful Mason Jar
Ingredients
1

quart

size wide mouth mason jar

dried wheat

check with your local florist

white spray paint
Instructions
Clean the jar with a cotton ball soaked in rubbing alcohol and allow to dry.

Apply the letters and words to the outside of the jar.

Spray with white spray paint and allow to dry between coats. Let dry for 24 hours.

Using the gold paint pen, outline each letter and allow to dry.

Wrap the hemp cord around the mouth of the jar and tie off with a bow.

Add the wheat.