It's November and that means another Ag craft/homechool lesson brought to you from Crystal of Mom for Less and your's truly and it's all thanks to Indiana's Family of Farmers.  Since it is November and the month of Thanksgiving, we are celebrating by talking turkeys.  The girls and I thought it would be fun to send some Thanksgiving cards to some dear family members who could use a reason to smile, so we made these adorable Fingerprint Turkey cards.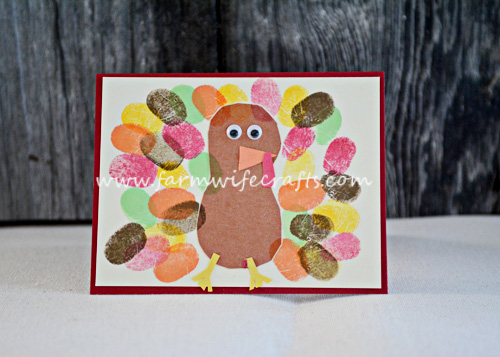 Unfortunately, I feel like sending cards is quickly becoming a thing of the past.  I love to receive cards and letters in the mail.  Now, bills I could definitely do without, but cards and letters sign me up for that especially during the holidays.  Who wouldn't smile when they see this card?  I've said it before and I'm saying it again and I'm sure it won't be the last time you hear me say it;), but I love anything with handprints, footprints, and fingerprints.  My mother-in-law loves to make cards, so lucky for us, she had all the supplies we needed.
Turkey Fingerprint Card
You don't have to make this adorable turkey on the front of a card.  You could put it on paper and frame it, or even put it on a white canvas board to display each year at Thanksgiving.
For this craft you will need: one  red 12×12 piece of cardstock cut in half (this will make two cards),  beige 12×12 cardstock cut to fit the front of the card and one to fit inside the card, brown, yellow, red, and orange construction paper, school glue, scrapbooking tape, googly eyes, washable ink pads or paint.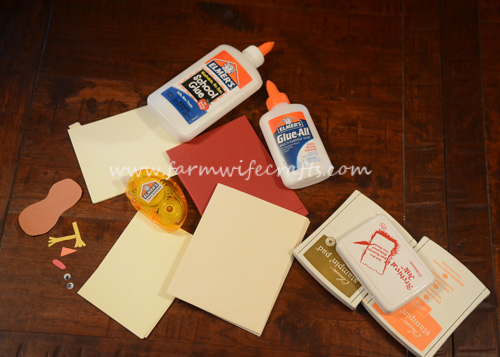 Cut the 12×12 sheet of cardstock in half and the inside and outside cover to the desired size to fit and glue them to the front and inside of the card using scrapbooking glue.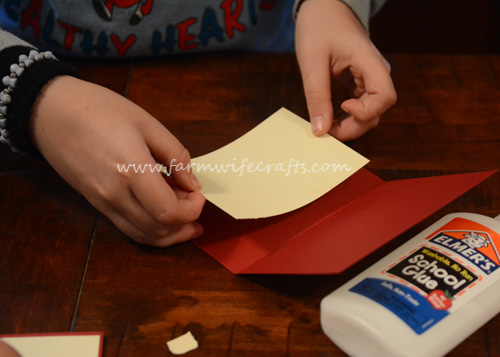 Begin by cutting out the turkey's body, feet, beak, and the wattle (yes I had to Google the correct term for that;0)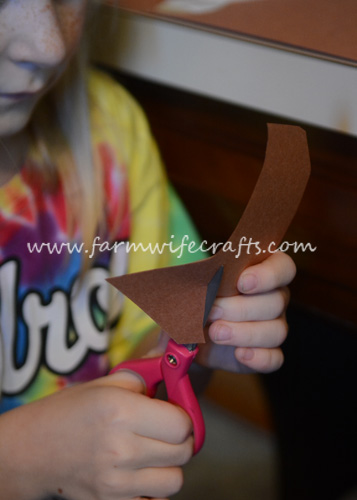 Next, glue the turkey's body, eyes, feet, beak and wattle to the front of the card using school glue and allow to dry.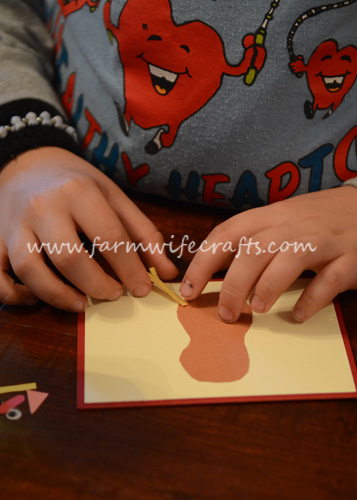 Once the turkey is dry, it's time to add the fingerprints.  We did not use washable ink because we just used what my mother-in-law had on hand, so I will warn you that it doesn't wash off the skin right away, but was gone within 24 hours just in time for church!  You can find washable ink here, or you could also use washable paint.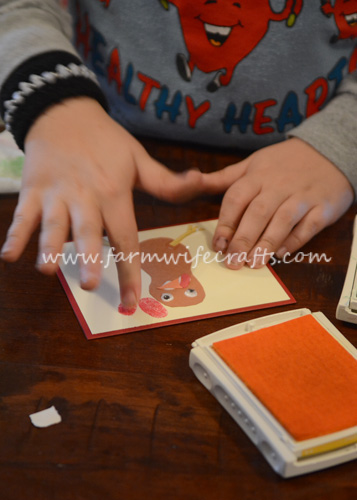 Arrange the fingerprints in a circular shape around the turkey to resemble feathers.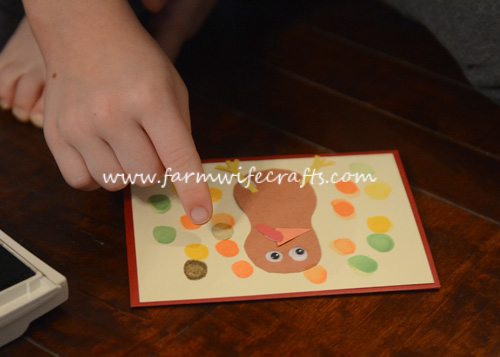 Allow the ink or paint to dry.  Once dry, you can write on the inside of the card.  We used a Happy Thanksgiving stamp, then B, my oldest made a heart out of two thumbprints.  Then, I had each girl make a fingerprint and they signed their name near their fingerprint.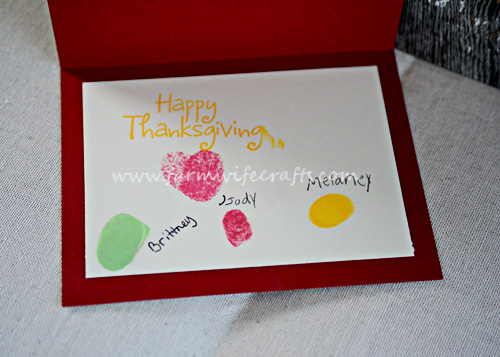 I personally think the thumbprint heart adds a nice touch!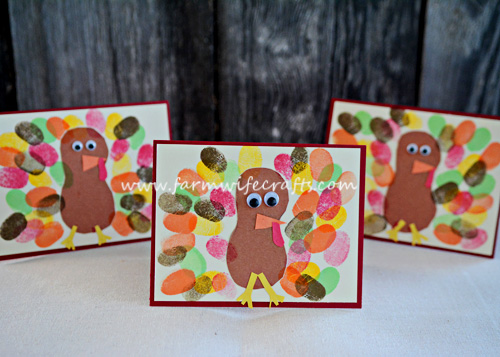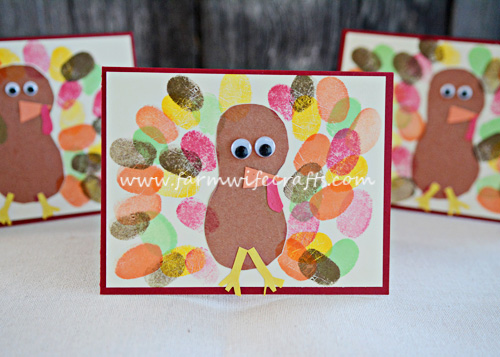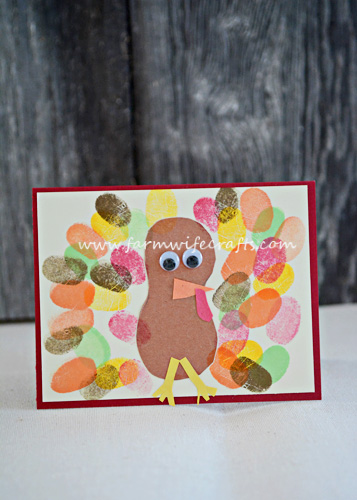 And don't forget to visit Mom for Less for an awesome homeschool lesson to teach your youngsters about turkeys!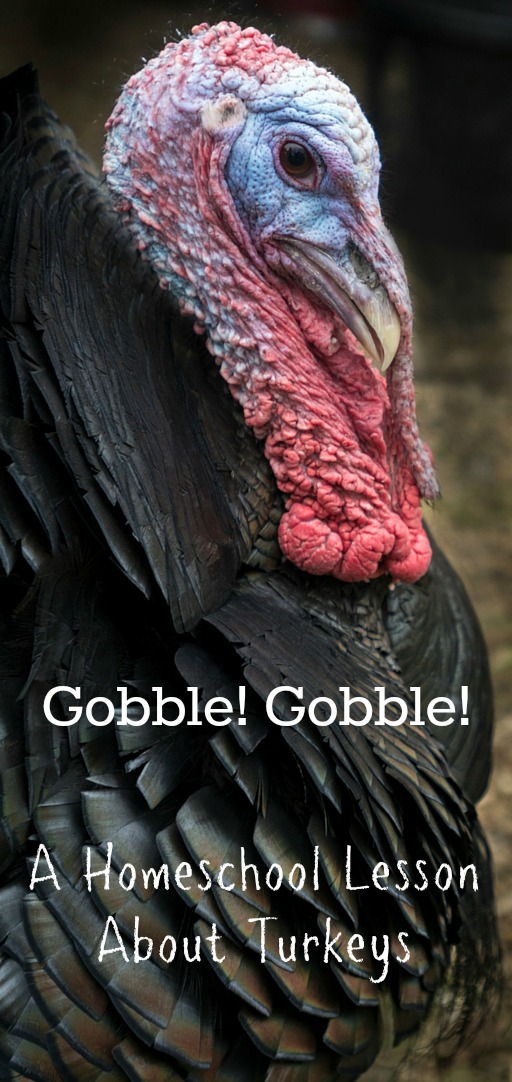 Fingerprint Turkey Card
Instructions
Cut the 12x12 red piece of cardstock in half. This will make two cards. Fold each piece in half.

Cut the other 12x12 piece of cardstock to fit the front of the card leaving a bit of a border. Cut another rectangle and place inside of the card leaving a bit of a border.

Using a tape runner, glue the beige cardstock rectangle to the front of the card, followed by the other rectangle to the inside of the card.

Cut a turkey's body out of brown construction paper.

Cut an orange triangle for the beak.

Cut a red oval for the wattle.

Cut feet out of the yellow construction paper.

Glue the body, feet, wattle, beak, and eyes to the front of the card using school glue. Allow to dry completely.

Add the fingerprints using ink or paint in a circular pattern around the turkey's body. Allow to dry.

Decorate and sign the card.