Are you looking for a side dish that you can whip up in no time?  This cheesy potatoes recipe is a classic and simple recipe that I often make as a side.  It only takes about 5 minutes to prepare and you can bake it in the oven while you prepare the rest of the meal.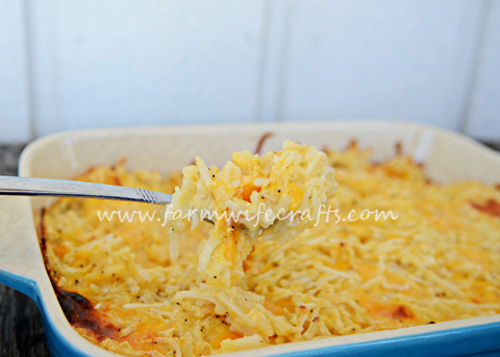 Since I like all of you, my dear readers, I'm going to let you in on a little secret about me.  I used to never cook.  My husband and I have been married for 11 years and when we were dating and first married cooking wasn't exactly on my list of things I could do well.  We ate bagel bites about 4 nights a week, frozen pizza 2 nights and the other nights we usually went out to eat.  Healthy, I know.
Growing up my mom cooked huge delicious meat and potato type meals and believe me, she tried to teach me how to cook and I would occasionally help her, but I would have rather been outside mowing the yard, working in the garden, on the farm, or just playing.  The more I could be outside the better!
At one of my bridal showers, two of my friends gave me a recipe box and in it were some of their favorite recipes…and some of mine too as they are excellent cooks.  I joke that they felt sorry for my farmer husband because he couldn't live or function on bagel bites forever.  So, here is proof that if you can't cook there is hope!
Cheesy Potatoes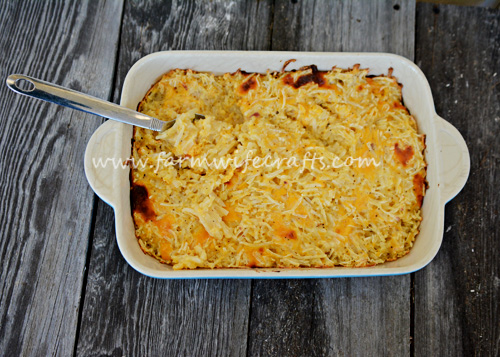 This recipe is only seven ingredients.  The first step is to combine the onion, sour cream, and cream of chicken soup, salt and pepper.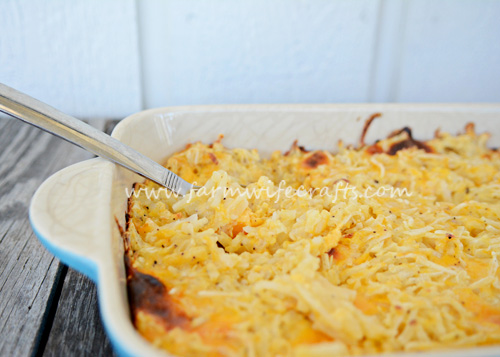 Then stir in the shredded cheese.  Lastly, fold in the shredded hashbrown potatoes.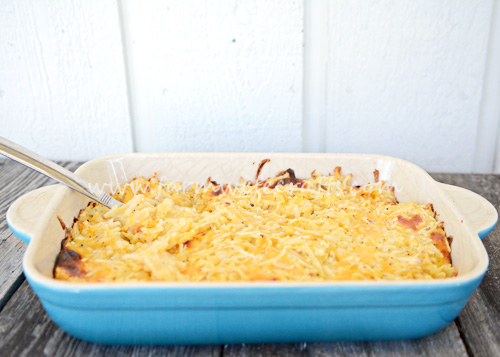 Cheesy Potatoes
Ingredients
1 30

ounce

bag of shredded hashbrown potatoes

1

Cup

sour cream

1 10.75

ounce

can cream of chicken soup

1/4

Cup

chopped onion

optional

1/2

teaspoon

salt

1/4

teaspoon

pepper

2

Cups

shredded cheddar cheese
Instructions
Combine the sour cream, cream of chicken soup, onion, salt and pepper together.

Stir in the shredded cheese.

Fold in the hashbrowns until coated.

Bake at 350 degrees for 1 hour.