Do you like to add your child's artwork to the walls during the holidays?  This Hand Print Turkey Canvas is the perfect addition to your holiday decor, plus it's absolutely adorable and will have all your guests talking and the kids will love seeing their artwork on the wall.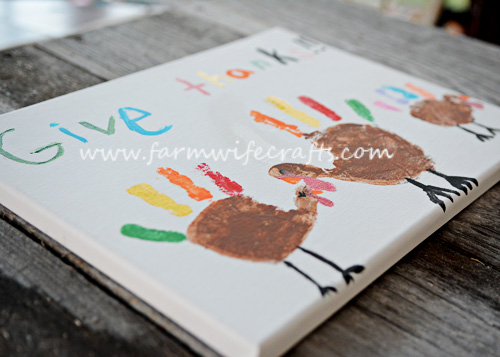 Hand Print Turkey Canvas
For this craft you will need: 1 11×14 white canvas, washable paint in brown, red, black, orange, and other various colors that you choose, and a paintbrush.
Begin by painting the palm and thumb of the child's hand brown and each finger a different color.  I let each of the girls pick which colors they wanted for the feathers.  Now, gently stamp the child's hand on the canvas being sure to leave enough room for the feet.  Allow this to dry.
Next, add the beak, eyes, feet, and wattle with a paintbrush.  For even more fun, I let the girls do each of their's.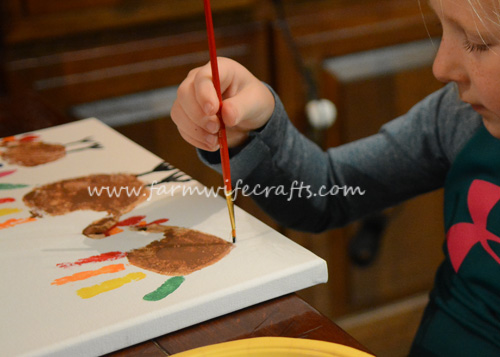 This last part is optional, but you can add a saying to the top of the canvas.  We chose to write, "Give Thanks."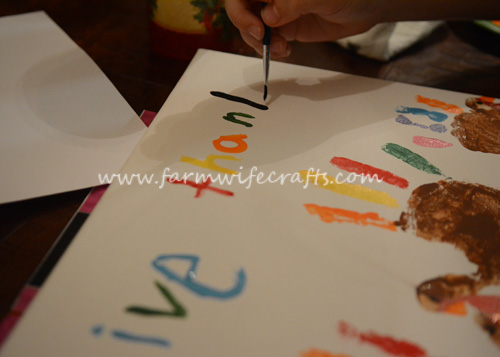 I let B write Give Thanks because little kid handwriting makes me happy.")
So simple yet perfect in every way!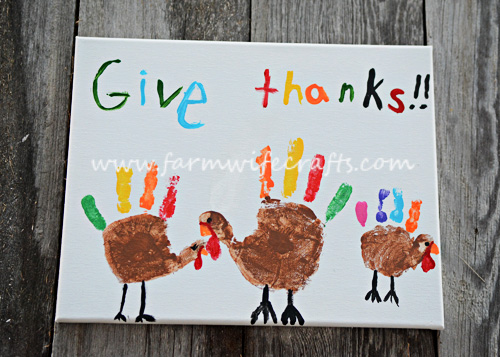 Hand Print Turkey Canvas
Ingredients
Brown

black, red, orange, and other various colors of washable paint.

Paintbrush
Instructions
Paint the palm and thumb of each child's hand brown and each finger a different color. Gently stamp hand onto the collage. Allow to dry.

Add an orange beak, black eye(s), red wattle, and black feet.

Paint "Give Thanks" on the top of the canvas. (optional)