Are you looking for a simple and hearty meal to feed your busy family?  This recipe for Pork Chop Delight from Gooseberry Patch may just be your ticket!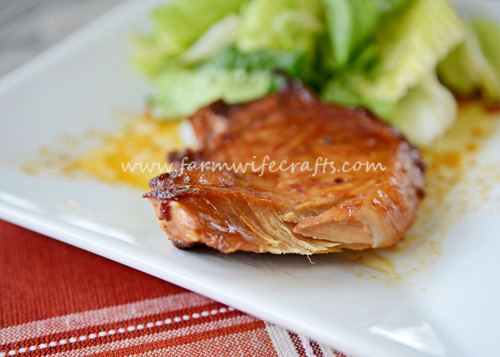 Pork Chop Delight
This recipe came from Gooseberry Patch's cookbook Sunday Dinner at Grandma's and let me tell you it truly felt like I was eating at Grandma's house when I sunk my teeth into this juicy pork chop only I think it was a Tuesday.  Or maybe it was a Thursday.  Either way, it was oh so good!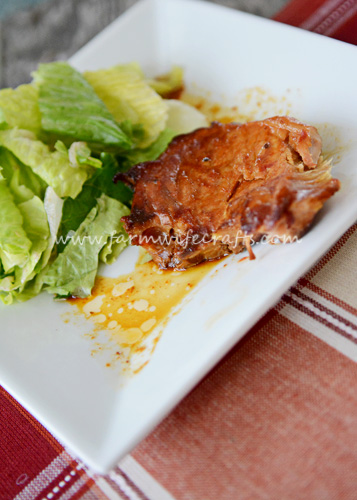 The recipe is baked in the oven, but I actually cooked it in my crockpot.  I knew I had a busy morning ahead of me, so I put it in the crockpot the night before and they cooked perfectly and were so tender!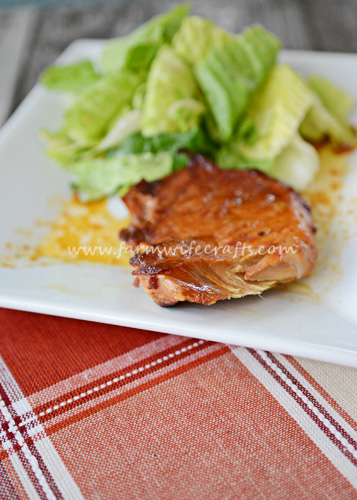 If you are baking them in the crockpot, place the pork chops in a greased 2 quart slow cooker.  Combine the water, chili sauce, and brown sugar together in a bowl and cover the pork chops evenly with the mixture.  Cook on low for 8-10 hours.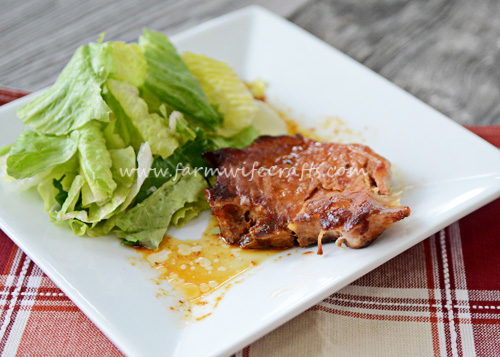 We paired the pork chops with a salad.  Brad's cousin was working for us that day and he even went back for seconds!  Seriously plate licking good and only 4 ingredients so you know they're easy to make!
Pork Chop Delight
Ingredients
8

boneless thin-sliced pork chops

1/3

Cup

water

1/2

Cup

chili sauce

1 1/2

Cups

brown sugar

packed
Instructions
Preheat oven to 325 degrees.

Place pork chops in an ungreased 9x13 baking pan. Add water to bottom of pan to prevent sticking.

In a bowl, combine water, chili sauce, and brown sugar. Pour mixture evenly over pork chops.

Bake uncovered at 325 degrees for one hour. Do not turn pork chops over.