Are you looking for a simple craft to keep the kids entertained while it's too cold outside to go out and play?  This marshmallow snowman winter craft is just what you might be looking for!
There is a major storm brewing here in the Midwest this weekend.  I've heard forecasters calling anywhere from 1″ of sleet to 2″ of ice and a foot of snow with 40 mph winds!!  So, I don't really know what will happen, but hopefully I can plan some more simple crafts like this to beat the notorious "I'm bored." theme that tends to happen when they can't go outside.  Although, they've quickly learned that when they say that famous phrase, they get a job…and it's one that they probably don't want!!;)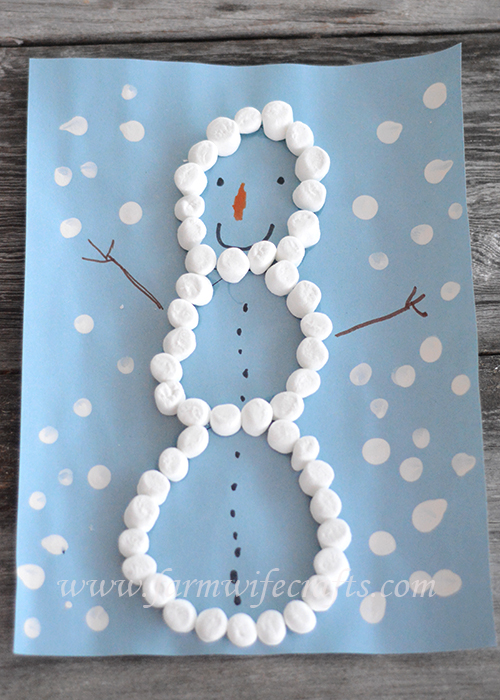 Marshmallow Snowman Winter Craft
This craft was geared more towards Jo, our five year old.  I just happened to be babysitting her best friend (who is also 5 years old) the same day we made these marshmallow snowman and it was a definitely a great hand-eye coordination task for them.
All you need:
pencil (optional)
Black, brown, and orange markers
Begin by drawing 3 circles on a piece of blue construction paper.  You don't have to do this.  You can "draw" them with the white school glue, but I knew I would probably mess up so I chose to draw them first!
Have your child add the nose, mouth, and buttons (if they choose) to their snowman.
Next, trace the circles with glue.  I recommend only tracing one circle at a time because the glue may start to soak into the paper before the kids are finished adding the marshmallows.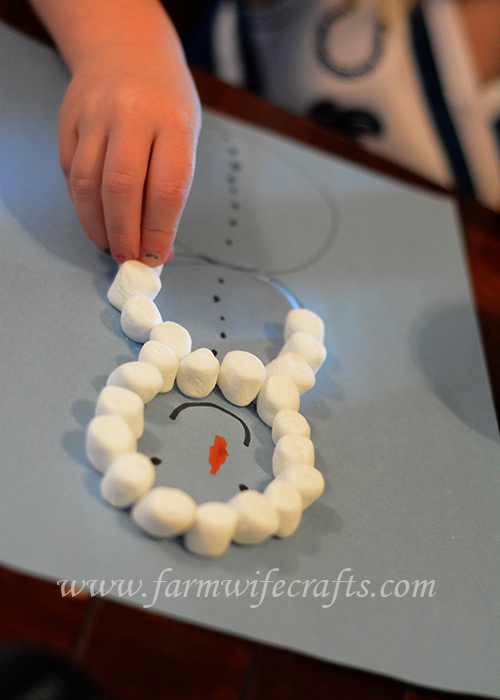 Next, let the kids add the marshmallows.
Add the arms with the brown marker.  You can also add a hat if you choose.  Put some white paint on a plate and let the kids dip their fingers in the paint and add snow to the paper.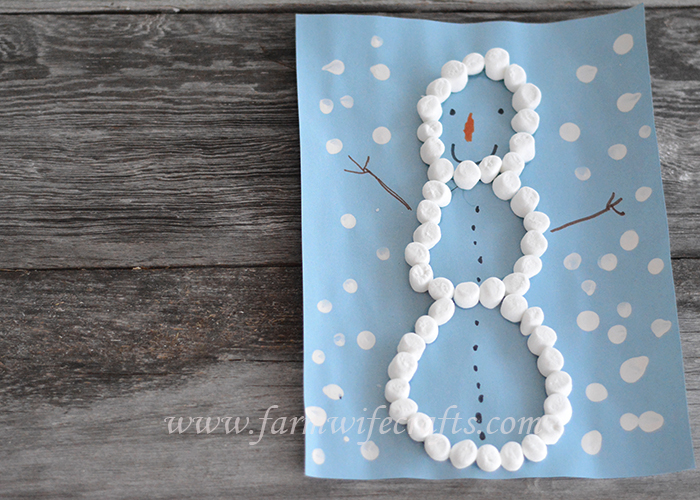 These snowmen make me so happy.  Maybe because it adds some cheerfulness to this dreary January weather!  Just make sure you save enough marshmallows for hot chocolate!



Marshmallow Snowman Winter Craft
Instructions
Draw three circles in pencil on the construction paper.

Add the nose, eyes, mouth, and buttons with marker.

Trace one circle at a time with white school glue.

Add marshmallows.

Add arms and a hat if desired.

Add white paint with fingers.

Allow to dry.