Halloween time is a fun time at our house.  Growing up, we didn't celebrate Halloween much.  We would go trick-or-treating to grandparents houses, but that was pretty much the extent of it.  I didn't mind it.  To this day, Halloween isn't one of my favorite days, but I try to make it fun for the girls and the days leading up to it are usually spent doing a variety of spooky crafts like these glow in the dark spider webs.  If your kids are anything like mine, they think anything that lights up is awesome!


Glow in the Dark Spider Webs
These were actually easier to make then I thought they would be.  I was a little intimidated by the glow in the dark powder, but it works great!  And parchment paper during craft time is my new BFF.  You are probably going to get tired of hearing me say that, but it's true.  I never used to buy it, but now I could buy stock in the stuff.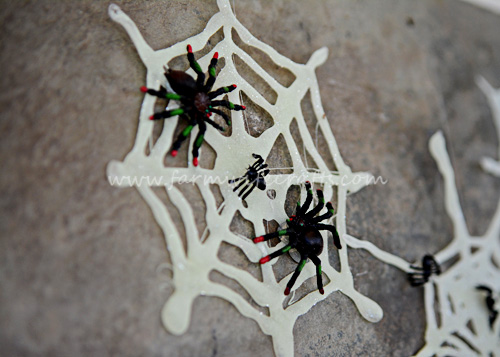 For this project you will need: black marker
, white paper,  parchment paper
,  hot glue gun
,  glue sticks
(lots of them!), Iridescent glitter
(optional),  glow in the dark powder
(optional),  spiders
, and monofilament thread
.
Begin by drawing a spider web on white paper.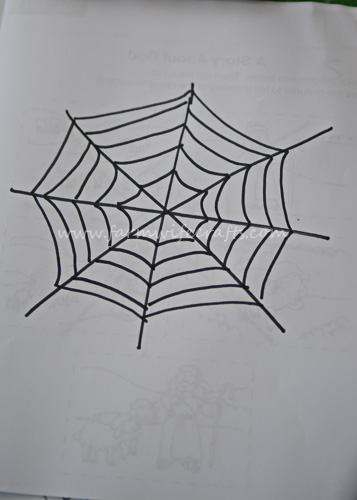 Next place parchment paper over the white paper.  Trace the lines with hot glue.  Make it thick.  Add the iridescent glitter and the glow in the dark powder if using.  I know I said these two things are optional, and they definitely are, but they make them look so cool.  And who doesn't love glitter?  Add spiders if you please.  We added hot glue on top of the hot glue where we wanted the spiders to go as the first layer of hot glue had already started to cool.  (hopefully that makes sense.)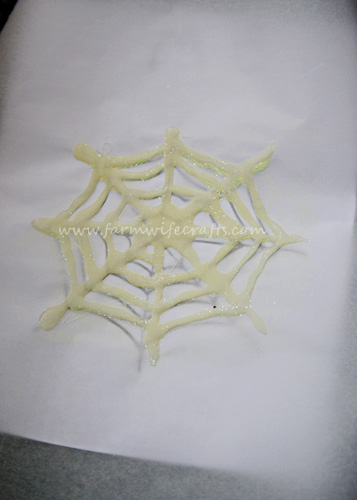 Allow them to cool and peel off parchment paper and tie the monofilament thread.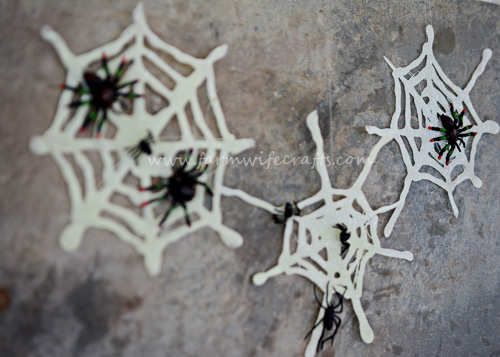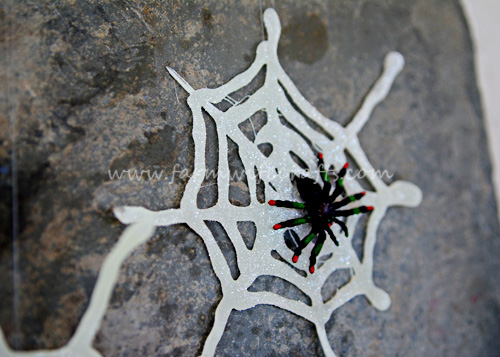 Hang them for display.  These look great in the daytime and also at night time if you decide to use the glow in the dark powder.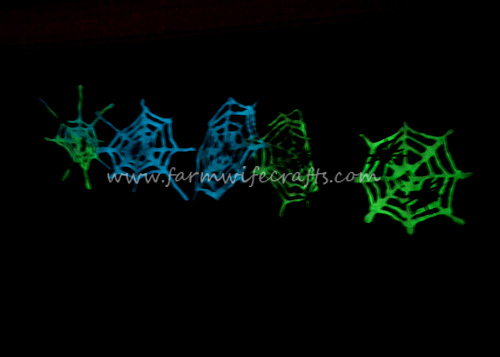 Glow in the Dark Spider Webs
Ingredients
black marker

white paper

parchment paper

hot glue gun

glue sticks

Iridescent glitter

optional

glow in the dark powder

optional

monofilament thread
Instructions
Use a black marker to draw a spider web on a piece of paper.

Place parchment paper over pattern.

Using a glue gun and glue sticks, apply glue over spider web pattern. If using, sprinkle web with iridescent glitter and/or glow in the dark powder before the glue dries.

Add spiders with a dot of additional hot glue.

When dry, carefully peel web from parchment paper and attach monofilament thread.