Affiliate links were used in this post for products I love.
It's hard to believe that it's time for Halloween already.  I saw on Facebook the other day that there's only 12 Fridays left until Christmas.  Now, I'm assuming that's accurate because I haven't officially got the calendar out and counted because then I would probably panic a little.  If you're like me, then you may feel like time is passing all too quickly.  I often find us running from place to place, going through the motion, and not really pausing to enjoy these moments that are passing all too quickly.  That is why I love any craft that I can display or tuck away and pull out anytime that has a handprint of footprint on it.  It's kind of like a flashback when I look at these crafts.  I can remember the moments exactly and it causes me to pause and reflect.  This Ghost Footprint Canvas is and easy, simple craft to make to enjoy every Halloween.  A bonus is that it also includes fingerprints as well!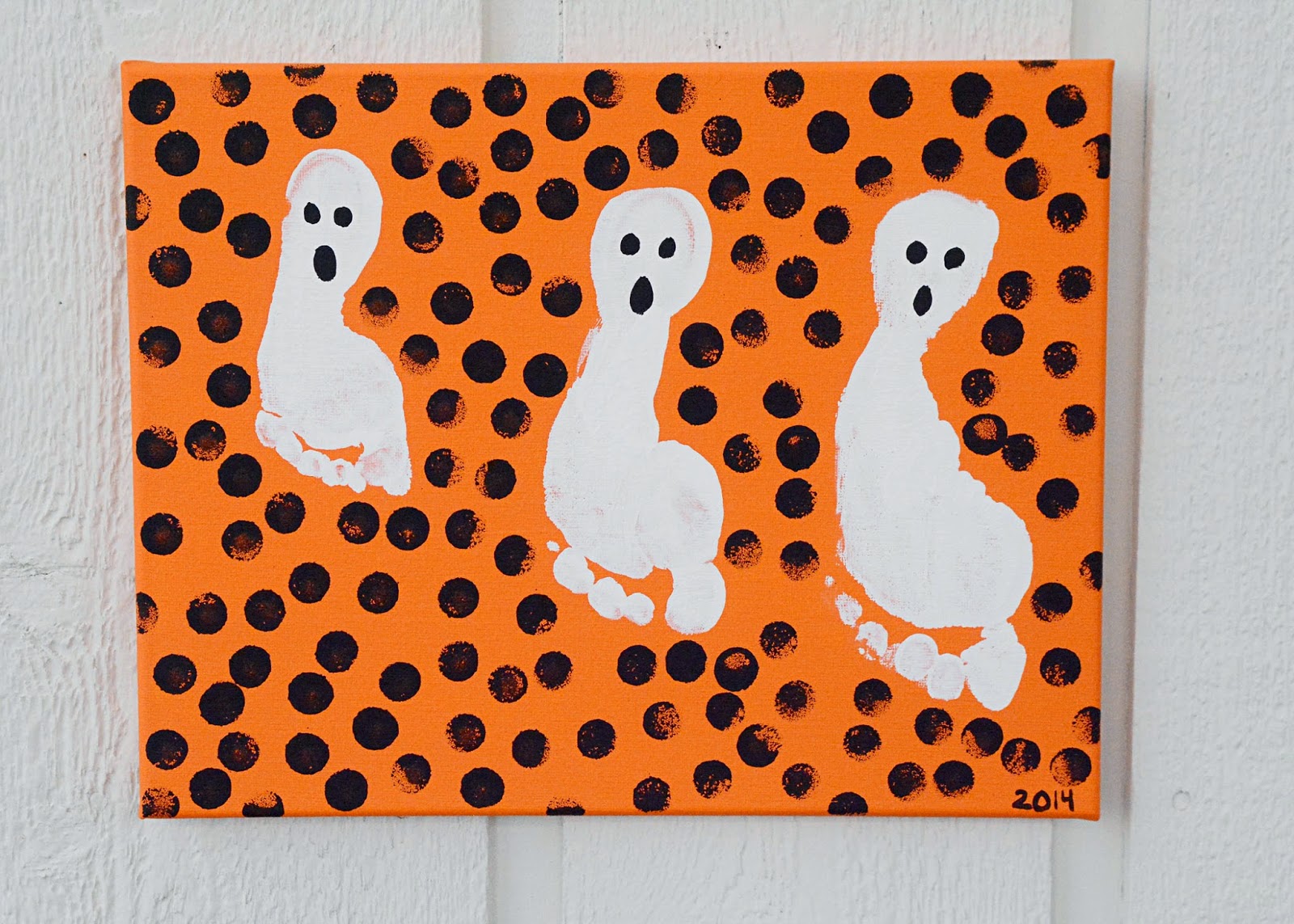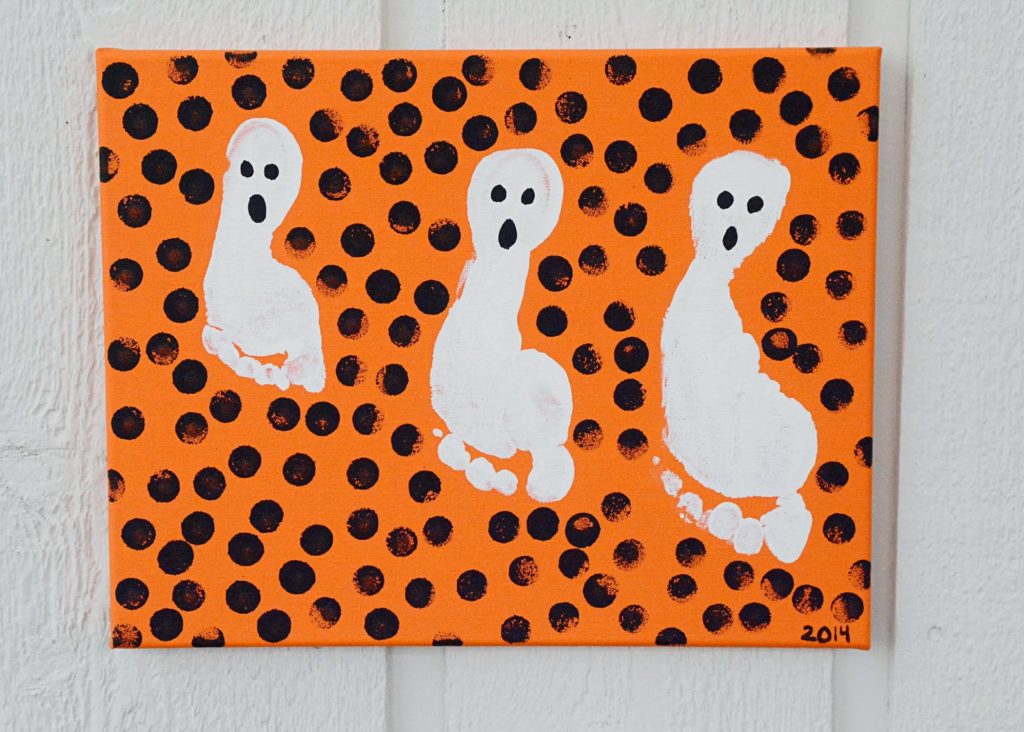 The supplies you will need are:
Canvas (you can use any size you wish.  I prefer an 11×14)
Orange, white, and black acrylic paint
And of course, FEET!
Begin by paining the entire canvas orange and allowing it to dry completely.  Don't forget the edges!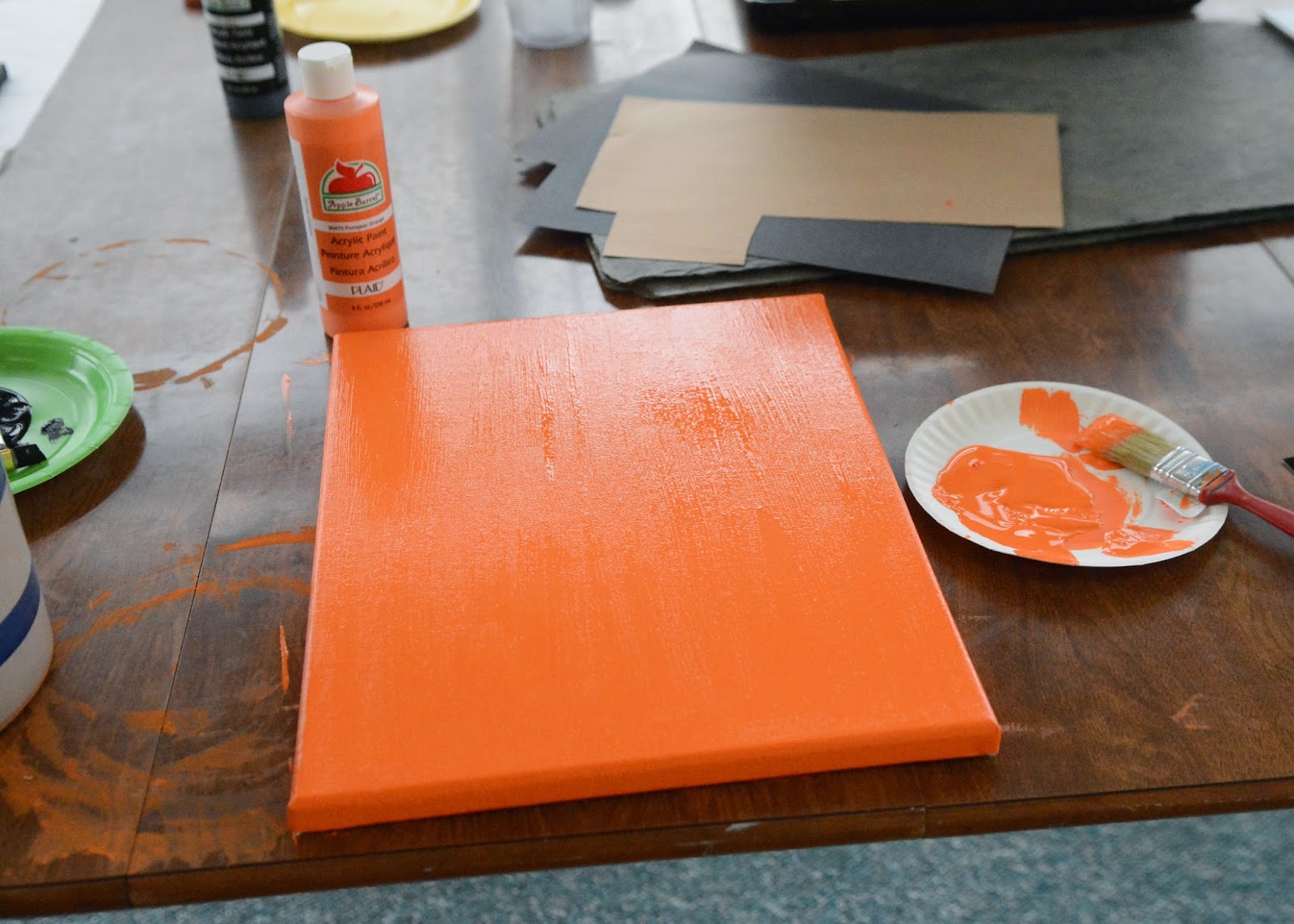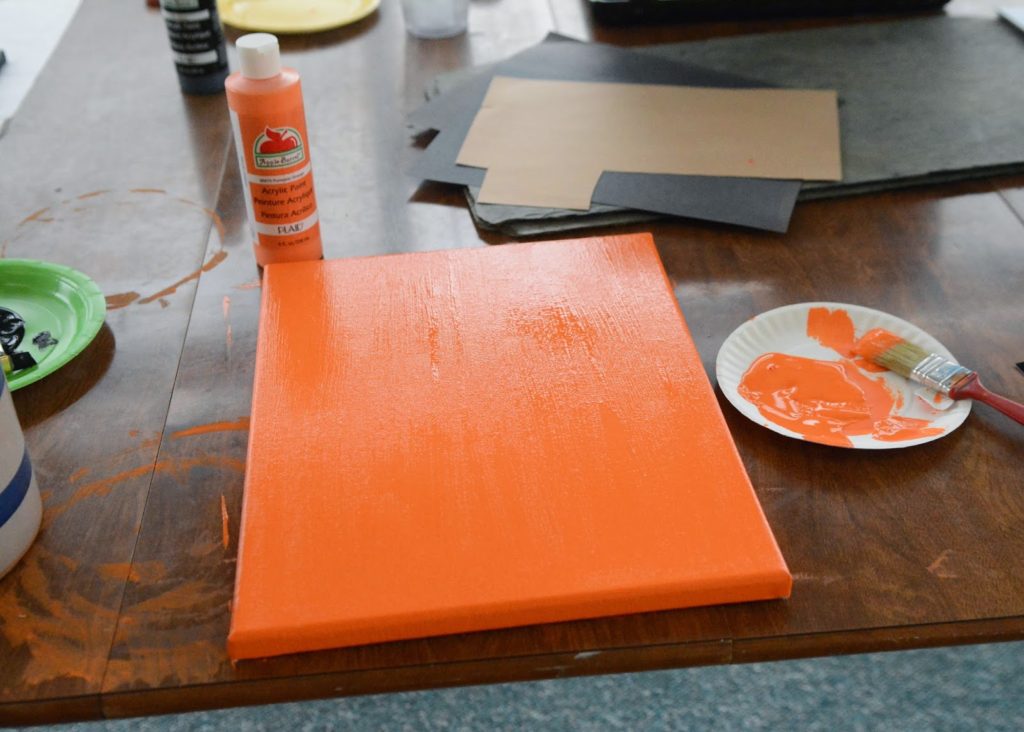 Once the paint is dry, it's time for the fun part!  Take a paintbrush dipped in white paint and paint the bottom of your child's foot.  Yes, I'm sure you could have them dip their actual foot in the paint, but we were going for minimal mess here!  Plus, the kids loved having their feet tickled!
Next, carefully stamp the foot on the canvas.  (You may need to enlist  some additional help for this part.)  Now, since I have three girls, we made three ghosts, but you can put as many on the canvas as you choose.
Once we were done, my oldest and I thought the background needed a little something more, so we added some black fingerprints to the background, but that is totally up to you.
Allow the footprints to dry, then add eyes and a mouth.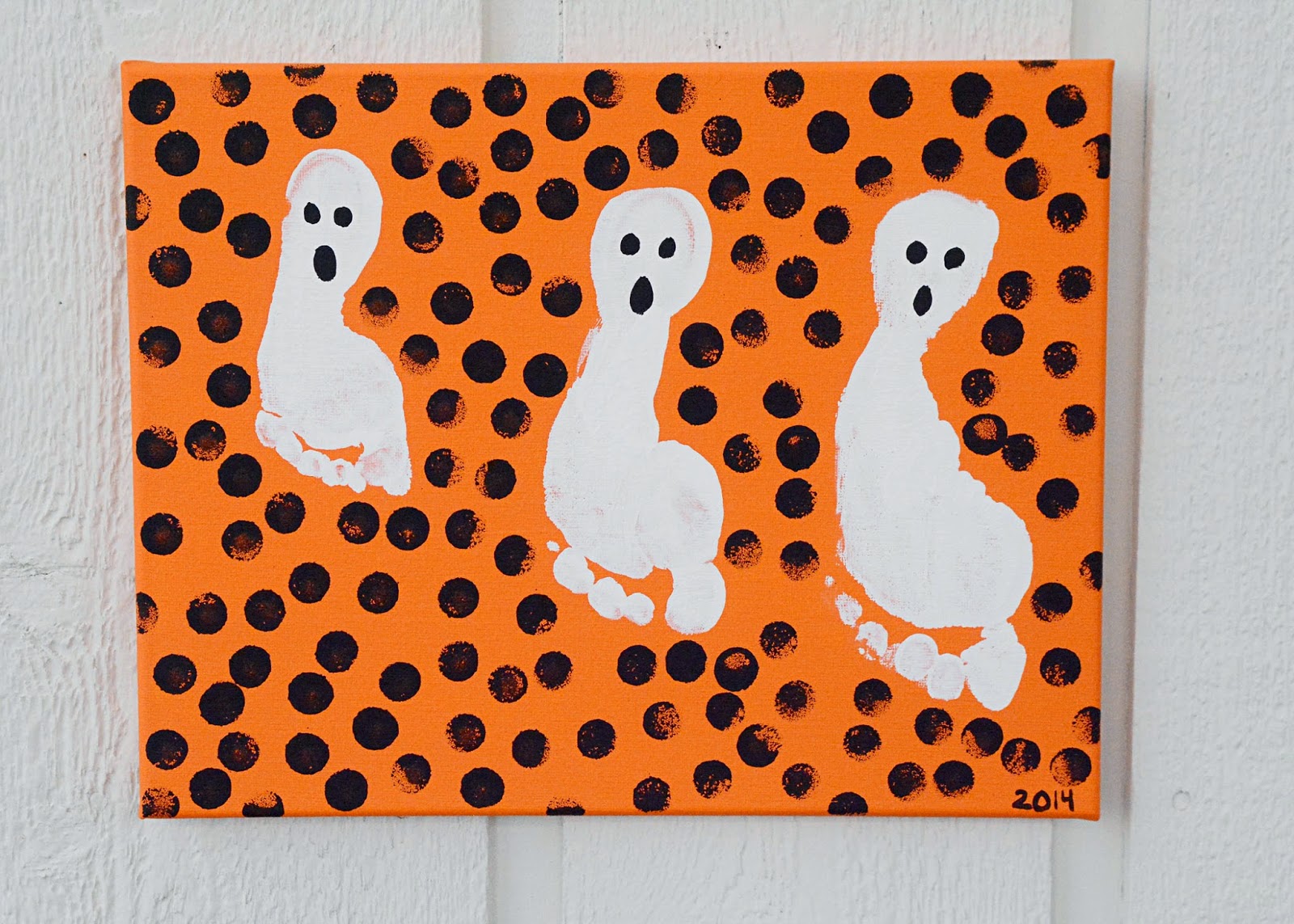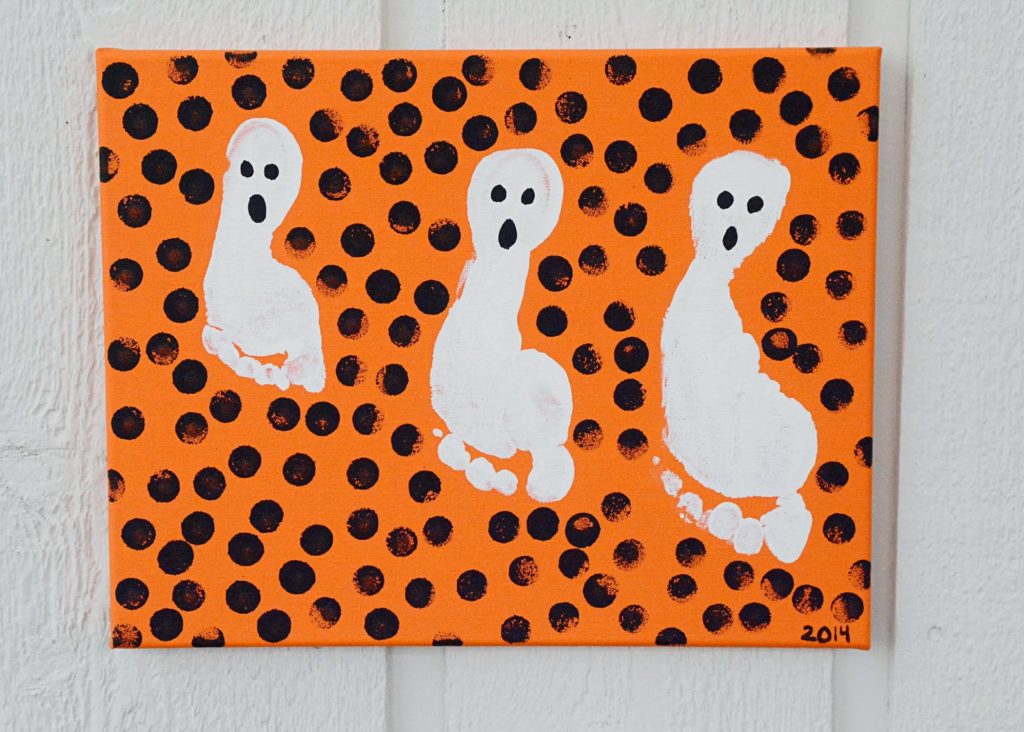 Seriously, how cute are those little footprints??
Ghost Footprint Canvas
Ingredients
Canvas

you can use any size you wish. I prefer an 11x14

And of course

FEET!
Instructions
Paint the entire canvas orange and allow to dry completely.

Paint the bottom of feet with white paint and stamp onto the canvas and allow to dry.

Once footprints are dry, add eyes and a mouth with paintbrush and black paint.

Add eyes and a mouth to the ghosts using a paintbrush and black paint.