As I said in my previous post where I shared a recipe for Zucchini cookies, the zucchini plants just keep on giving.  One recipe that we love as a side with any meal is good old fashioned fried zucchini.  I know it's not the healthiest option, but summer only comes around once a year, so why not enjoy it?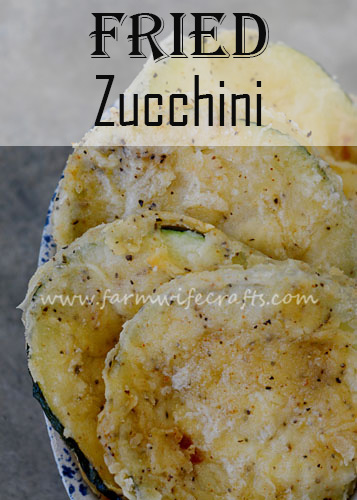 Fried Zucchini
I've been trying to perfect the breading recipe for the last few years and I think I've finally found it.  Not too bland, and just a hint of cayenne pepper so it isn't too spicy.  We also like to dip it in a little ranch.
To get the flaky breading, put flour, cayenne pepper, black pepper, and seasoned salt in a shallow pan.  Put two eggs  in a bowl and whisk with a fork.  Slice the zucchini into thin strips.  You don't even have to peel them.  Dip them first into the eggs, then into the flour.  For an even thicker breading, dip them into egg again, then into flour mixture.  Place in hot skillet with melted butter.  Cook for about two minutes on each side and Enjoy!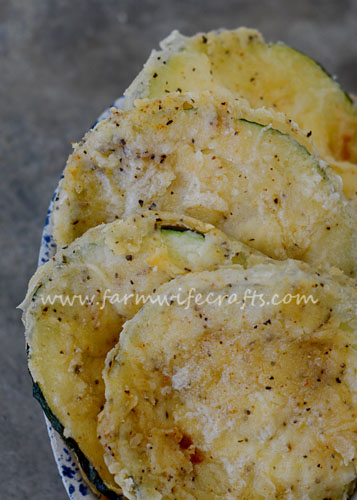 This is quite possibly my favorite way to enjoy zucchini.
Fried Zucchini
Ingredients
1

medium zucchini

thinly sliced

2

Cups

flour

1

teaspoon

black pepper

1/2

teaspoon

cayenne pepper

1/2

teaspoon

seasoned salt

2

eggs

1/4

Cup

butter
Instructions
Thinly slice zucchini.

Mix flour, cayenne pepper, black pepper and seasoned salt in shallow pan.

Whisk two eggs in a bowl.

Dip zucchini in eggs, then roll in flour. For a thicker breading repeat this process.

Melt butter in large skillet.

Place zucchini in hot skillet and cook for about two minutes on each side.