Each year the girls have a small birthday party with friends.  Like I'm sure most parents do, I let them each pick what they would like the theme of their party to be.  Normally it's a cartoon or Disney character, nothing out of the norm.  One year, Mel our middle child, requested a rainbow birthday party.  That was so much fun to decorate for, not to mention it was easy and inexpensive.  So, this year I asked Mel what type of party she would like to have for her 7th birthday and she replied, "Colts."  As in Colts football.  A lover of football and the Colts myself, I was pleasantly surprised.  How fun to think of all the crafts and games we could do with all these fun first graders.  Our time was limited, but we did manage to squeeze in 2 crafts and 1 game.  So, if you are planning a football birthday party look no further than here for some fun football craft and party ideas.  These crafts and game would be perfect for a Super Bowl party, Sunday night football, Monday night football, Thursday night football, or any other night of the week:).
The first football craft we made were these Bubble Wrap Footballs.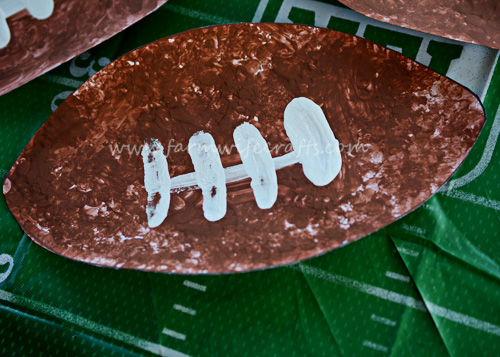 For this craft you will need: cardstock
, bubble wrap
, rubber band
, wine cork (or something to wrap bubble wrap around), brown paint
, brown paint
.
Cut a football shape out of a piece of cardstock.
Wrap a small piece of bubble wrap around the wine cork(or whatever item you are using..you can also use a water bottle, marker, etc.) and secure with a rubber band.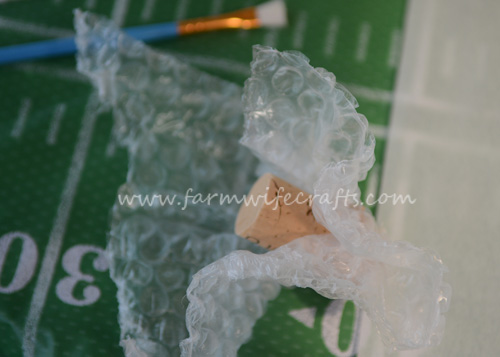 Dip the bubble wrap in the brown paint and dab it on the football to get that pigskin texture.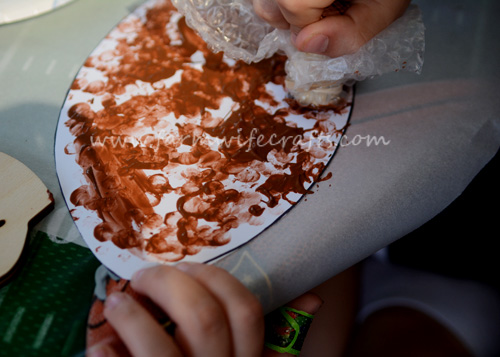 Allow the brown paint to dry.  Then dip a finger in white paint and make the lines for the laces.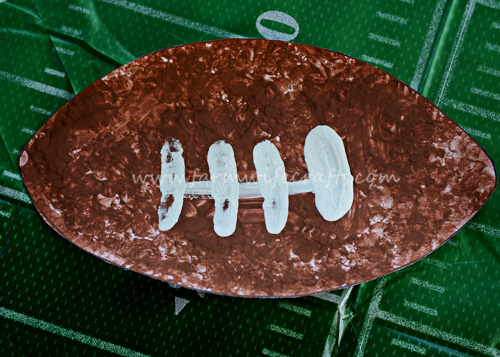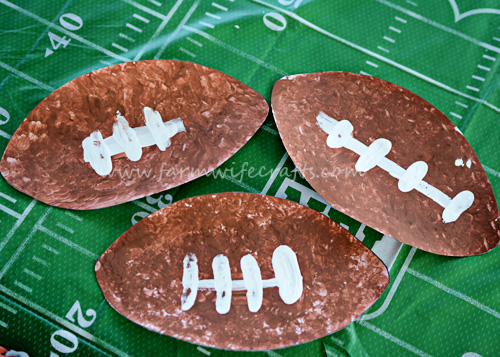 Our next craft was pretty easy to prepare for.  I ordered these wooden football helmets from Amazon
 and let the girls paint them however they wished and also let them add glitter if they chose to.  It was so fun seeing all the different designs and watching their creativity soar as they decided how they wanted to decorate their helmets.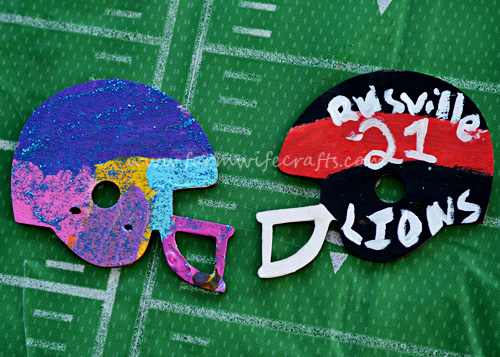 When the helmets are dry, hot glue a magnet to the back if you would like to display them on a refrigerator.
Now on to games.  Have you heard of Pin the Tail on the Donkey?  This game has pretty much the same rules.   Using masking tape, painters tape, whatever tape you like, make a goal on a wall or door.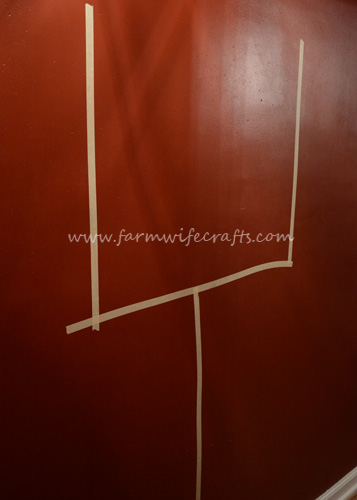 Give each  blindfolded child a football with tape on the back and have them try to put the football between the goal posts.  I have added a printable with footballs for your convenience, here.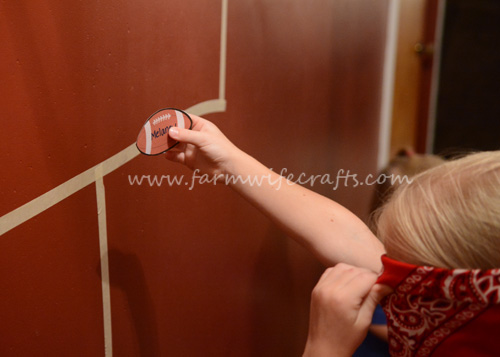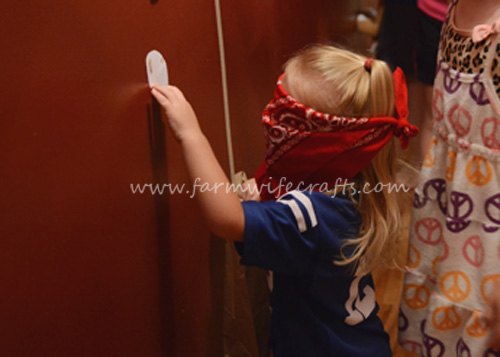 So simple and so much fun!
Bubble Wrap Football
Ingredients
Cardstock

Bubble wrap

Wine cork

Rubber band

brown paint

white paint
Instructions
Cut a football shape from cardstock.

Secure a small piece of bubble wrap around a wine cork or other object with a rubber band.

Dip the bubble wrap in the brown paint and dab on the football. Allow paint to dry.

Dip finger in white paint to make the white laces on the football.
Wooden Football Helmets
Ingredients
Wooden football helmets

paint

glitter

optional

hot glue gun

optional

hot glue sticks

optional

magnet

optional
Instructions
Paint the football helmets in whichever design you choose.

Allow to dry completely.

Hot glue a magnet to the back to display on refrigerator. (optional)