I feel that the best recipes are the ones that are handed down from generation to generation.  I don't know for sure how long this recipe has been in the family, but it came from my mother-in-law so at least one generation;)  While I find it odd to bake something in a paper bag, this Apple Pie in a Bag recipe is delicious and so worth it.  It's like that bag seals in all those yummy flavors.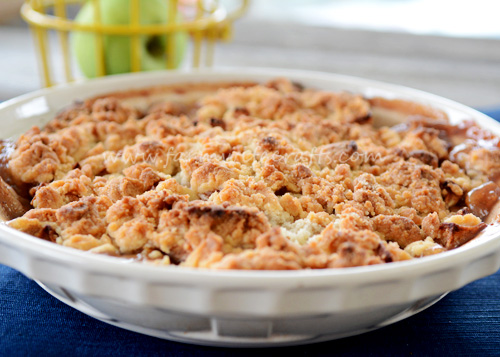 Apple Pie in a Bag
The first step is to peel, slice and chop up the apples.  I prefer to use Granny Smith apples when baking, but you can use whatever your favorite baking apple is.  Then gently toss the cinnamon, nutmeg, water, flour, sugar, and apples together.  Place them in a 9 inch pie pan.
Next combine the softened butter, flour and sugar together til crumbly and spread evenly over apples.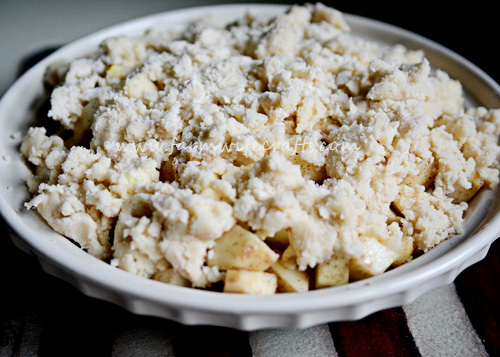 Place the pie in a large paper bag and secure with paper clips.  Place the bag on the lowest shelf in the oven and bake while watching the bag closely.  Please don't judge my dirty oven, or the fact that I have a light bulb out.  I seriously didn't even notice the burnt out light bulb until I snapped this picture.;)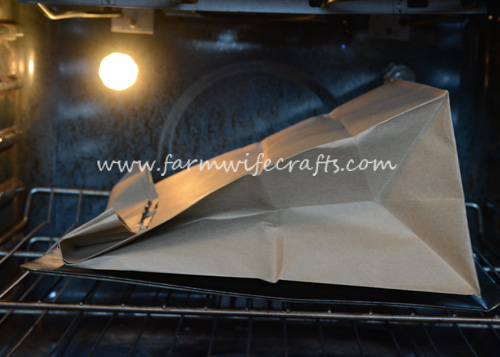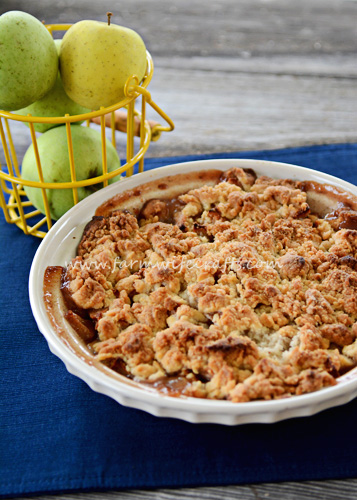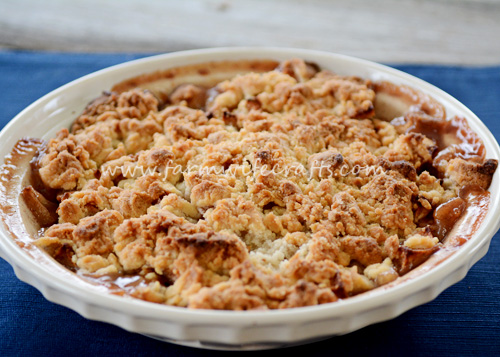 As I was typing out this recipe for the post, I realized that the recipe states to use a pie crust in the bottom.  I never have for as long as I've been making this and it tastes just as good, so if you want to use a pie crust on the bottom, feel free.  The baking time doesn't change at all!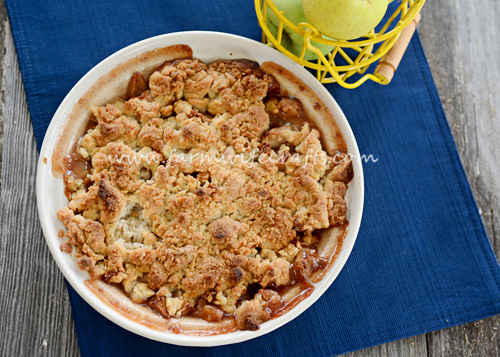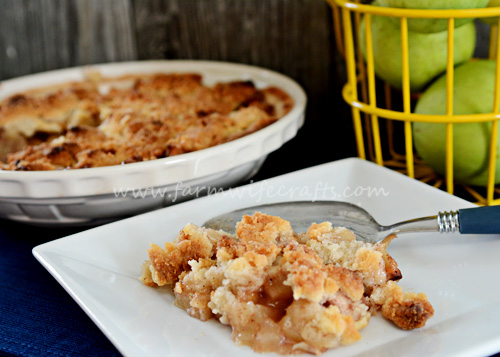 Apple Pie in a Bag
Ingredients
Filling
3-4

large baking apples

I use Granny Smiths (about 7 cups)

1/2

Cup

sugar

2

Tablespoons

all purpose flour

1/2

teaspoon

nutmeg

1/2

teaspoon

cinnamon

2

Tablespoons

water
Topping
1/2

Cup

butter

softened

1/2

Cup

sugar

1/2

Cup

flour
Instructions
Filling
Peel, quarter, and cut up apples into chunks. Add sugar, flour, nutmeg, cinnamon, and water to apples and stir gently to coat.

Pour in greased 9 inch pie pan.
Topping
Combine butter, flour and sugar to make coarse crumbles and sprinkle evenly over apples. Slide into a heavy brown paper bag large enough to cover loosely. Fold open end twice and fasten with paperclips. Place on cookie sheet and bake @ 425 degrees for 50-60 minutes.

Watch bag closely.

Remove from bag (be careful as paperclips will be hot) and allow to cool completely.