If you are looking for a simple beef bbq recipe, then look no further because this Crockpot Beef BBQ is your ticket to an easy weeknight meal.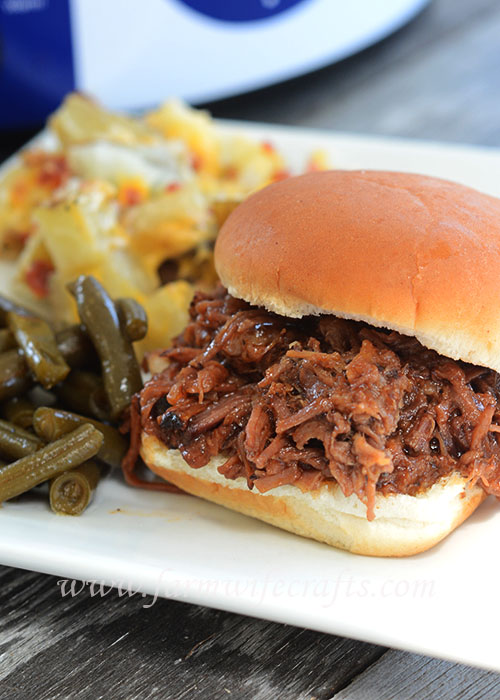 I like to think of someone who doesn't like to "toot my own horn," but this blog, and my previous blog (that I try to update every once in a while, This Farm Family's Life, has been sort of a blessing in disguise, so to speak.  You see, when I started This Farm Family's Life, I was a stay-at-home-mom to one, soon to be two.  I thought it would be a fun way to connect with our family who lives out of state…I wasn't on Facebook at the time either…or maybe Facebook wasn't that big of a thing back in 2008??  Anyway, I started it as a way to connect with family by mainly sharing pictures of our family and what was going on with them.  Then I started sharing the occasional recipe, craft, and farm story and I found that people loved it and I loved sharing that with everyone.  That was my outlet.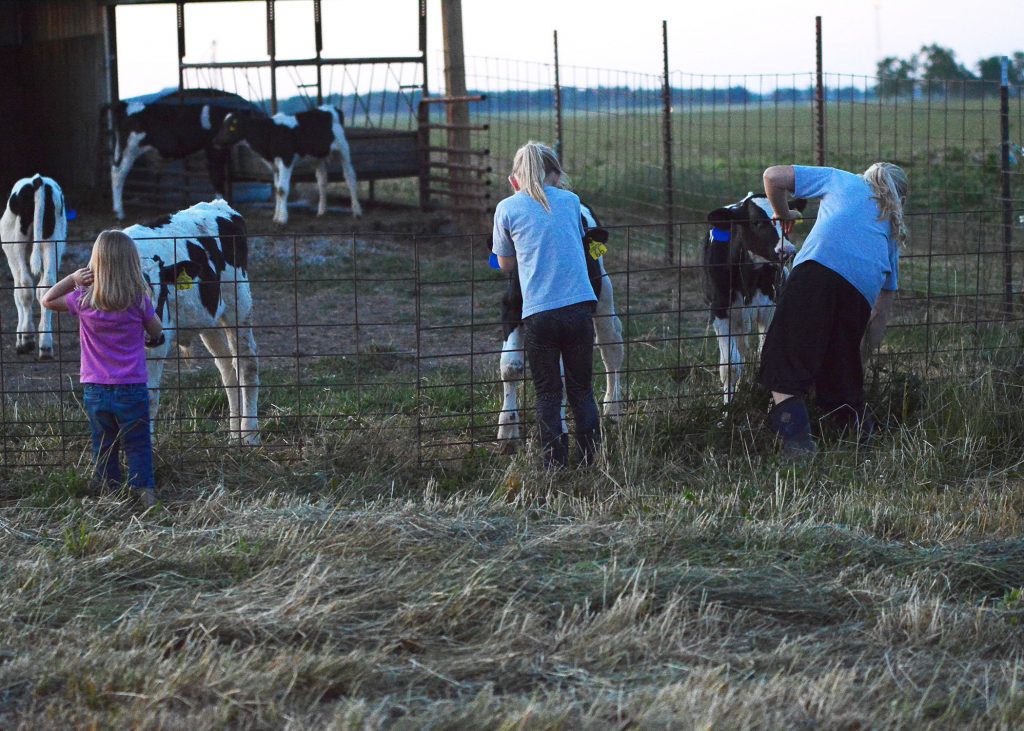 That was my way to connect with other stay-at-home moms, or just a way to feel like I was talking to someone else during the day other than the tiny humans in my house.;) Ha!  Because of these two little blogs, I have met some AMAZING  people, some of whom have become my very best friends!  I've also been give some pretty cool experiences to share with my family because of it.  I'm not really one to self-promote.  I'm actually a pretty quiet person and the thought of large crowds gives me butterflies let alone having to speak in front of them, but a few months ago our family was asked to be one of the featured farm families at the Indiana State Fair.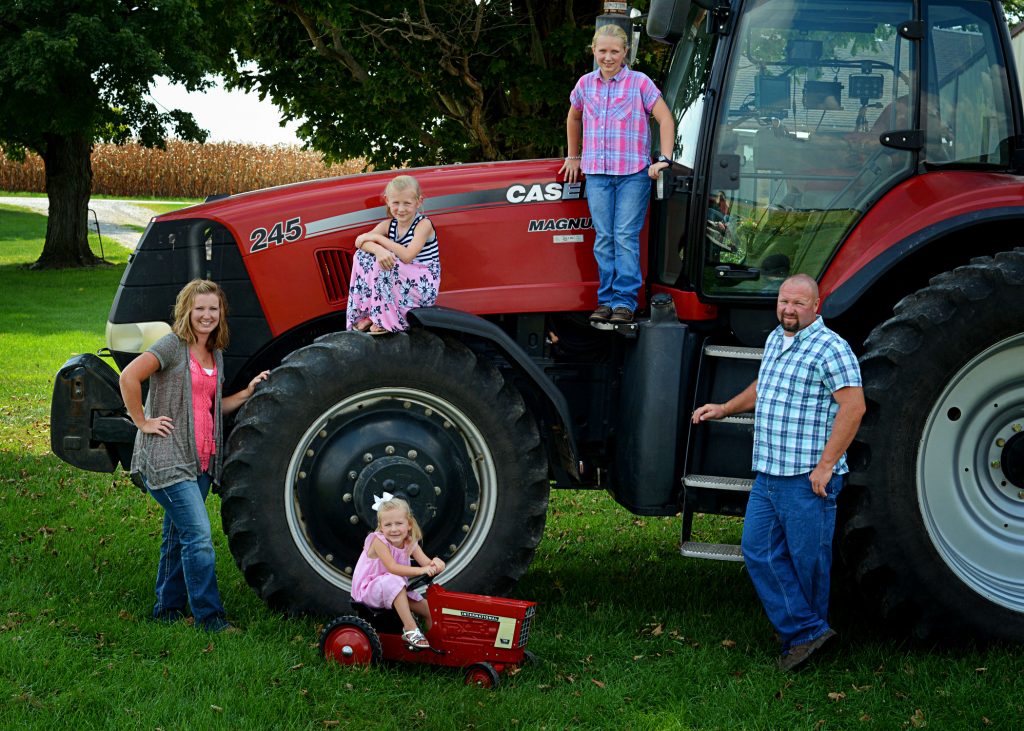 I didn't hesitate and quickly agreed, knowing that I will have to face one of my biggest fears, which is speaking to a large group of people.  Our little family will be treated like royalty one day during the State Fair, by meeting fair board members, eating at The Pioneer Village, and being interviewed at The Glass Barn.  Several other events will take place during the day and I'm excited to share this all with my family.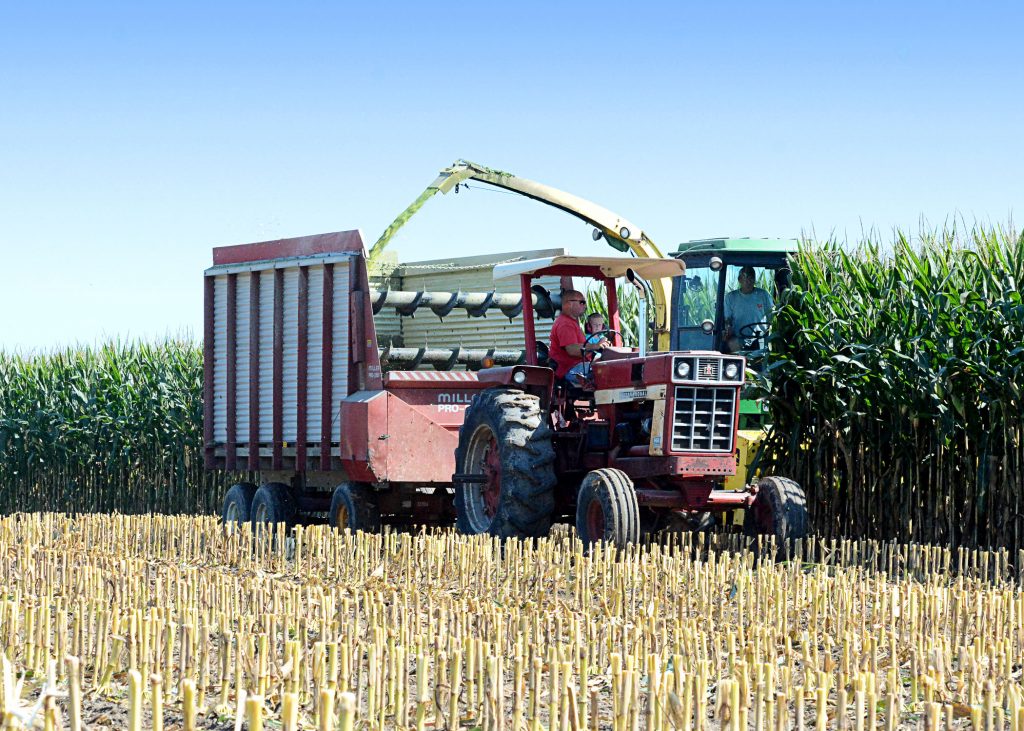 And it's all thanks to this little blog that started it all.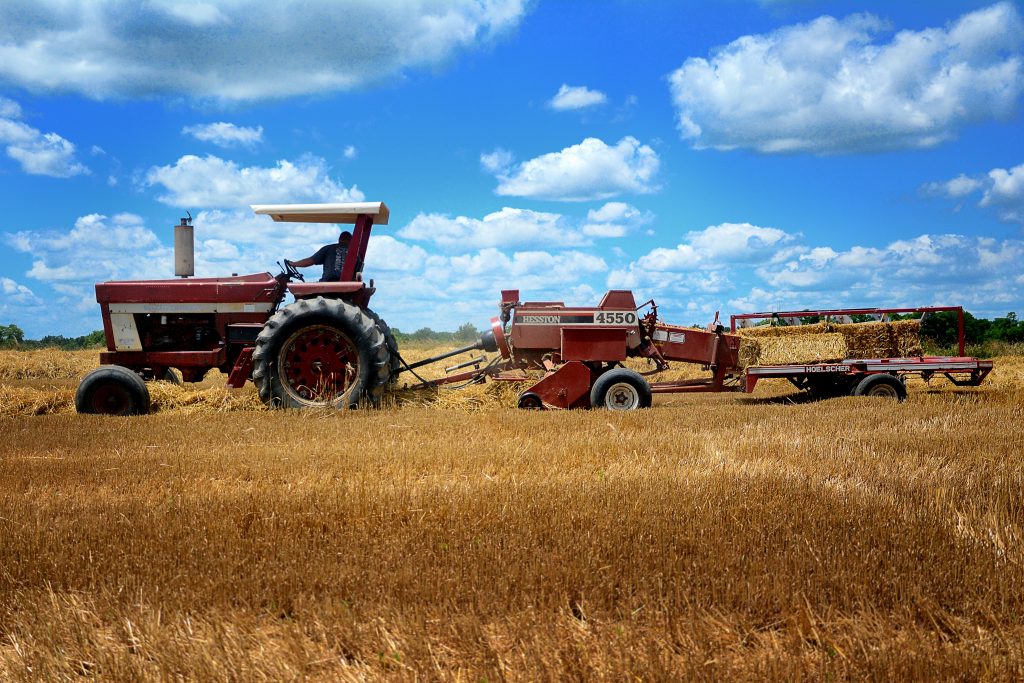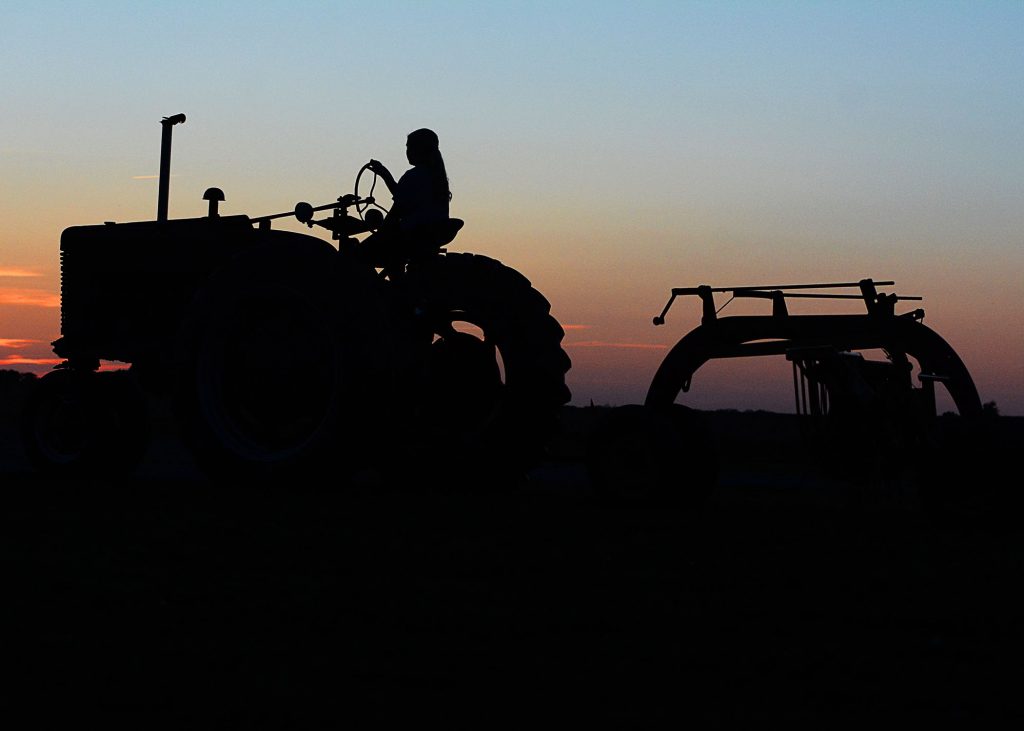 Crockpot Beef BBQ
Now, back to this easy peasy beef BBQ recipe.  Toss a 3-5 pound chuck roast in the crockpot and pour a 12 ounce can of beer or non-alcoholic beer over the top along with a bit of seasoned salt, pepper, onion powder, garlic powder, and chili powder.  (If you prefer not to use beer, you can use a can of coca-cola, or Pepsi instead.)  Cook on low for 8-10 hours.  I like to toss it in the night before and let it cook all night, since we will usually eat it for lunch and enjoy the leftovers for supper, but if you want to eat it for supper, then just toss it in in the morning.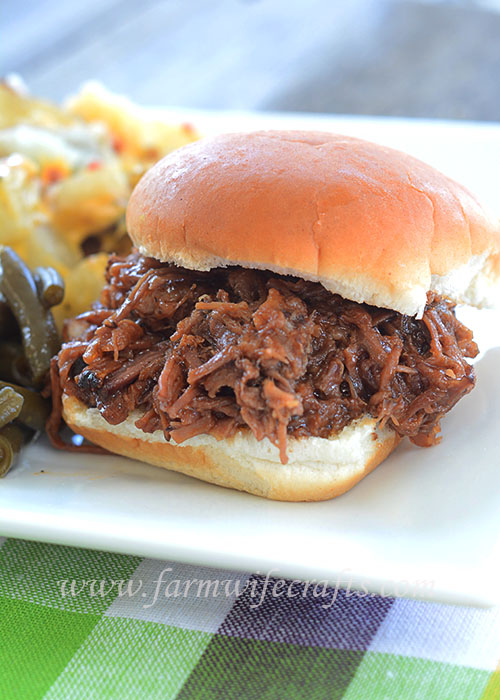 After 8-10 hours, or an hour or two before you want to eat it, drain all liquid from the crockpot and shred the meat.  Add 1.5 to 2 cups BBQ sauce (depending on how saucy you want it) and 1/4 Cup brown sugar to the crockpot and stir to combine with the meat.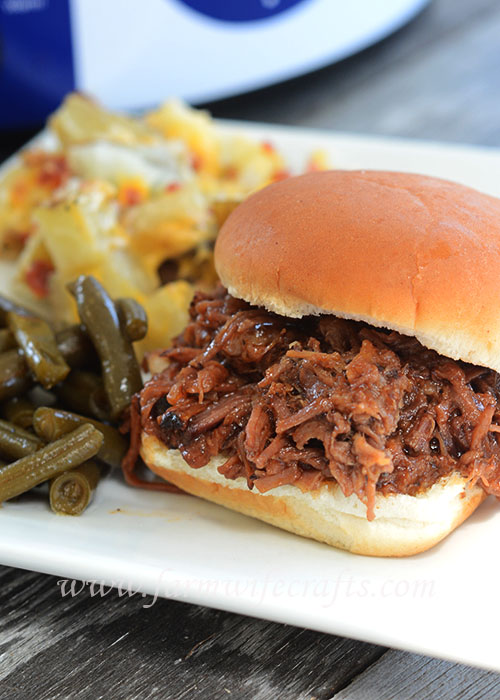 Allow the meat to cook on low for an additional hour or two or until heated through.  I feel like the longer it cooks, the more the flavors melt together and the better it tastes!  Once it's heated through, its ready to serve and enjoy!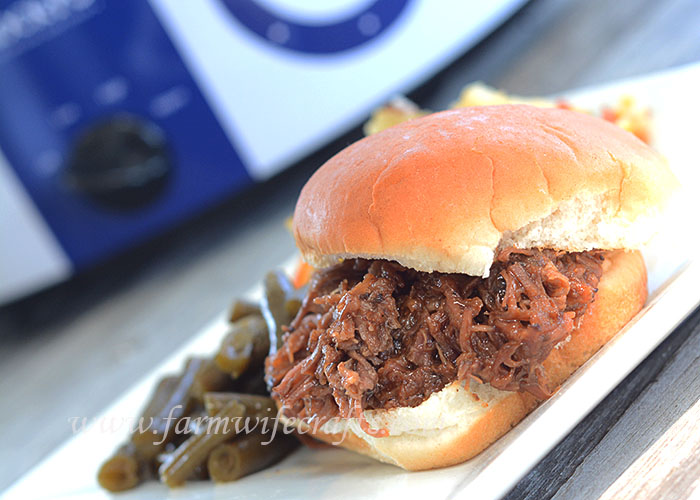 We prefer to serve this Crockpot Beef BBQ as a sandwich, but you could definitely eat it by itself.  This would pair great with some garden fresh corn on the cob….if only ours was ready!!   Only a couple more weeks!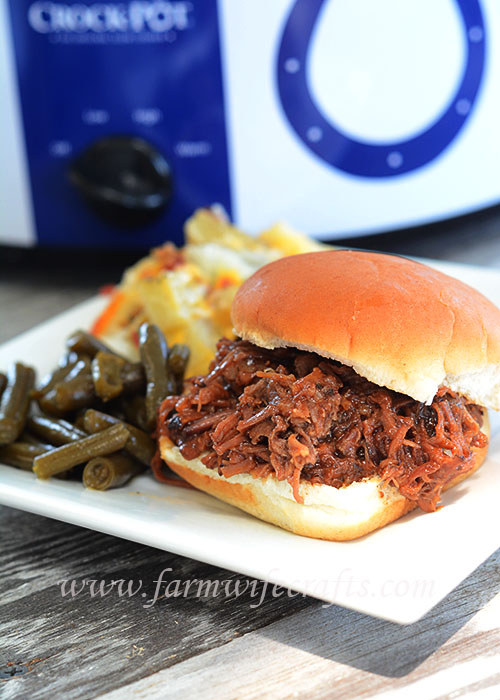 I hope your family enjoys this easy Crockpot Beef BBQ as much as ours does!



Crockpot Beef BBQ
The Glass Barn
Instructions
Place chuck roast in crockpot. Pour beer over the top of the beef. Sprinkle pepper, salt, garlic powder, onion powder, and chili powder over the top.

Cover and cook on low for 8-10 hours.

An hour or two before you want to eat it, drain all liquid from crockpot and shred the beef.

Stir in the BBQ sauce and brown sugar and cook on low for another hour or two or until heated through.

Serve on buns.
This post was sponsored by The Glass Barn, but all opinions and photos are my own.
Affiliate links were used in this post for products I love.