It's hard to believe that Thanksgiving is right around the corner.  I've rounded up 5 fun turkey crafts to help you get in the Thanksgiving spirit with your kids.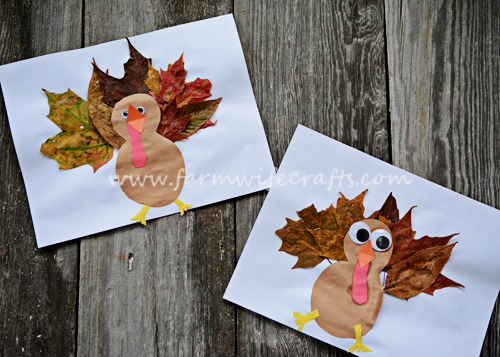 I love making crafts with my kids while teaching them a few things in between.  One thing I've learned from being a parent is that my kids often learn better when they are having fun!
This Handprint Turkey Canvas is one of my absolute favorite crafts I have ever done with my kids.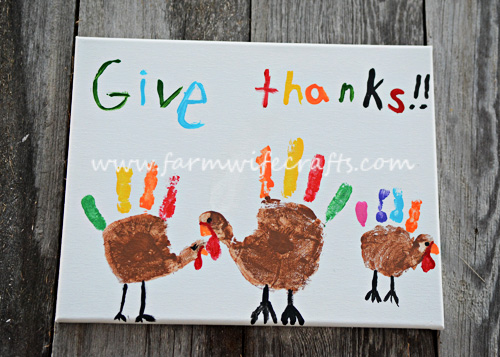 I love anything with a handprint that can document how small they once were!  Time goes so fast and its so easy to forget how little they were.  We've also made one similar for Halloween, Valentine's Day, and St. Patrick's Day.
Next, is this adorable Fruit Cup Turkey.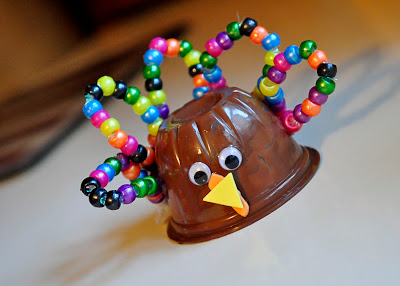 This craft is a great way to incorporate ways to recycle as well as hand-eye coordination for younger kids while stringing beads on a pipe cleaner.
Who says you can only send greeting cards during birthdays and Christmas?  Check out this Fingerprint Turkey Card!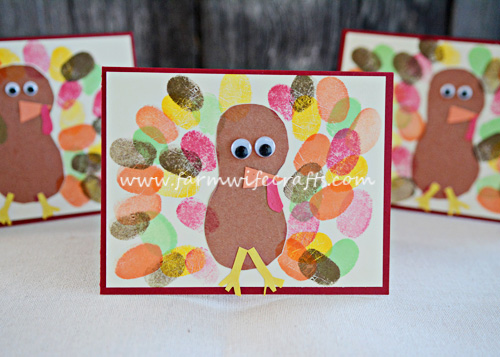 This is sure to brighten anyone's day!  I have learned that people, especially the elderly, love to get mail anytime of the year.  They will love opening their mailbox and discovering this handmade card!
Another handprint craft (do you see a theme here?…Besides the turkey theme of course!) is this simple handprint turkey.  This was a craft we made a few years back when my kids were smaller and loved to dip their hands in paint and get a little messy while not getting in trouble for it:)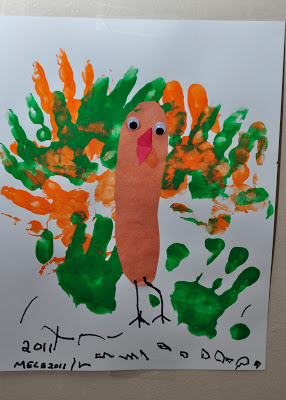 It's super simple because all you have to do is let the kids dip their hands in various colors of paint and stamp them on the paper for the feathers, cut out a body for the turkey from brown paper, add some eyes, and some feet and you're done!
Last, but certainly not least is this Leafy Turkey.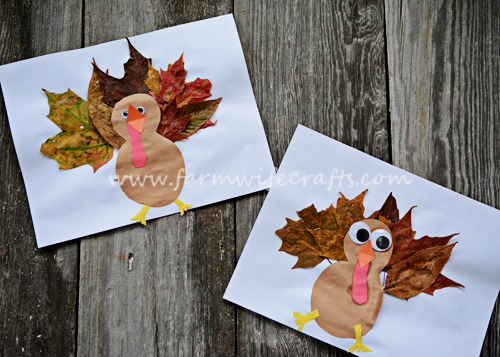 This one takes a bit more time, but kids will love looking for the perfect leaves to use for the feathers.  I found it was best to press them in between pages of a book before gluing them to the paper.
While your kids are busy making these crafts share these  fun turkey facts with them:
Male turkeys are called toms, while females are called hens.  Baby turkeys are called poults.
Turkeys lived almost  million years ago.
Male turkeys gobble, but hens don't.  They make a clicking noise.
Illinois farmers produce nearly 3 million turkeys each year.
Turkey has more protein than chicken or beef.
Turkeys can see in color, but see poorly at night.
Full grown turkeys have about 3,500 feathers.
The red growth under the turkey's neck is called a wattle.
Male turkeys have a beard on their chest.
Turkey eggs take 28 days to hatch.
I hope you have fun creating these turkey crafts with your kids, while teaching them a bit about turkeys too!



This post was sponsored by The Glass Barn, but all photos and opinions are my own.