Sadly, summer is coming to an end and so is our garden.  The only veggies left in our garden are tomatoes, peppers and zucchini.  We still have zucchini coming out of our ears.  Every year I only plant five zucchini seeds in my garden and you would think that I plant 50 of them because I always end up with a ton of zucchini.  It doesn't matter if there is a drought or a monsoon, zucchini will flourish!  Everyone else has the same problem, so I rarely give them away.  Our neighbor recently told us the joke, "If you ever see anyone buying zucchini at the grocery store, they must not have any friends."   I'm always trying to find new recipes to use because you can only have so many loaves of zucchini bread.  When I saw this recipe for zucchini cookies, I knew that I wanted to try them because they looked yummy.

Zucchini Cookies
The icing on these cookies adds just the right amount of sweetness with the cinnamon and nutmeg spices in cookies.  Make a batch of these cookies and share with your friends and neighbors.  It will be a nice change from all those loaves of zucchini bread!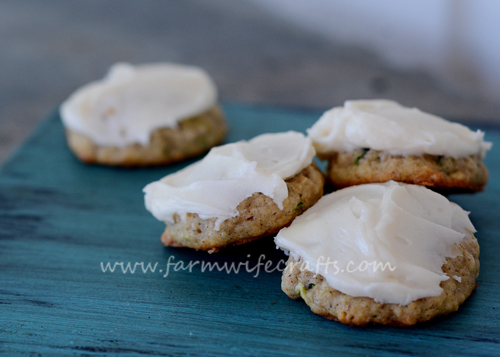 Zucchini Cookies
Ingredients
1 1/2

Cups

flour

1

Cup

sugar

1/2

teaspoon

baking soda

1/2

teaspoon

salt

1/4

teaspoon

nutmeg

3/4

teaspoon

cinnamon

3/4

Cup

butter flavored shortening

2

eggs

1

cup

grated zucchini

1 3/4

Cups

quick oats
Frosting
1/2

Cup

butter

softened

3

Tablespoons

milk

2

teaspoons

vanilla

3

Cups

powdered sugar
Instructions
Cookies

Preheat oven to 375 degrees.

Combine flour, sugar, baking soda, salt, nutmeg, and cinnamon together in a large bowl and stir to combine ingredients well. Beat together shortening and and egg until well combined. Add zucchini and oats and beat until evenly mixed. Gradually add flour mixture and mix well.

Spoon 1 inch drops of cookie dough onto a greased cookie sheet.

Bake for 8-10 minutes. Let cool.
Frosting
Cream butter in a medium bowl. Add remaining ingredients and beat until smooth. Add more milk and/or powdered sugar until you reach desired consistency.

Frost cookies once they are cool.