Affiliate links were used in this post for products I love.
This recipe was shared over at Meal Plan Monday by Southern Bite and Weekend Potluck by The Country Cook.
Trying to figure out what to take to that holiday pitch-in?  This Sweet Potato Casserole is a favorite at our holiday get-togethers.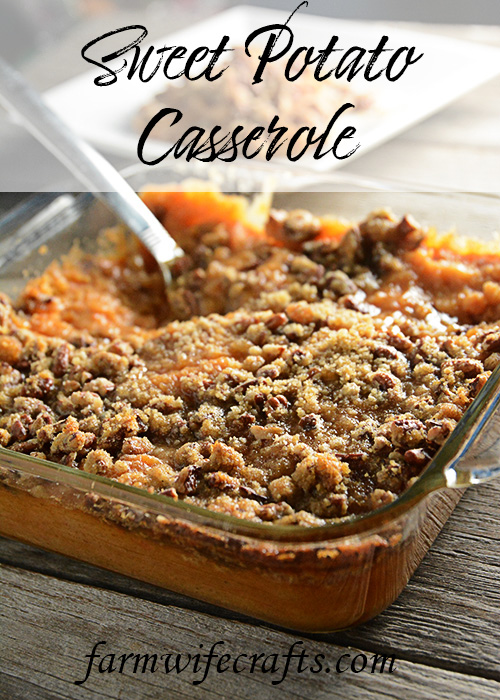 Sweet Potato Casserole
My family loves it so much that if I don't bring it they threaten to hunt me down.  Not really, but kind of.  This is a great dish to serve at Thanksgiving or Christmas.  My family even requests it throughout the year, so  I make it year round.  Who says sweet potatoes are only for the holidays?  Don't worry!  You still have time to run out and get the ingredients, or you may have them already in your pantry.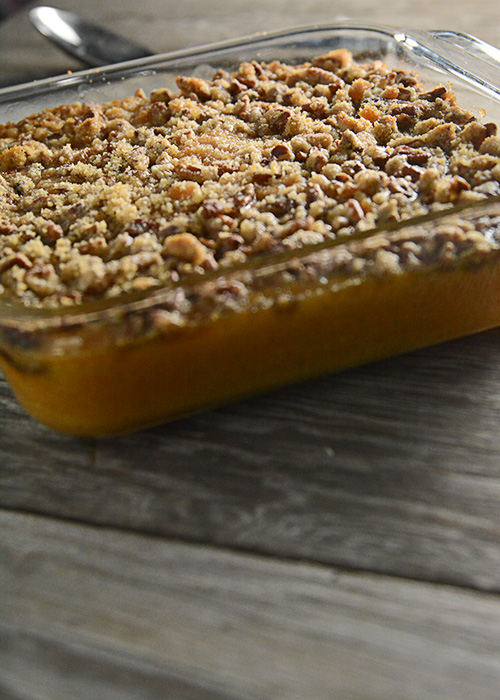 This recipe came from an old Pioneer cookbook that I remember my mom cooking out of when I was a kid.  I believe this particular cookbook belonged to Brad's grandma.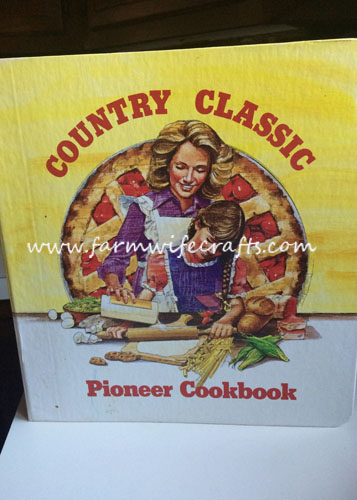 If only seed companies provided cookbooks today!;)  I particularly remember my mom making dumplings and this sweet potato casserole from this cookbook.
I was trying to find the date this cookbook was written, but instead I got a laugh out of the top few lines of the index.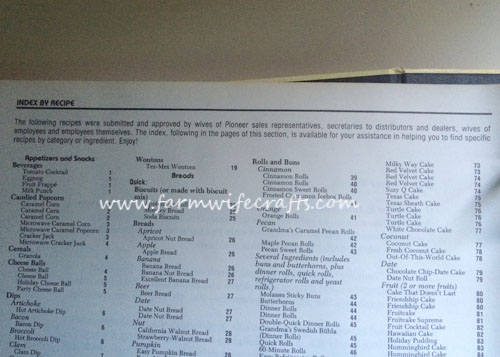 "The following recipes were submitted and approved by wives of Pioneer sales representatives…"  I don't know why I found that funny, but I did.  Maybe I'm slap happy with all this holiday preparation!
I love the cruncy topping from the brown sugar and chopped pecans and since it has sweet potatoes in it that means it's good for you, right?  I mean, I'm probably getting like 10 servings of the recommended amount of Vitamin A just from scarfing this deliciousness down!  (Note: I know my recipes aren't healthy and I was halfway joking with that above comment.  I like to eat, but I live an active life!)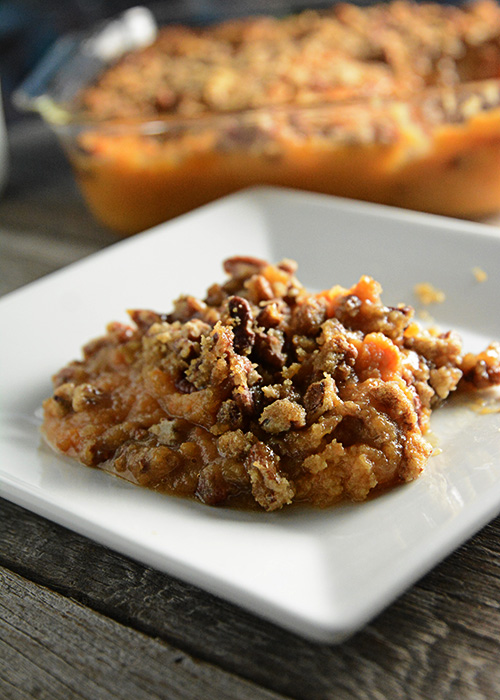 Mash the sweet potatoes in a large bowl.  Add the melted butter, vanilla, sugar, eggs, and milk and stir until combined.  Pour evenly into a greased 9×13 pan.  For the topping combine the brown sugar, flour, butter, and pecans and sprinkle evenly over the top of the sweet potato mixture.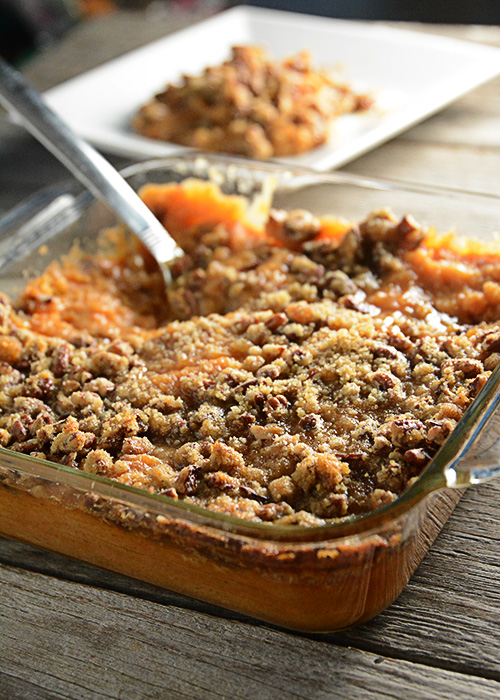 This recipe is so easy, can be whipped up at the last minute, or can be made the night before and kept in the fridge overnight(like I did).
This recipe was shared at Weekend Potluck.
Sweet Potato Casserole
Ingredients
3

Cups

mashed cooked sweet potatoes

I use canned

1/2

Cup

melted butter

1

teaspoon

vanilla

1

Cup

sugar

2

eggs

beaten

1/3

Cup

milk
Topping
1/2

Cup

firmly packed brown sugar

1/4

Cup

flour

2 1/2

Tablespoons

butter

melted

1/2

Cup

chopped pecans
Instructions
Combine all ingredients in a large bowl, mix well.

Pour into greased 9x13 pan.
Topping
In a small bowl, combine brown sugar, flour, melted butter, and pecans. Mix well.

Sprinkle evenly over sweet potato mixture.

Bake at 350 degrees for 30-40 minutes.