Affiliate links were used in this post for products I love.
This post was shared over on Meal Plan Monday and  Weekend Potluck.
Who loves anything with strawberries?  If you answered, "yes," then you need to try this recipe for Strawberry Trifle.

How are things going at your house?  We are hanging in here.  We're definitely missing sports and our friends, but are thankful for social media that helps us stay connected.  In Indiana, businesses are slowly starting to open.  Everything just feels so strange, almost eerie.  I know we will all have to get used to the "new normal," but I don't know if I'll ever consider it to feel normal.  Anyway, no matter what life throws at us or how un-normal it might feel, I guess we have to count our blessings.
We are almost finished with corn and have got a decent start on beans.  We had anywhere from 1″-3″ of rain on our fields over the weekend with more rain in the forecast, so it sounds like we'll be out for the week.  We're still way ahead of schedule from last year which proved to be one of the wettest springs on record.
We're still holding on to hope that we will be able to have our 4H fair.  Purdue University is supposed to make the call May 15th.  Fingers crossed and many prayers going up!  Now, back to this ah-mazing Strawberry Trifle.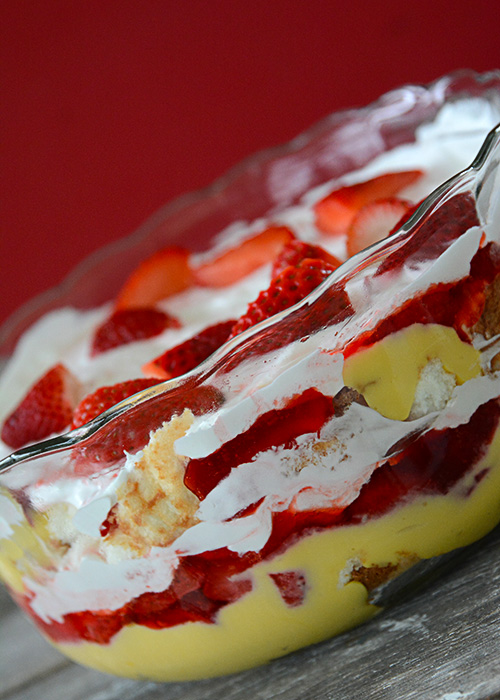 Strawberry Trifle
You will need:
1 3 oz. box strawberry jello
2 3.4 oz boxes instant vanilla pudding
3 Cups frozen strawberries plus more for the top (optional)
2 Cups cold milk
2 Cups vanilla ice cream
1 1/4 Cup boiling water
8 oz.  container cool whip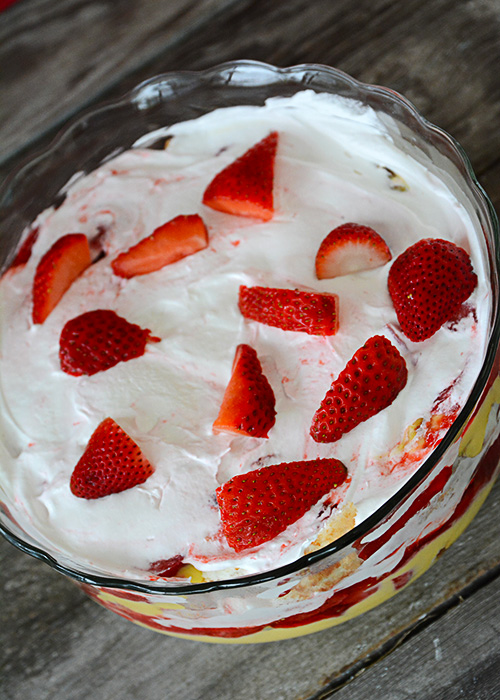 Bake Angel Food Cake according to package directions.  Allow to cool and cut into small squares.  Set aside.
Combine pudding and milk and let it thicken for a few minutes.  Add ice cream and beat well until well blended.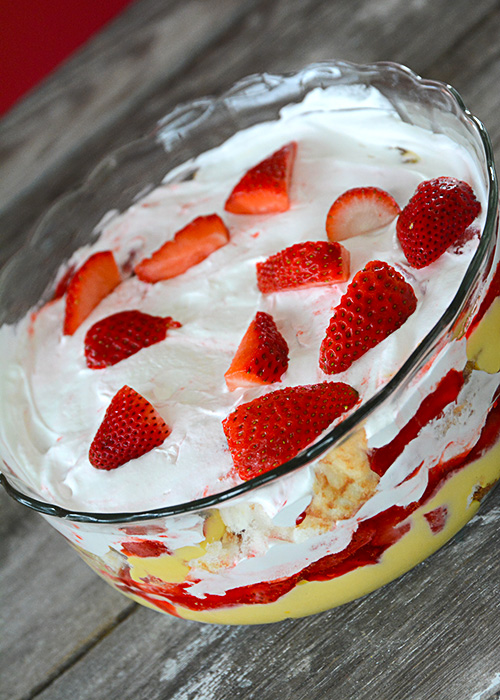 Bring water to a boil.  Remove from heat and stir in jello until dissolved.  Add frozen strawberries and stir until partially set.  This takes about 5 minutes.  I usually stir, then walk away and do something else, then stir again.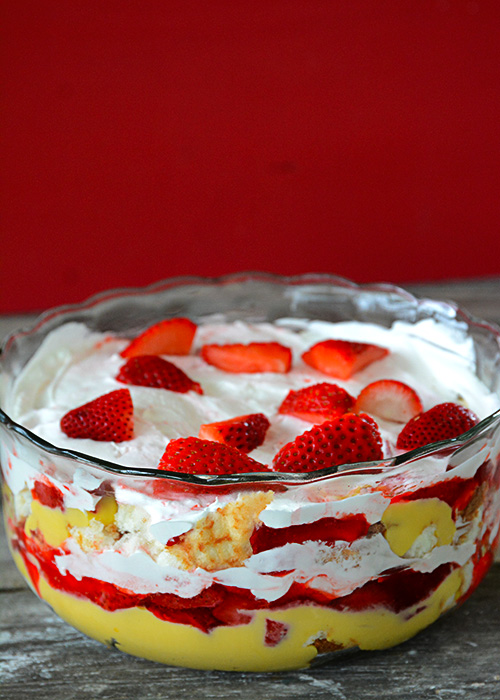 Now it's time to begin layer.  Layer 1/2 the cake on the bottom, followed by 1/2 pudding mixture, then 1/2 jello mixture, and 1/2 cool whip.  Layer again ending with cool whip on the top.  Add fresh or frozen strawberries to the top, if desired.  Keep refrigerated.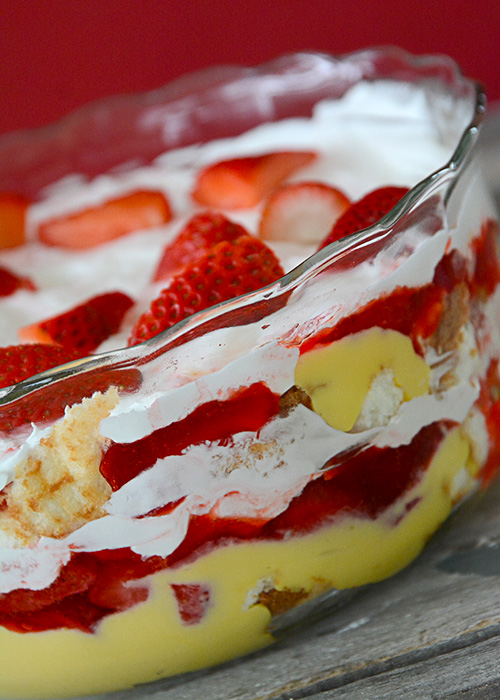 Just look at all those glorious layers of scrumptious goodness!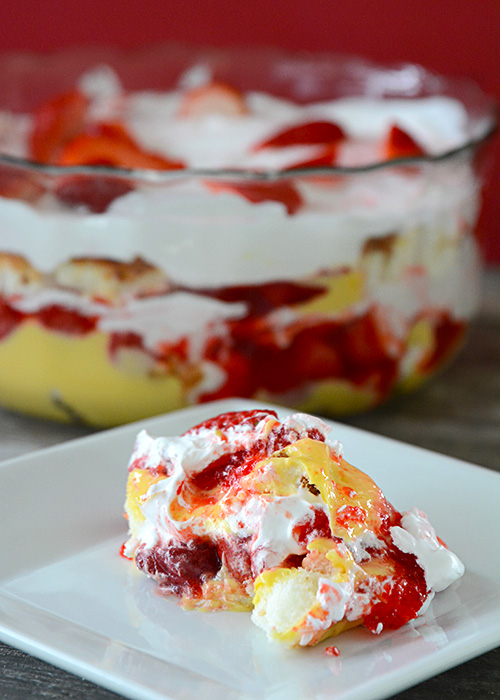 This is the perfect summer dessert.  You can also use fresh strawberries.  Just wash and stem and place in a single layer on a cookie sheet and freeze for 24 hours then they're ready to go.  This is also my secret for freezing fresh strawberries.  If you put them on a single layer on a cookie sheet and freeze for 24 hours, you can then put them in a freezer bag and they won't stick together!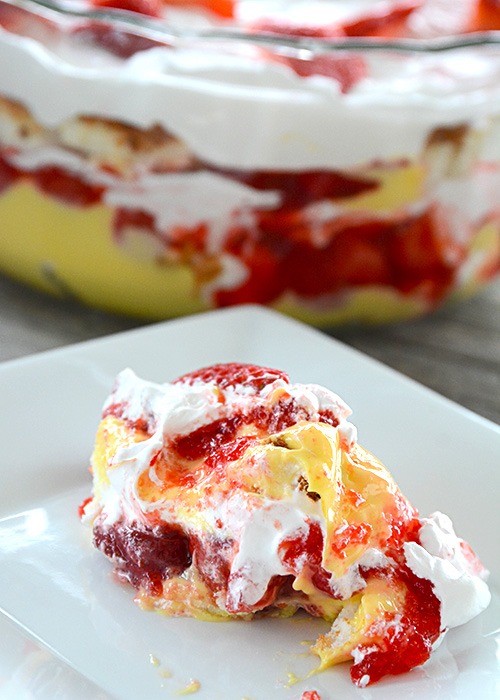 Rating 4.0 from 1 reviews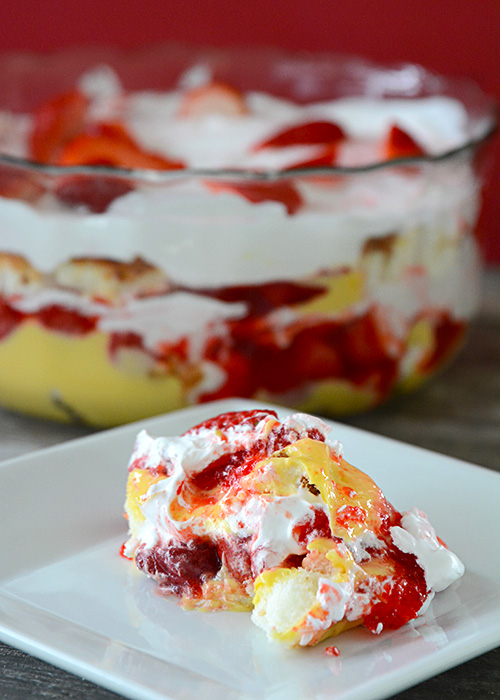 Who loves anything with strawberries? If you answered, "yes," then you need to try this recipe for Strawberry Trifle.
What You Will Need
1 3 ounce box strawberry jello
1¼ cups boiling water
3 Cups frozen strawberries (plus more for the top, optional)
2 3.4 ounce boxes instant vanilla pudding
2 Cups milk
2 Cups vanilla ice cream
8 ounce cool whip
What You Do
Bake Angel Food Cake according to package directions. Cool then cut into small squares. Set aside.
Combine pudding and milk and allow it to thicken for a few minutes then add ice cream. Beat until well blended.
Bring water to a boil and remove from heat. Stir in jello until dissolved then stir in strawberries until slightly thickened.
Layer ½ cake in the bottom of bowl. Next, add ½ pudding mixture, ½ jello mixture, then ½ cool whop. Repeat layers one more time ending with cool whip on top. Garnish with strawberries, if desired.
Keep refrigerated