This strawberry-rhubarb crisp combines two perfect summer flavors!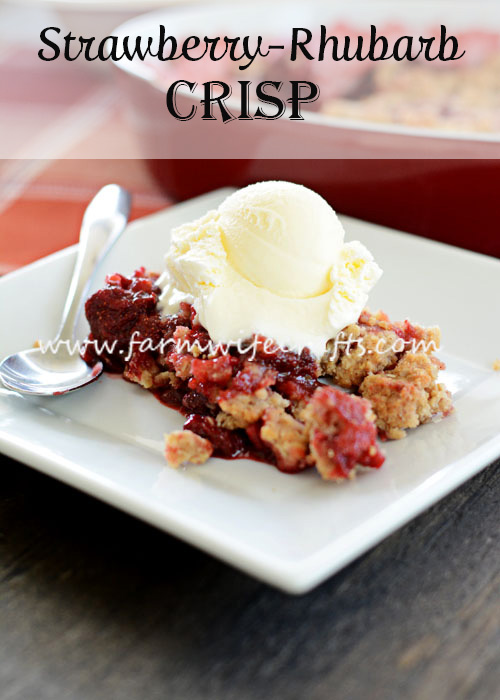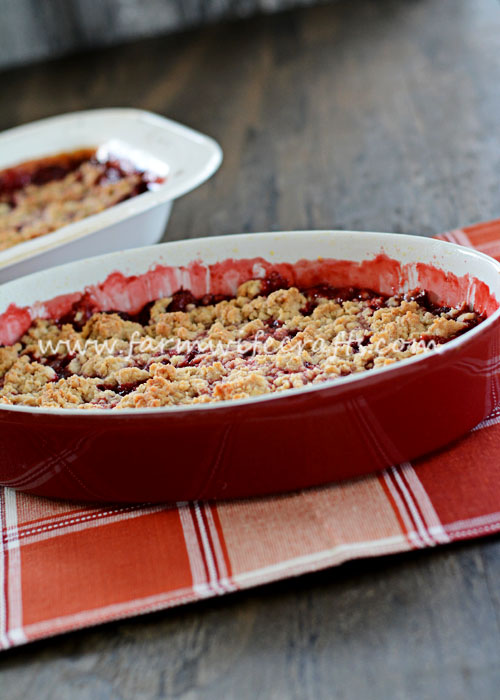 It definitely doesn't fell like summer around here…or spring for that matter!  We have had an extremely cool and wet spring, much to farmers dismay.  We were in the fields in April and were able to get all of the anhydrous in the ground.  Anhydrous Ammonia is applied in the ground to obtain the element nitrogen which will help produce lush green corn therefore creating a healthier plant.  I did a post last year about Anhydrous Ammonia on my other blog, This Farm Family's Life.  You can find that post here.
We also do have some corn in the ground and a little bit of beans.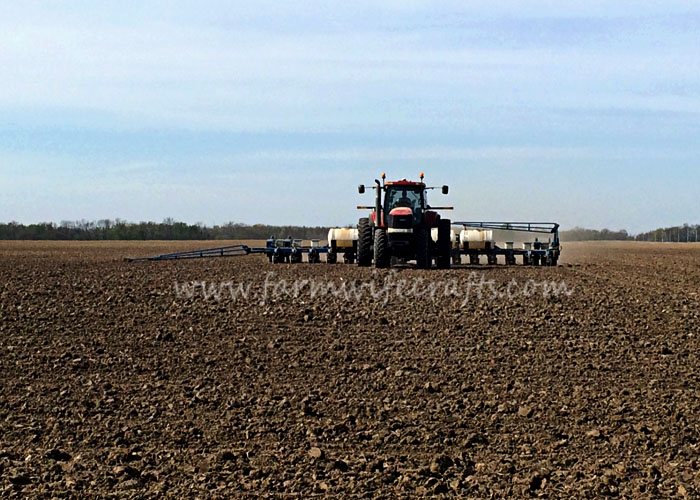 It looks like we might possibly get a break in the weather at the end of this week although I'm not holding my breath!  My birthday is the 26th of May, so I usually make it my husband's goal to be done by then, although sometimes Mother Nature has other plans!
Now, back to this yummy recipe!
Strawberry-Rhubarb Crisp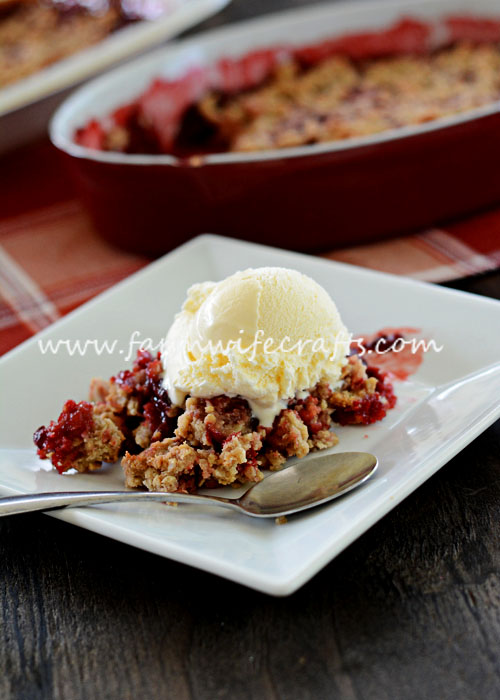 This is probably one of my husband's favorite desserts and it may be requested by friends for summer get-togethers:)  It's definitely a goody.  And, if you aren't a rhubarb fan, you can omit it and just add more strawberries!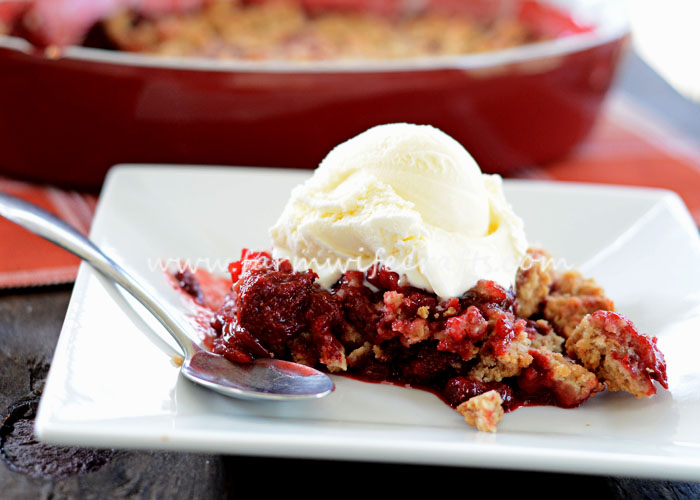 We have rhubarb and strawberries in our garden, but they aren't always ready at the same time.  Every year I freeze some strawberries and rhubarb to use through the winter or for times like this.  The rhubarb was fresh from the garden, but since my berries weren't ready I used last year's supply in the freezer.  I've found the best way to freeze strawberries and keep them whole for later use is to wash them, hull them and cut out any bad spots then place them on a cookie sheet and lay them flat in the freezer for about one day.  Then transfer to a freezer bag and place back in the freezer.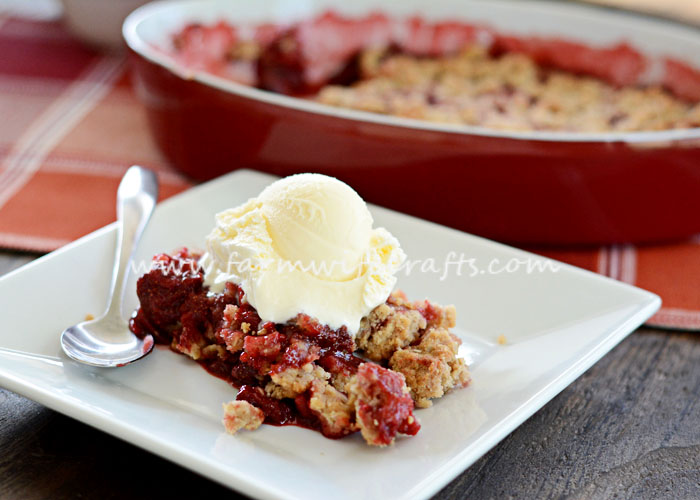 This recipe is also super simple.  Just hull and halve or quarter the strawberries, then cut the stalks of rhubarb into 1/2 inch pieces.  Place in a bowl and toss with sugar, then place in the baking dish.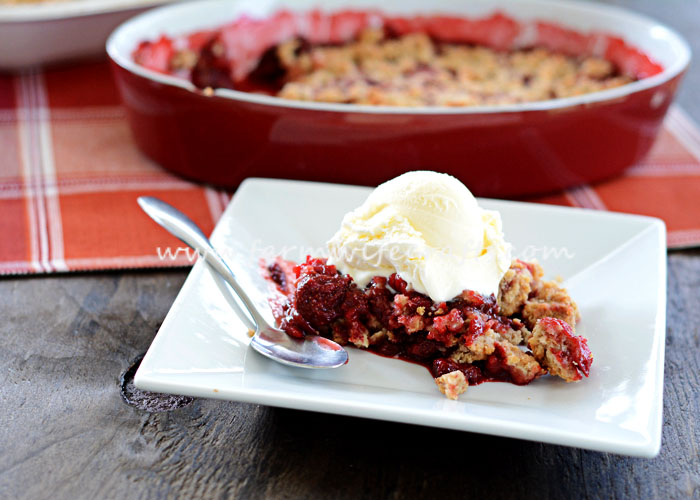 For the topping, combine the flour, oats, sugar, brown sugar, cinnamon, salt, and melted butter until moistened crumbs form.  Then crumble the topping evenly over the strawberries and rhubarb.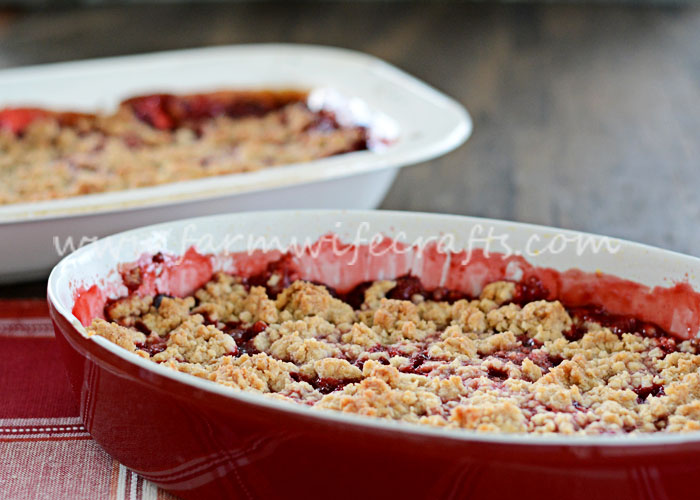 This recipe can also be easily doubled, which is what I usually end up doing because it is so good and goes quick!  You can also serve it warm with ice cream….my favorite way to eat it!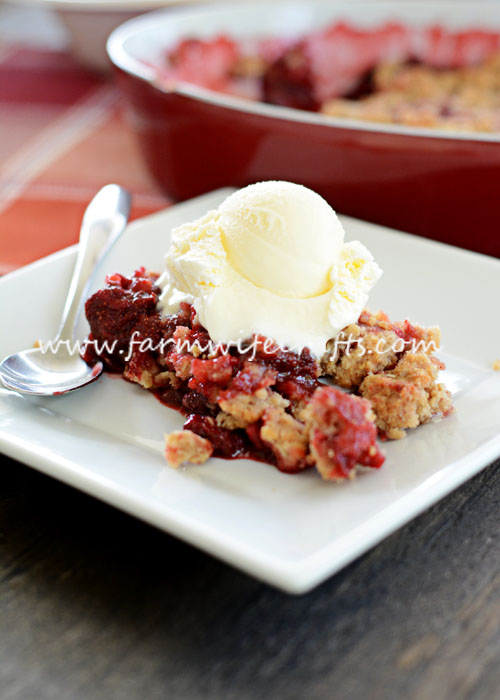 Strawberry-Rhubarb Crisp
Ingredients
Filling
2

Cups

about 12 medium stalks rhubarb

2

Cups

strawberries

hulled and halved

1/2

Cup

sugar
Topping
1

Cup

all-purpose flour

1/2

Cup

old-fashioned rolled oats

1/3

Cup

sugar

1/3

Cup

packed brown sugar

1/2

teaspoon

cinnamon

1/4

teaspoon

salt

1/2

Cup

butter

melted butter
Instructions
Coat a 2.5 quart baking dish with cooking spray. Preheat oven to 350 degrees.
Filling
In a large bowl, combine the rhubarb, strawberries, and sugar until well mixed. Pour the mixture in to the prepared baking dish and set aside.
Topping
Combine the flour, oats, sugars, cinnamon, and salt until well blended. Stir in the melted butter until moistened crumbs form. Spoon the crumb mixture evenly over the filling.
Bake at 350 degrees for 35-40 minutes. Let cool for 10 minutes and serve with ice cream (optional).