Holiday crafting is my favorite.  I usually do it during nap time for Jo while the older girls are in school.  I turn on some Christmas music or a Christmas movie and just enjoy "me time."  This Reindeer String Art may be my most favorite holiday craft I have made yet!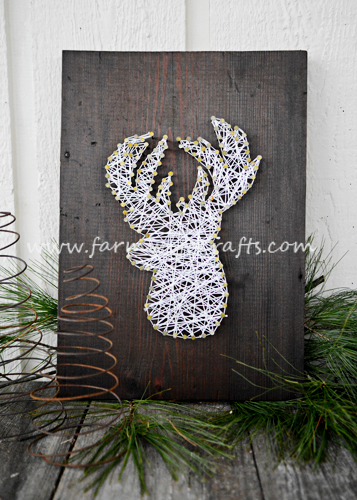 I haven't done string art since Junior High.  It's funny I never really considered myself to be crafty and I still don't.  I try to keep things simple because I don't have a lot of time to complete projects.  I was a little hesitant to attempt this project because it looked difficult and time consuming…but it was neither!  Making it was actually very therapeutic.  I think I want to create more string art!!!!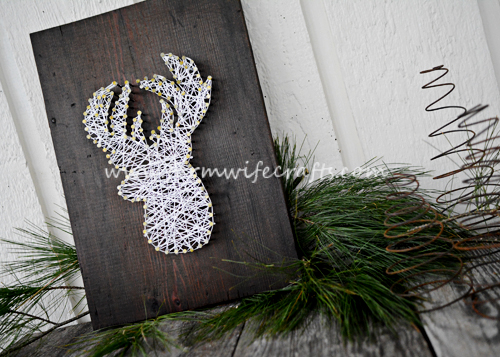 Reindeer String Art
For this project you will need: an 11×14 board, stain(optional), finishing nails, hammer, white embroidery floss (I bought mine at Wal-Mart) , scissors.
The first step is to find a board.  I used an old barn board and cut it down to 11″x 14″.  Sand the board. I stained mine using dark walnut stain, but you can leave as is if you wish or choose a different stain.  Pick whatever suits your fancy and your decor.  Allow the stain to dry completely.
Next, print out a silhouette of a reindeer.  I searched online and found an image.  You can see the image I used here.  Enlarge it and play around with the borders to get the size you want.
Then lay the paper on top of the board and start nailing.  We used small finishing nails, but they bend easily so be very careful.
Once all the nails are on the board, it's time for the fun part!  Begin stringing the embroidery floss.  I did the outline first.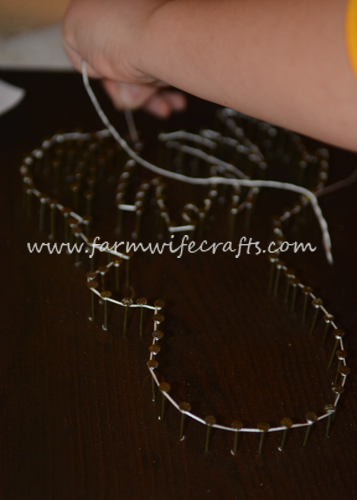 Once the outline is finished, begin stringing the embroidery floss from nail to nail.  There really isn't a pattern I stuck to.  I just did it sporadically.  I used three small spools of white embroidery thread for this part.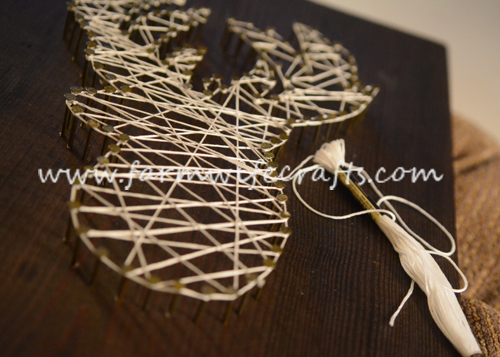 You can make the inside as thick or as thin as you would like.  That's what I love about crafts.  Each one is different!
Once you are finished with this step, your reindeer is ready for display.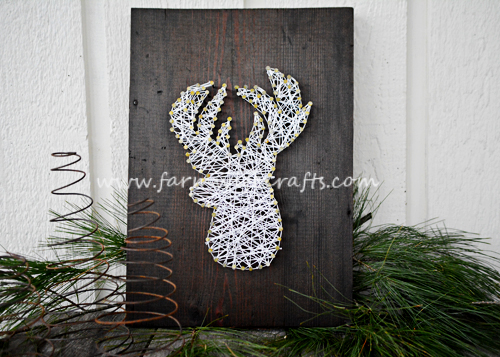 Some simple greenery and wire Christmas trees add to the simplicity and rustic theme of this project.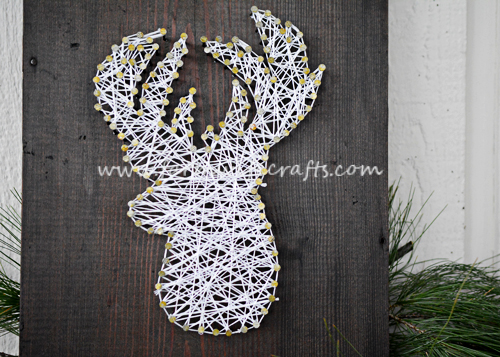 This project is pretty inexpensive to make and would make a great Christmas present!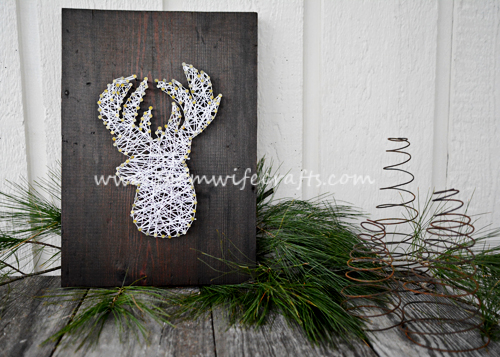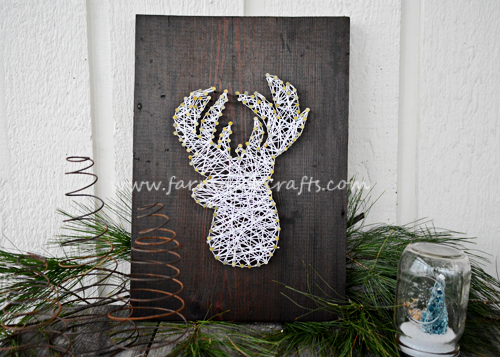 Reindeer String Art
Ingredients
1 11

x14 board

wood stain

optional

paintbrush

optional

finishing nails

white embroidery floss

scissors
Instructions
Sand the board and wipe clean with wet cloth. Allow to dry.

Stain board (optional) and allow to dry.

Print reindeer template and place on board.

Begin adding nails around the border of reindeer print.

Remove paper.

Add outline of reindeer with embroidery floss.

Begin stringing embroidery floss from nail to nail.