Affiliate links were used in this post for products I love.
This recipe was shared over at Weekend Potluck by The Country Cook and Meal Plan Monday by The Southern Bite
It's almost Thanksgiving time.  I absolutely love the holidays and everything about them: family, friends, memories, and FOOD!!!  Are you looking for a dessert to take to your family get together?  Look no further.  This Pumpkin Snickerdoodle Cake recipe will completely wow your family or guests!

Pumpkin Snickerdoodle Cake
This cake combines the taste of fall with one of my favorite cookies for one yummy creation!  Don't let the number of steps and ingredients to this recipe scare you away.  It's not difficult at all to make and it is definitely worth it.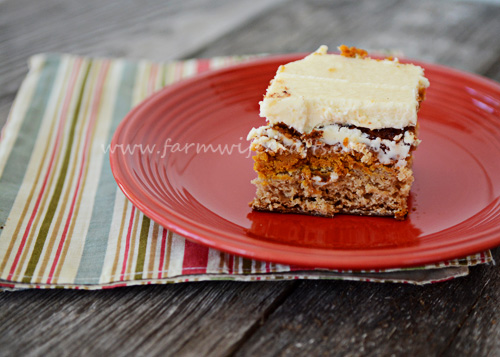 The applesauce in this cake adds to the moistness.  Just look at all the yummy layers.  I prefer to bake this cake in my 9×13 Pyrex glass baking dish, so you can see all the layers while serving it.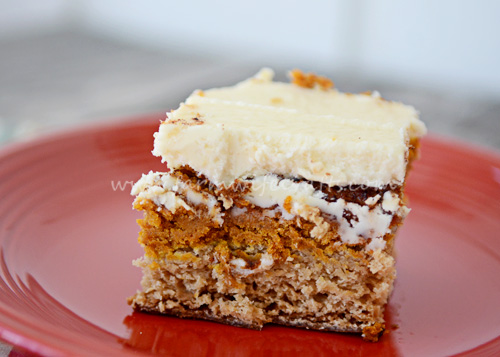 The white chocolate icing is the perfect icing on this cake!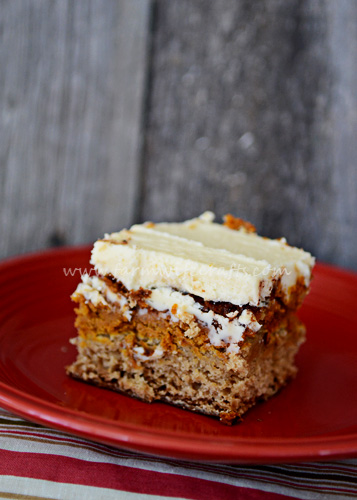 What You Will Need
Snickerdoodle layer
3 Cups flour
½ teaspoon baking soda
½ teaspoon baking powder
1 teaspoon salt
1½ Cups brown sugar
½ Cup butter, softened
½ Cup applesauce
2 eggs
1 teaspoon vanilla
Pumpkin layer
1 Cup flour
¾ Cup sugar
5 Tablespoons butter, softened
½ teaspoon baking powder
1 teaspoon baking soda
1 teaspoon salt
1 teaspoon pumpkin pie spice
1 egg
15 ounce can pumpkin puree
¼ Cup sugar
2 teaspoon cinnamon
Frosting
1 Cup butter, softened
12 ounce white chocolate, melted
2 cups powdered sugar
1 teaspoon vanilla
What You Do
Snickerdoodle layer
Preheat oven to 350 degrees and grease a9x13 pan. In a large bowl beat ½ Cup butter, applesauce, eggs and vanilla. Add in flour, baking soda, baking powder, salt, and brown sugar. Mix until well blended and spread evenly in 9x13 pan.
Pumpkin layer
Mix butter and ¾ Cup sugar until smooth. Add in pumpkin, flour, baking powder, baking soda, salt, egg, and pumpkin pie spice. Mix until well combined. Spread evenly over snickerdoodle layer. In a small bowl, mix ¼ cup sugar with 2 teaspoons cinnamon. Sprinkle evenly over pumpkin layer.
Bake at 350 degrees for 35-40 minutes, or until a toothpick comes out clean. Cool completely.
Frosting
Beat butter with melted white chocolate, powdered sugar, and vanilla until smooth. Spread evenly over cooled cake.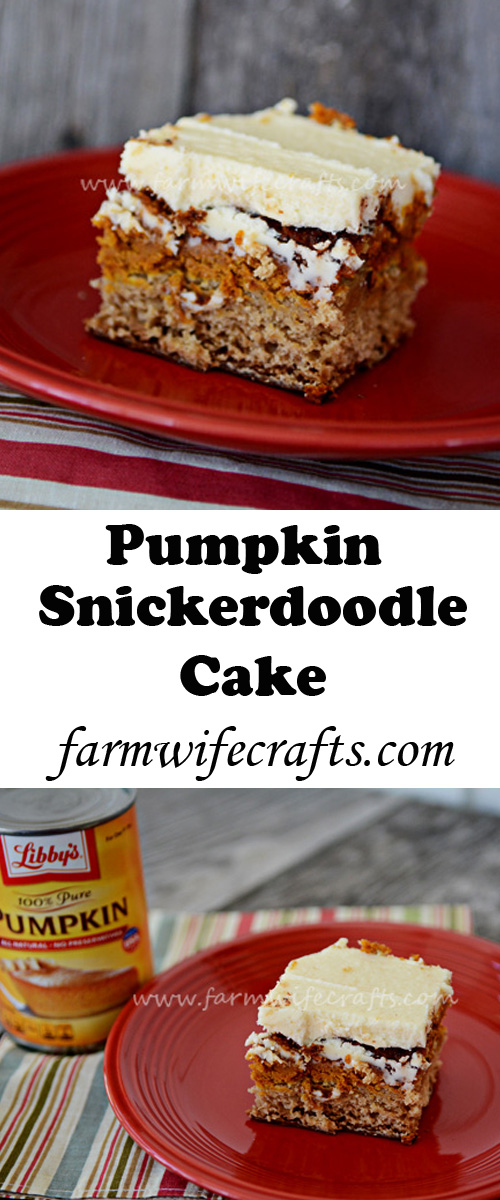 This post was part of a linky party at: https://www.thecountrycook.net/elvis-sheet-cake-weekend-potluck-394/