Do you love chocolate no-bake cookies?  If you answered yes, then you have to try these peanut butter no-bake cookies!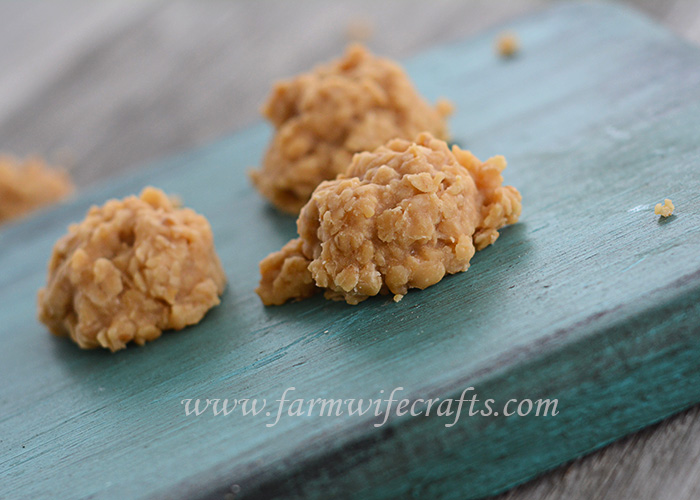 I love peanut butter, so I definitely prefer these over the traditional chocolate ones.  The plus side is they are fast and easy to make too!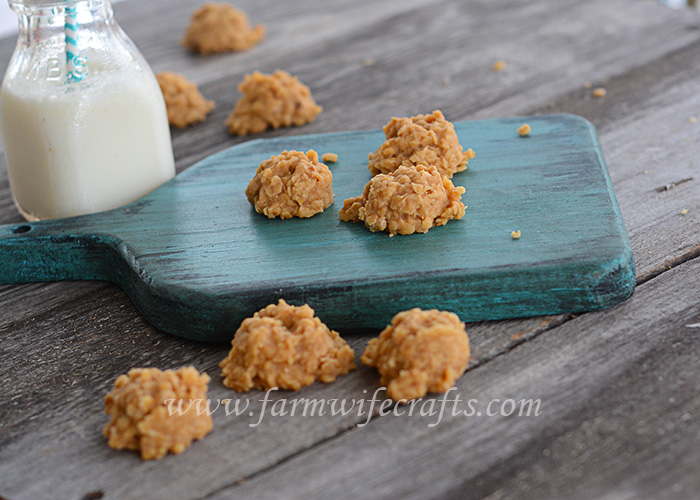 This recipe actually came from my grandma…my dad's mom.  This picture below is of my grandma and grandpa, I believe it was taken in 2004, the year my husband and I got married, but I'm not for sure.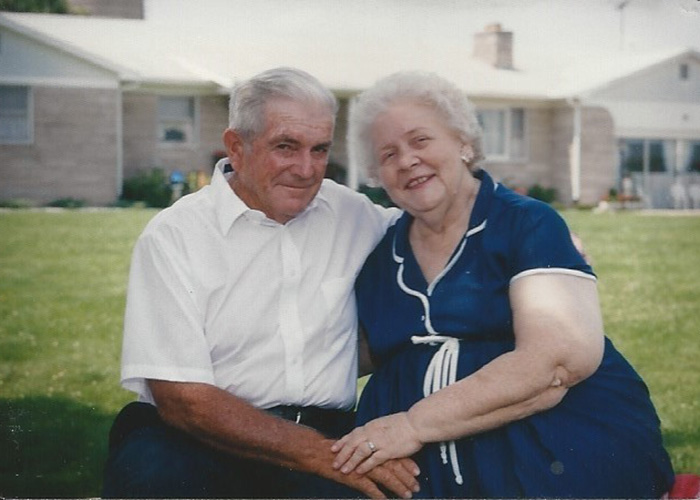 I adore this picture!  You can see the love they have for each other by this picture.  Their home is in the background that they built and raised their family in.  You can't see it,  but directly behind it sits the dairy barn and silos.  My grandma passed in 2012, but she left behind one heck of a legacy as you can see in this picture below.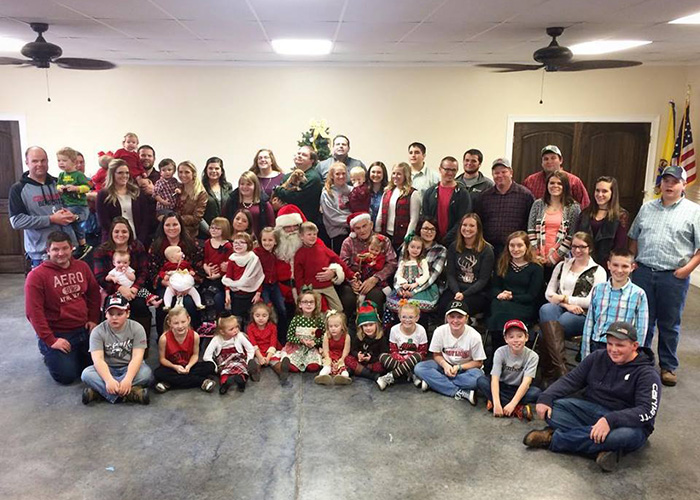 This picture was taken this Christmas.  There is my sweet grandpa sitting right next to Santa surrounded by most of his grandkids and great grandkids. (Yes, some of us are missing.  Ha!)  Santa comes to our family Christmas, can you believe it!  He has visited us for as long as I can remember.  Can you find me in this group?!;)
My dad is the oldest of 13.  I always thought it was neat having such a big family and I still do.  I posted this picture to my social media page and someone asked me, "How many farm families are in this picture?"  I had to stop and think (and make a list to keep track) because I hadn't ever actually counted.  Of the 13 original kids, 8 of them are still farming, or married someone who is actively farming, then some of their kids have joined the family farms, or are now farming on their own, so that makes a total of 17 farm families in my family!  That, to me, is AMAZING!!!!  As another person commented, "All because two people fell in love!"
Now, back to the cookies!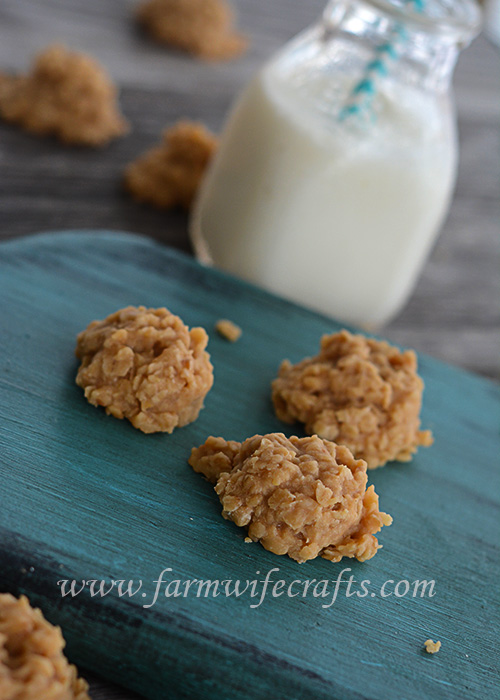 Peanut Butter No-Bake Cookies
My grandma's recipe called for 8 Cups of sugar, 4 sticks of butter, 2 cups of milk…and it wasn't just any milk, it was fresh from the cow milk back then because they did live on a dairy farm, and 11 cups of oatmeal!!!!!!!!!  She did have 13 kids to feed, remember, but I only have 3, so I cut the recipe back a little.
Begin by adding the sugar, milk, and butter in a large saucepan and bring to a hard boil for 1 1/2 minutes.  I use quick oats, but you could use the other as well.  Also, we use generic peanut butter, but any is fine.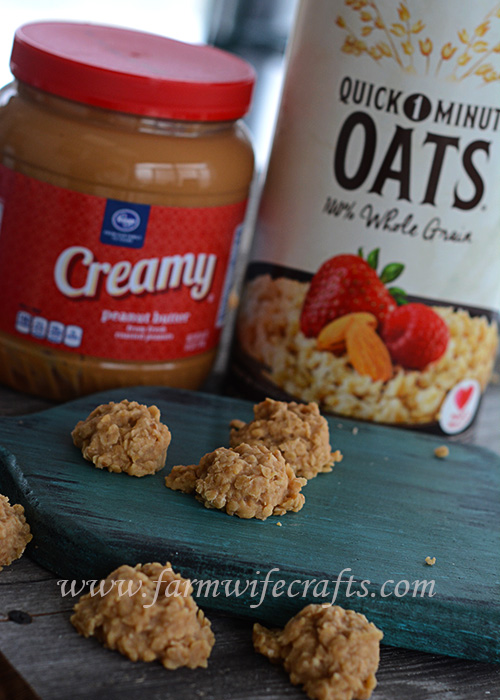 Remove from heat and stir in the peanut butter until it is melted and well combined.  Stir in the oatmeal.  Finally, drop by teaspoonful on waxed paper and allow the cookies to set until cool.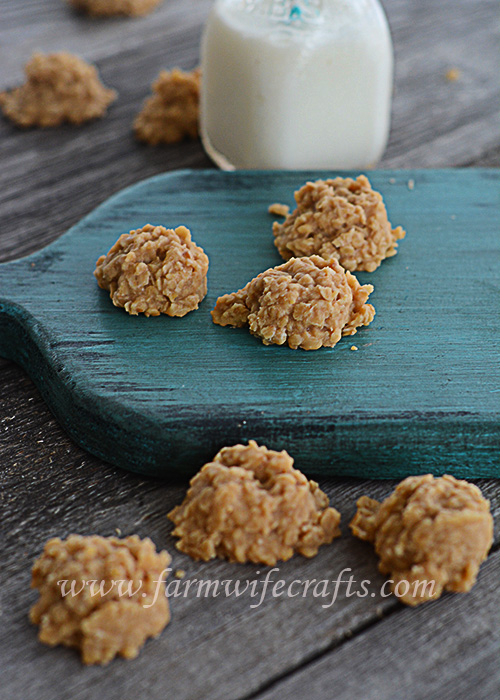 Make sure to enjoy these babies with a glass of cold milk!!!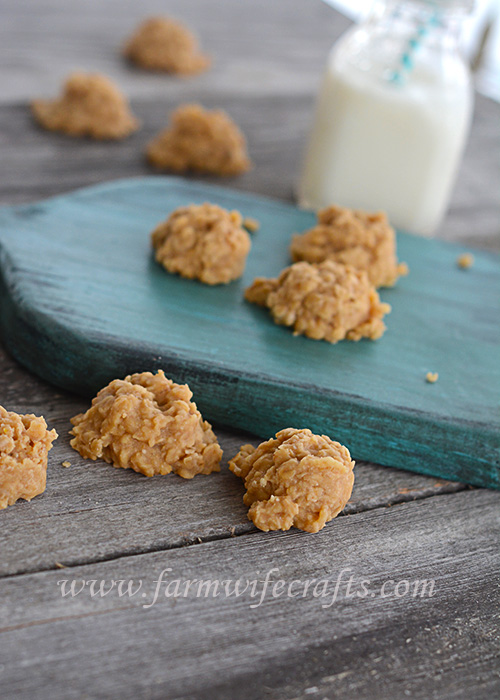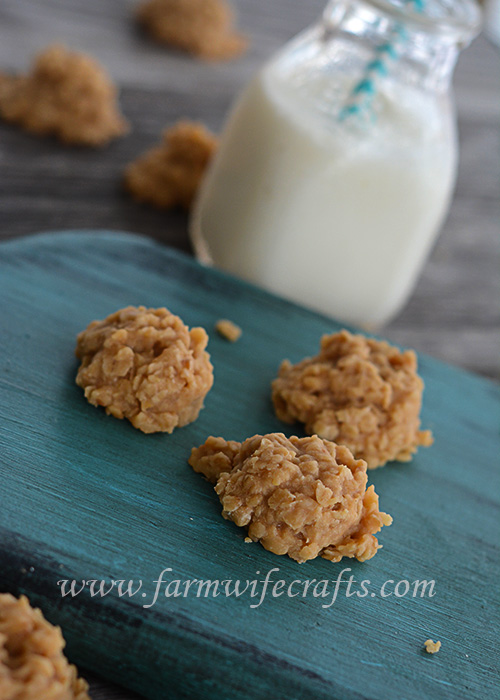 What You Will Need
4 Cups sugar
1 Cup milk
2 sticks butter
5½ Cups oatmeal
1½ Cups peanut butter
What You Do
Combine the sugar, milk, and butter in a large saucepan and bring to a hard boil for 1½ minutes, stirring constantly.
Remove from heat and stir in the peanut butter until it is melted completely.
Stir in the oatmeal.
Drop by teaspoonfuls onto waxed paper and allow to cool completely.