Affiliate links were used in this post for products I love.
This recipe was shared over at Weekend Potluck by The Country Cook and Meal Plan Monday by Southern Bite.
It's winter and if you are like me, you are looking for the ultimate comfort food.  Possibly one that reminds you of your childhood?  This Pan-Fried Cubed Steak and Gravy recipe screams comfort food!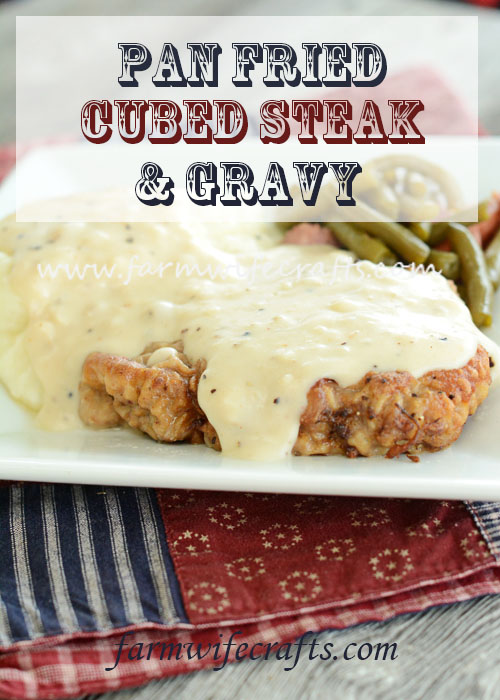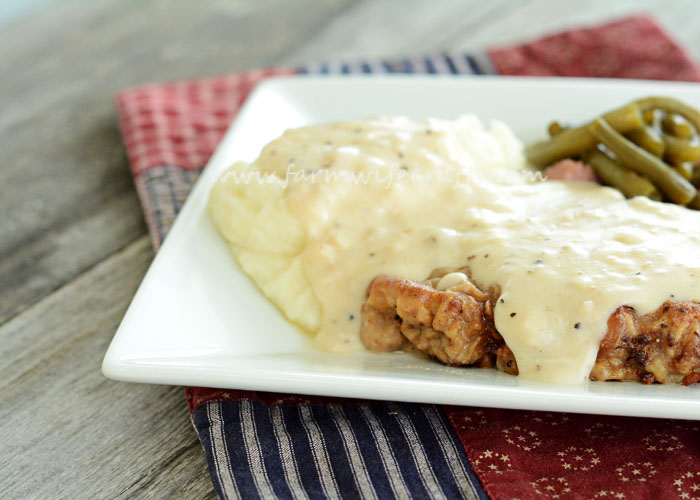 This recipe was another favorite of mine growing up.  It was usually a Saturday meal because that was when we were all home to enjoy it.  It occurred to me while making it, that most of the ingredients are items that might already be stocked in your pantry!  Oh!  And if you are looking for a healthy recipe, then you will probably just want to close out of this screen right now because this probably isn't the one for you:).  Gravy makes everything better right?!  My husband jokes that he could drink gravy!
Pan-Fried Cubed Steak and Gravy
This recipe has a lot of steps, but it's not difficult to make, just time-consuming.
The cubed steak comes from the round (or rump) area of the cow.  This area is usually a tougher meat because there is less marbeling in the meat.  Marbeling is tiny bits of fat mixed in with the lean meat that makes the meat tender.  It is called cubed steak because it is tenderized with a meat cuber or meat swisser or it can be tenderized with a meat mallet.  This results in cubed shaped indentations in the meat, which is how it gets its name.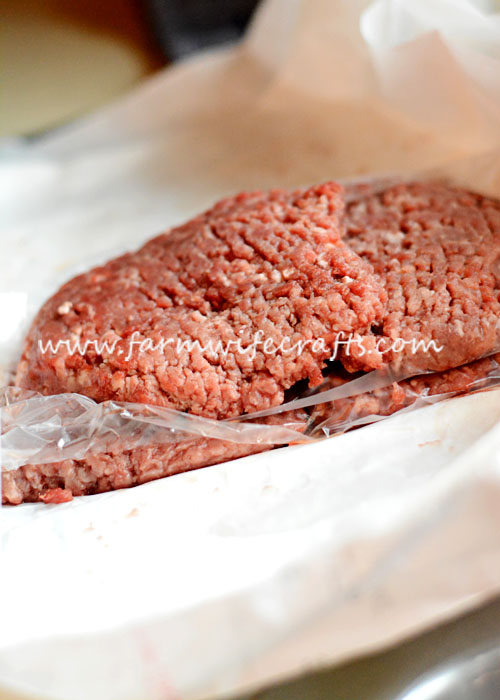 The first step is to add some flour to a pan.  I like to use a 9×13 casserole pan.  It doesn't matter how much flour.  I usually use about 2 Cups.  Sprinkle in some seasoned salt, black pepper, chili powder, and garlic powder and stir gently to combine.   These spices are to our taste preference, but if you like it spicier I recommend adding more chili powder and pepper.  If you like it saltier, add more seasoned salt.  Add the cubed steak and coat both sides.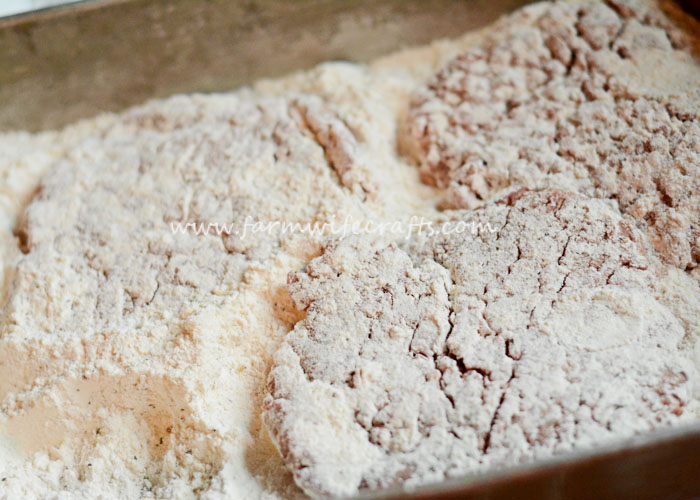 Next, add about a 1/2 Cup of vegetable oil to a pan and turn on high heat.  Allow the oil to heat up for a few moments then add the meat.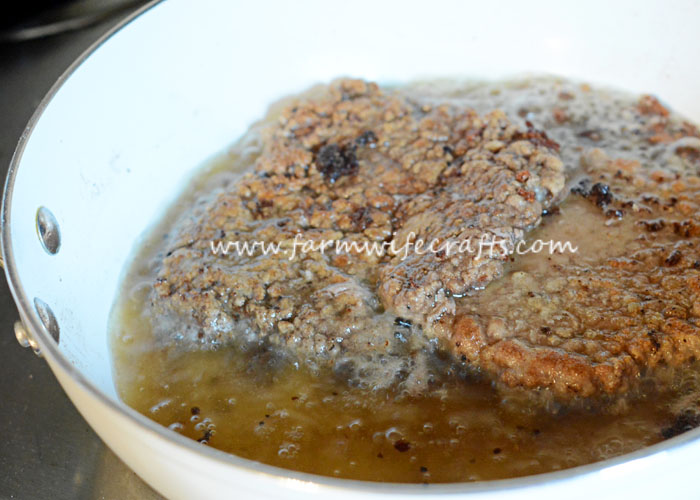 Cook for about 2 minutes on each side then remove to a baking dish.  Cover the meat about halfway with water and bake at 350 degrees for about 60 minutes.  Don't discard the oil because that will be used for the gravy.
When the meat is almost finished, it's time to make the gravy!!!!!!!!!!!!!!!!!!!!  The key to gravy is to not get in too big of a hurry and to stir and stir and stir.
Begin by draining the oil to separate out any of the big meat pieces.  Add the oil back to the pan.  Stir in about 3 Cups of milk and 1/2 Cup of flour as well as some pepper and seasoned salt, again the seasoning is to taste, so if you like it spicier add in some more pepper or even some cayenne pepper.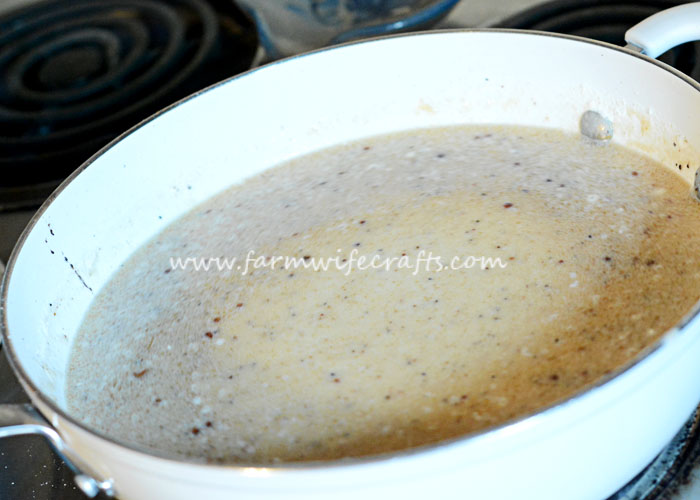 I know, it doesn't look very appetizing, but just wait!  Cook on medium-high heat for a couple minutes whisking constantly to get most of the flour chunks.  Then reduce the heat to low and continue stirring.  By now the gravy should start to thicken, if not add a bit more flour.  Too thick?  Add more milk.  Gravy can be a bit of a guessing game.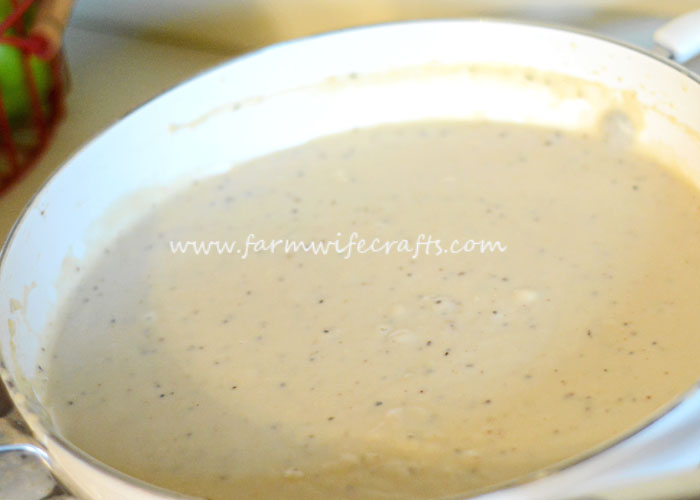 When finished the gravy should be somewhat thick.  Not too thick and not too runny!  Once the gravy is finished you can top the meat with it and serve.  We love to have mashed potatoes with this meal and top them with gravy as well.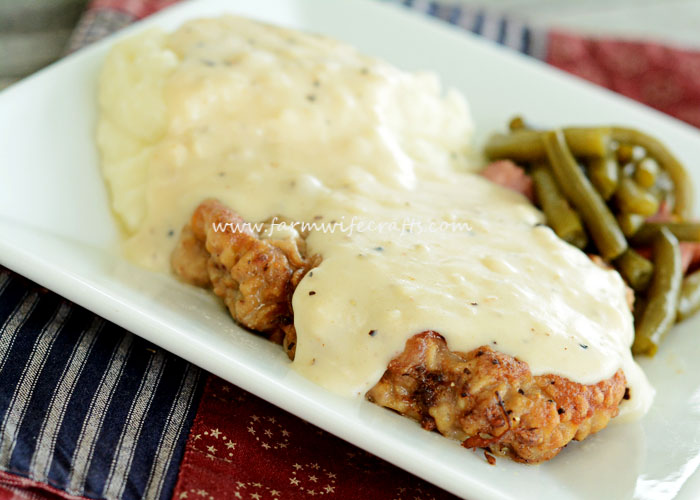 Yummm-O!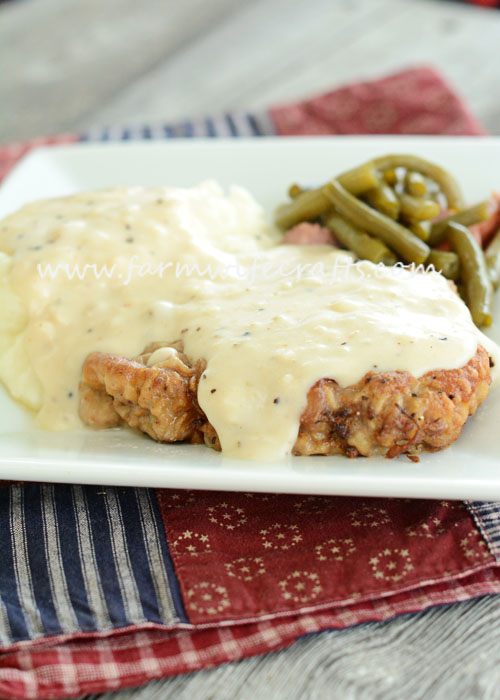 Pan-Fried Cubed Steak and Gravy
Ingredients
Gravy
Remaining oil from cooking cubed steak.

Drain meat pieces using colander

3

Cups

milk

plus more as needed

1/2

Cup

flour

plus more as needed

1

teaspoon

black pepper

more or less to taste

1/2

teaspoon

seasoned salt

more or less to taste
Instructions
Gently combine the flour, seasoned salt, black pepper, chili powder, and garlic powder in a 9x13 cassserole pan.

Roll the thawed cubed steak patties in the flour, generously.

Add oil to a saucepan and let it heat up for a few moments on medium high heat. Add the patties and cook each side for 2-3 minutes.

Remove to a baking pan.

Cover steaks halfway with water.

Bake covered at 350 degrees for 60 minutes.

Do not discard oil!
Gravy
Drain bits of meat from oil using a colander.

Add oil back to saucepan.

Whisk in milk, flour, black pepper, and seasoned salt.

Cook over medium heat for a few minutes, whisking constantly.

Reduce heat to low and continue whisking.

If gravy is too thick, add more milk. Too thin, add more flour.

Continue cooking until desired consistency is reached.
For more great recipes visit:



Affiliate links were used for products I love!