Affiliate links were used for products I love.
This recipe was shared at Meal Plan Monday and Weekend Potluck.
Did you decide to plant broccoli in your garden this year?  If so, here is a simple recipe that shows you how to freeze broccoli!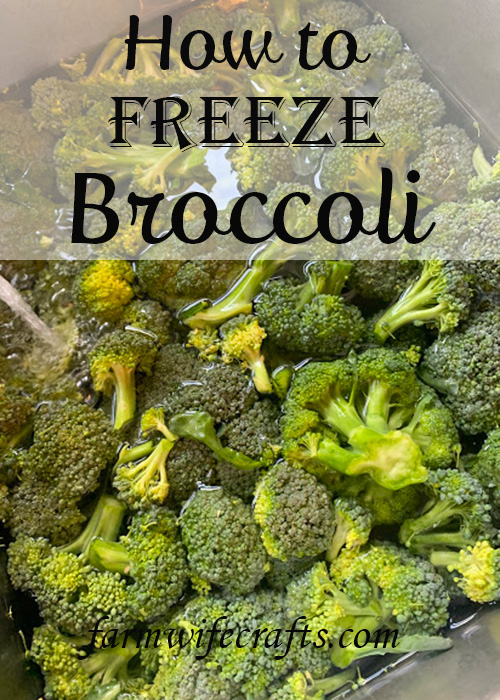 Despite the lack of rain, our garden is flourishing this year.  Granted, we are watering it, but so far it is one of the best gardens we've had thus far, it seems.
We did our first picking of green beans last night.  We got around 6 gallons and it equaled about 14 jars.  I like to plan on one per week.  We still have some left from last year, so I would say at the end of the season we should be in pretty good shape.
I usually always grumble about the garden work and canning.  Don't get me wrong.  There's nothing more satisfactory then planting and harvesting your own produce and being able to enjoy it all winter long, but it takes a lot of time.  Most of the time we seem to be running from place to place and the garden just seems like another daunting task that has to get done.  If there is anything positive to come out of this year, it is that we have been able to slow down a bit and enjoy the little things.  After experiencing the grocery store shortages, I've never been so thankful for a freezer and pantry full of meat and produce.  Some people don't have this simple luxury and it's something I definitely learned not to take for granted.
I'm sure I'll still grumble when things get busy and the garden keeps producing, but it won't last long!
Also, can I just say that summer is flying by!  I was talking to a friend the other day and I mentioned how it seems strange that summer is still flying by when the girls have been out of school since March.  She said that it's because we are starting to feel some sort of normalcy and are able to get out and do a few things here and there.  True statement.  While our errands are still minimal, we are able to get out and every now and then and be smart!
Broccoli is one of the easiest things to freeze in the garden!  It takes longer to soak them and wait for the water to heat up then the actual process itself!
How to Freeze Broccoli
You will need:
Scissors or a sharp knife
water
a large pot (here is the link to the size pot I prefer to use)
Ice (optional)
The first step is to cut the broccoli head from the plant.  You want to cut the broccoli when it is tender, firm, and compact.  Some will head out into really large heads of broccoli, while others will be slightly smaller.  Just make sure you catch them while they are still a vibrant shade of green and before they begin to go to seed(they will begin to flower.)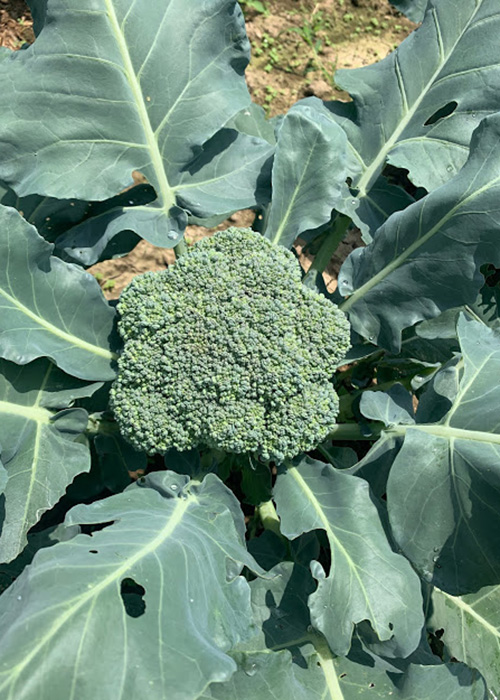 After, you cut the broccoli you want to remove any leaves and cut them into small sections.  I like to do this right in the garden.  It creates less mess in the kitchen and you can toss all that stuff back into the garden which creates more organic matter for the soil.
Next, fill the sink with warm water and add 1 Cup salt to 1 Gallon of water.  Soak the broccoli in this mixture for about 30 minutes.  This process will help remove any insects.  This is also a good time to pick up the broccoli heads and inspect them yourself for any bugs.  Those worms can be sneaky little things!  I usually enlist one of the girls for this step.  I've realized that the bugs aren't bad in the first few cuttings, but after that it's usually pretty buggy!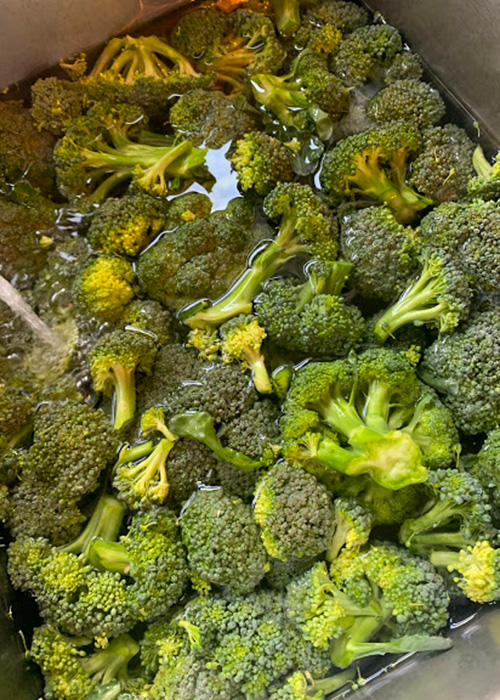 After 30 minutes, drain and rinse the broccoli and check for bugs again!  At this point, the broccoli is ready to eat if you want to enjoy it fresh.  If you want to freeze, continue below.
Bring a large pot of water to a boil and blanch the broccoli for 3-4 minutes depending on the size of the sections.  3 for smaller sections, 4 for larger sections.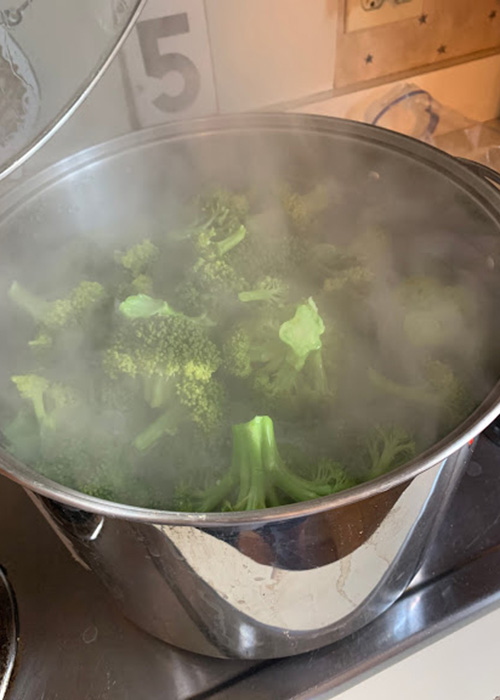 Once the time is up, immediately remove the broccoli from the water and cool in cold water.  I like to add some ice to the water to speed up the cooling process, but that is totally optional.  If you fail to cool it down quickly, it can encourage enzymes to grow.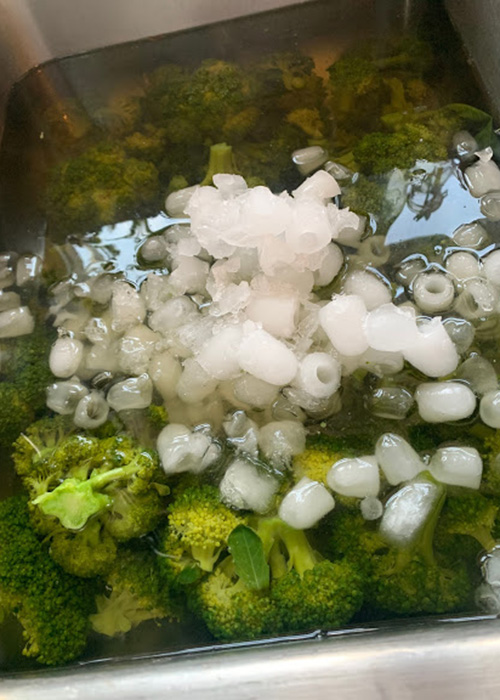 Drain the broccoli and place in quart size freezer bags or larger, depending on preference, label, and place in freezer.
That's it!  Super simple!  I wish everything from the garden was this easy to preserve!
How to Freeze Broccoli
Did you decide to plant broccoli in your garden this year? If so, here is a simple recipe that shows you how to freeze broccoli!
Ingredients
Fresh Broccoli

scissors or a knife

water

ice

optional
Instructions
Cut the broccoli from the garden while the heads are compact. Remove any leaves and cut into desired portion sizes.

Fill kitchen sink with warm water and add salt. 1 Cup salt to 1 Gallon water. Soak for 30 minutes and remove any bugs.

Drain, rinse, and look again for any bugs that you might have missed. (After this step, the broccoli is ready to enjoy fresh. If you would like to freeze it, continue following the steps below.)

Fill large pot with water and bring to a boil. Add enough broccoli until covered with water. Blanch for 3-4 minutes. 3 minutes for small-medium sections. 4 minutes for large sections.

Immediately remove from water and place in cold water. Add ice if desired to speed up cooling process.

Drain and place in freezer bags, label, and place in freezer.