I love a good chocolate chip cookie, but I'm a picky cookie eater.  I sound like Goldilocks when I say they have to be just right!  This recipe for Chewy Chocolate Chip Cookie Bars is just right!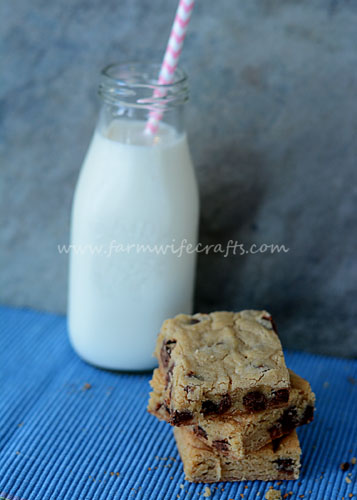 Chewy Chocolate Chip Cookie Bars
Growing up on a dairy farm, nothing goes better with a glass of milk than chocolate chip cookies, especially when they are warm and gooey!  Since discovering this recipe I haven't tried another.  The key for this recipe, as with any is to not over bake.  The baking temperature is 325 degrees which equals gooey goodness.  As Goldilocks said, you want them just right!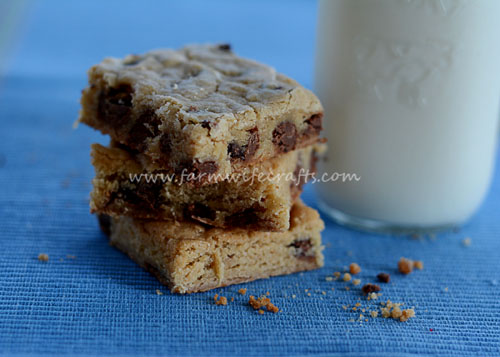 Go to the store, buy a couple gallons of milk and the ingredients to make these chocolate chip cookie bars…but I'm sure a lot of them are already in your pantry.  Bake them and kick back and enjoy with a cold glass of milk!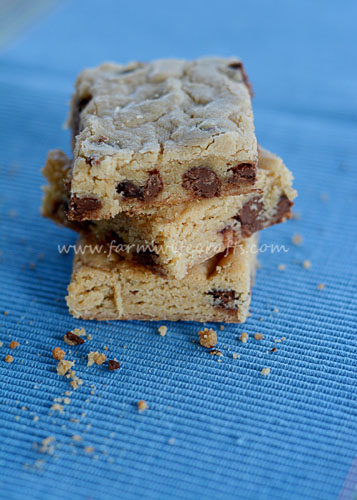 Gooey Chocolate Chip Cookie Bars
Ingredients
2 1/8

Cups

All purpose flour

1/2

teaspoon

salt

1/2

teaspoon

baking powder

3/4

Cup

butter

1/2

Cup

sugar

1

Cup

brown sugar

2

eggs

2

teaspoon

vanilla

2

Cups

chocolate chips
Instructions
Preheat oven to 325 degrees. Melt butter in microwave.

Combine butter and sugars in a bowl and mix until combined.

Add eggs and vanilla and mix.

Add dry ingredients minus the chips and mix just until combined.

Fold in chips.

Spread evenly in greased 9x13 pan. Bake for 22-25 minutes.