Peas.  You either love them or you hate them.  I happen to love them!  They are probably my favorite vegetable.  Growing up my mom always fixed canned peas.  You know, the store bought kind in a can.  We never actually canned peas growing up and I don't now.  I talk to people that do and it takes A LOT of peas to fill a jar, so I don't even mess with it.  I am perfectly content with my store bought peas.  We have the safest food supply in the world, so I don't have a problem buying any food from the grocery store.  Now, back to peas.  When I got married, my husband preferred frozen peas.  We compromised and we eat frozen peas.  With a little bit of seasoning, they taste just as good as canned…and I feel they are a little more budget friendly when feeding my family of 5.  When my husband was growing up, his mom would occasionally make creamed peas.  I had never had them, so his mom gave me the recipe.

I don't cream them every time I serve them up as a side, but I do every once in a while and it's a nice "treat" for the otherwise boring vegetable.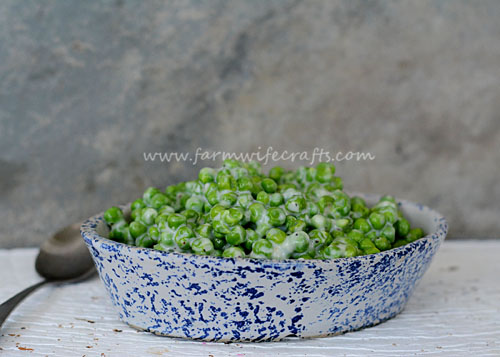 Creamed Peas
The flour and milk combine to make the creamy goodness.  The recipe has just enough sugar in it to make it a little sweet, but doesn't turn a healthy dish unhealthy.  And don't forget to season with adequate amounts of salt and pepper!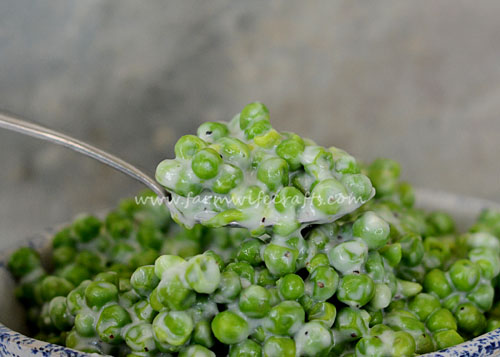 So, if your family is tired of the same old boring peas…rather canned or frozen, or even fresh.  Serve them up with this creamy mixture and satisfy those taste buds!
Creamed Peas
Ingredients
10

oz.

package frozen peas

2

Tablespoons

butter

2

Tablespoons

flour

1/2

teaspoon

salt

1/4

teaspoon

pepper

1

Cup

milk

2

teaspoons

sugar
Instructions
Cook peas and drain.

Melt butter in saucepan. Stir in flour, salt and pepper until blended. Gradually add milk and sugar. Bring to a boil. Cook and stir for 2-4 minutes or until thickened.

Stir peas into creamed mixture and heat through.