Affiliate links were used in this post for products I love.
Fall is here and it seems everyone loves decorating for Fall!  This DIY Pumpkin Shovel would add the perfect touch to any Fall display!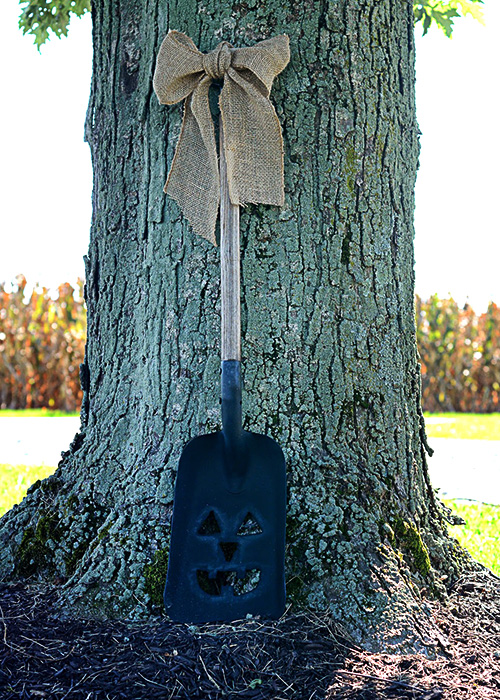 If you've frequented this blog before, I'm sure you've heard me say it, but Fall is my least favorite season.  I know, I know!  There are definitely some things to love about Fall, but out of all of them it's in 4th place!  Yes, Winter is cold and dreary, but with it comes Christmas and I love Christmas!  The decorating, the lights, the music, spending time with loved ones, and last, but certainly not least, the Reason for the Season!  Also, it seems we're able to slow down a bit during the Winter months and enjoy more family time.
Spring is full of flowers and green grass, planting season, and the promise of warmer days!  Summer brings heat which means endless amounts of pool time…my fave…longer days and warm nights spent visiting friends and family, camping, the fair, and Summer break which means I get a break from school and get to spend it with my kids!
Yes the changing leaves are absolutely gorgeous and the sunsets are pretty amazing in the Fall.  The cooler crisp days are definitely enjoyable and who doesn't love jumping in a leaf pile?  And Fall clothes are AMAZING!!!  I hope leggings never go out of style:), but with Fall comes the long Harvest and that means being away from my husband.  Kudos to military spouses and other's who don't get to see their husbands for extended periods of time.  All the girls and I have to do is hop in a car and drive to a field to visit him and he's home every night.  We may not always get a chance to talk, but he's there.
So, the girls and I have started movie nights, we like to bake together, and they like to spend some time making a craft while I enjoy a little DIY.  It makes the time away go a little bit faster and, of course, someone always has practice or a game!
Okay, so now back to why you all came to this blog in the first place…definitely not to hear my rambling!
DIY Pumpkin Shovel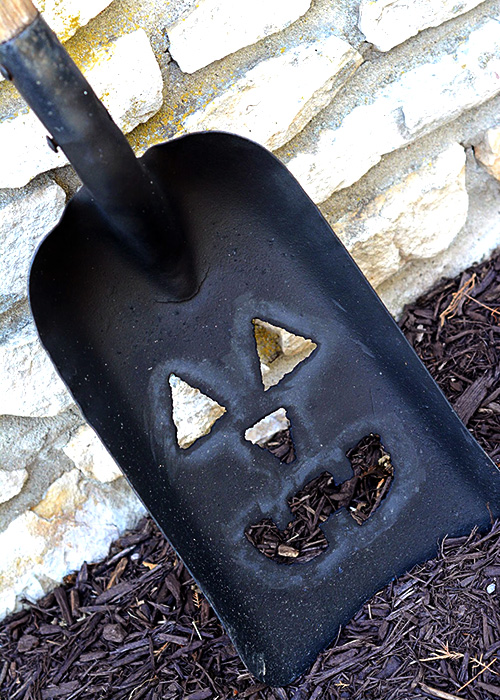 I saw these at a craft store I was at and I knew that I could easily make my own, with some help from my husband!
You will need:
An old shovel ( or a new one, doesn't matter.  It just felt good to recycle something old)
Chalk so you can see where to cut the face. (I used a chalk specifically for metal called soapstone, something my husband had on hand, but I'm sure regular chalk would work also.)
Torch
Some sort of sandpaper or machine to sand down the sharp edges
Burlap ribbon (optional)
Note: If you don't have access to a torch or know someone who has one, you can paint your shovel and paint on the faces.
Begin by drawing your face on the shovel with chalk.  We used a special type of chalk specifically for metal, but I'm sure regular chalk would work as well.
Then with the torch, carefully cut along the chalk lines.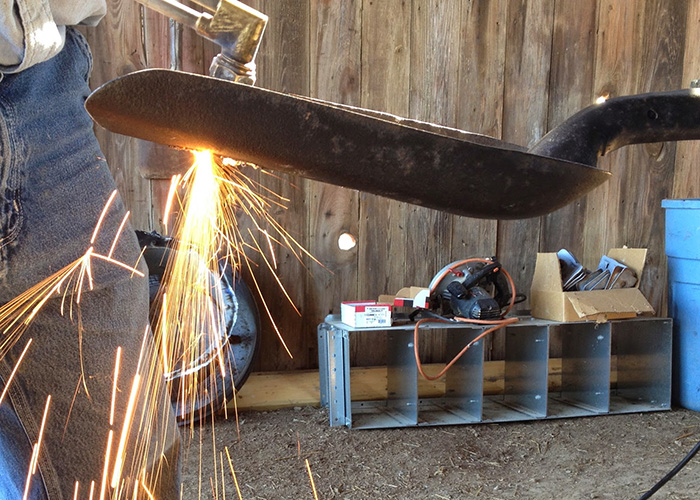 Next, sand down any rough edges.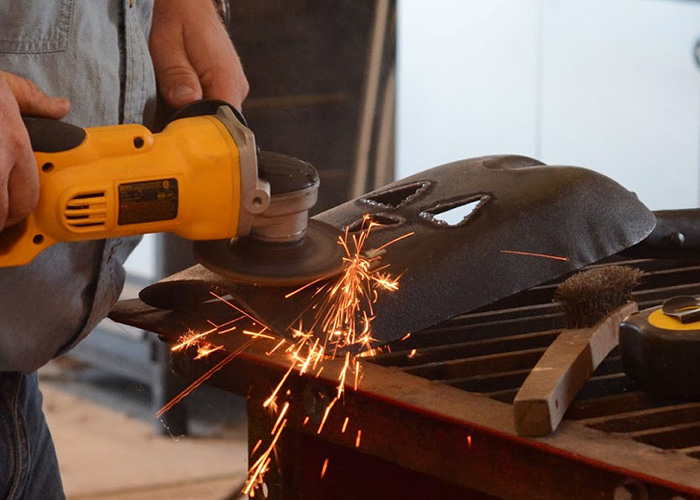 Finally, paint the shovel with black spray paint and allow to dry.  I also added a canvas bow to the top.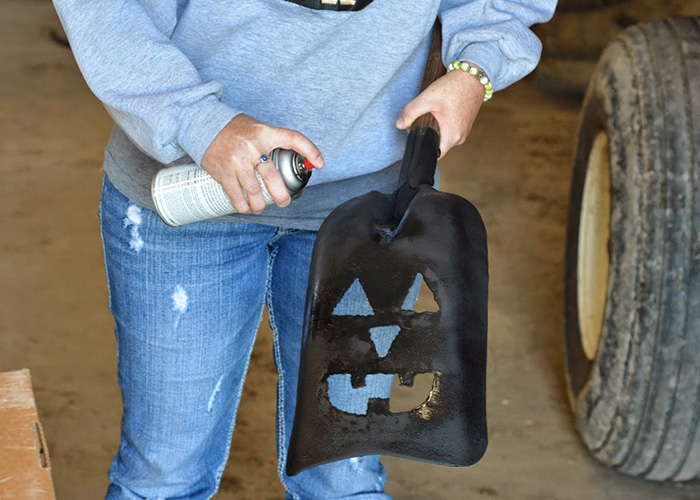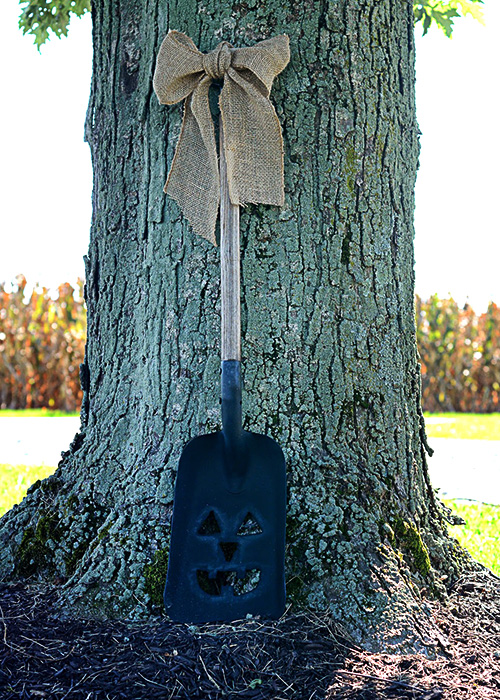 DIY Pumpkin Shovel
Instructions
Draw the design on the shovel with chalk

Using a torch, cut out the design

Sand down any rough edges

Wash off the shovel

Spray paint and allow to dry

Add a burlap ribbon to the handle if desired.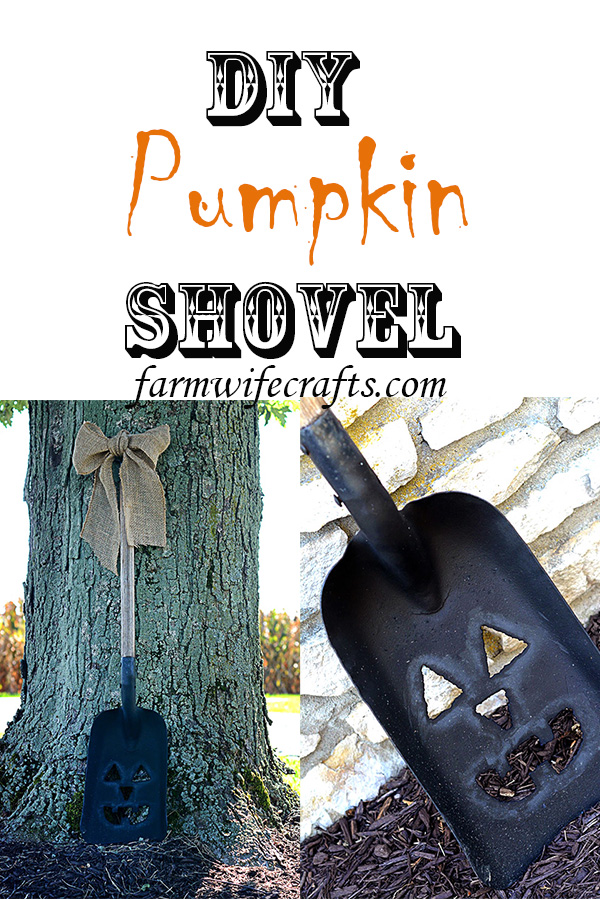 As with anything, torches and power tools are dangerous, so please be careful.  I am not responsible for any injuries:)