This recipe was shared over at Weekend Potluck by The Country Cook and Meal Plan Monday by Southern Bite.
Every year we have a beef butchered.  We live on a beef farm, so I guess you could say that is one of the advantages.  One of my favorite dishes growing up that my mom used to make was cube steak with mashed potatoes and gravy…but I always struggled to find other recipes that use cube steak.  While I love cube steak and gravy, you can only eat so much of it!  This recipe for cube steak sandwiches is one of my husband's favorites….and mine too!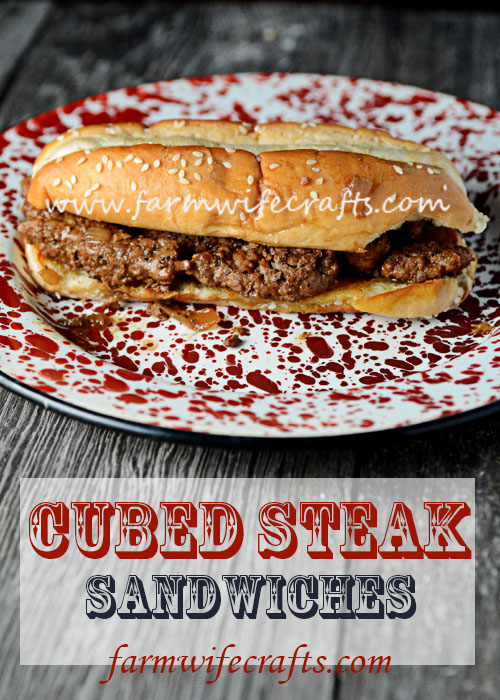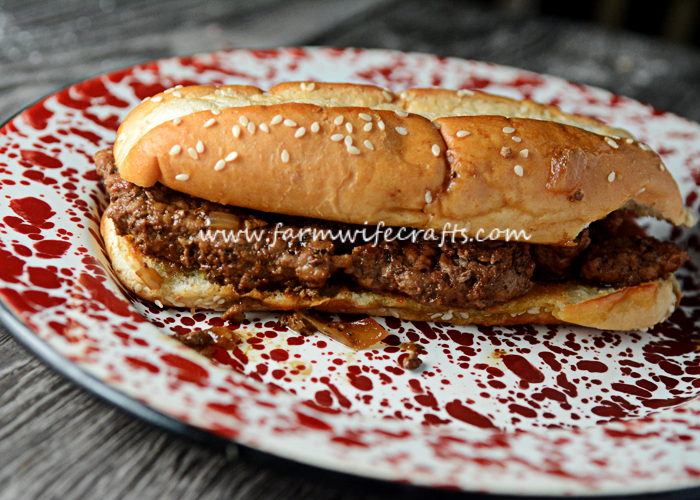 We eat a lot of meat and, since I'm not the best at meal planning, I'm always relieved that there is meat in our deep freezer.  I would be making a lot of trips to the grocery store if we didn't!  However, I always feel like the biggest junk food junkie there is and wonder what people think when they peek in my grocery cart (Come on, you all know we do it!).  A lot of the veggies we eat come from our garden, so most of the items in my cart are snacks and condiments!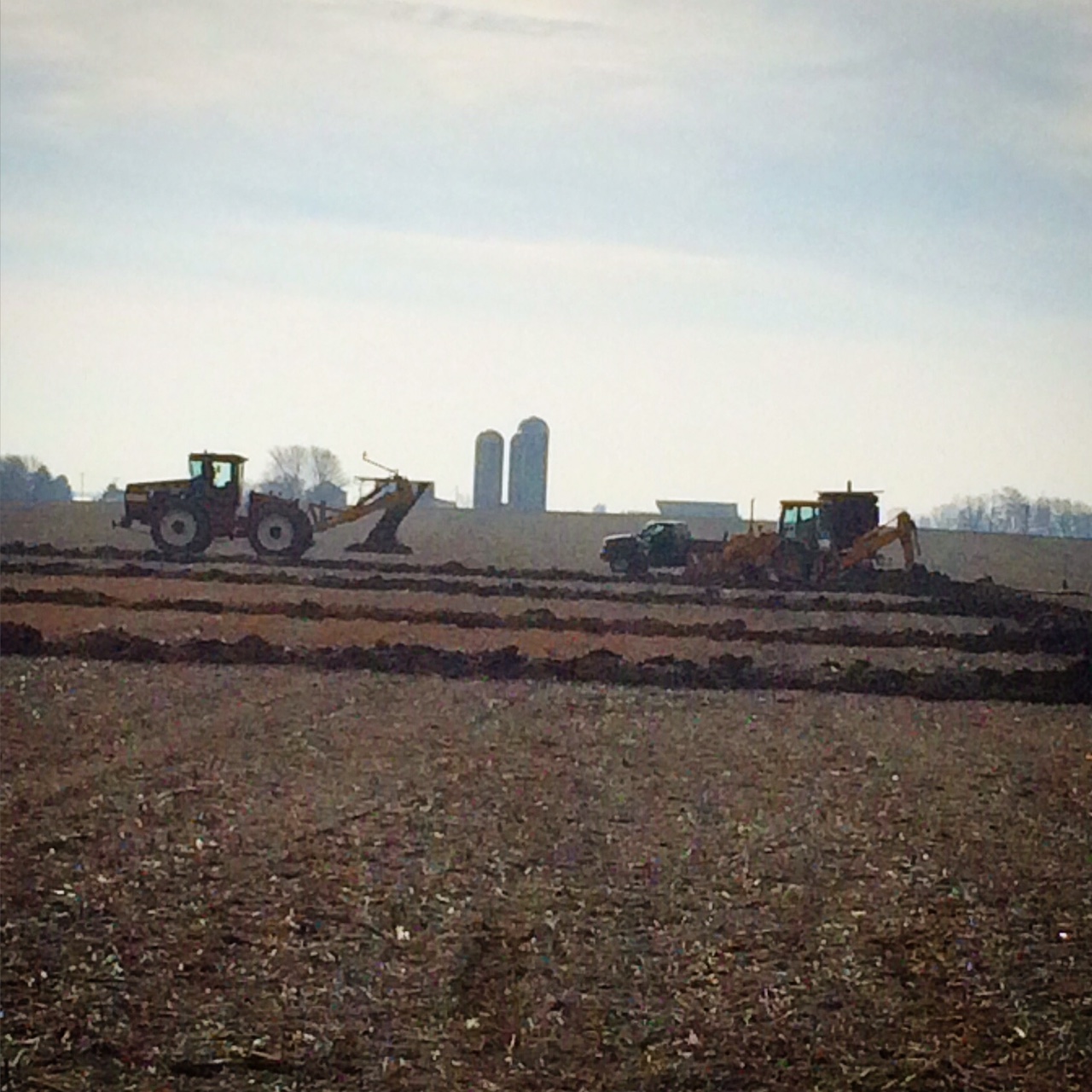 This sandwich is one of my farmer husband's faves and after working in the cold all day it is sure to warm his belly.   In the picture above they were installing field tile on the farm I grew up on.  Under the soil there is tile that helps get the water where it needs to go so it doesn't stand in the fields.  Standing water can damage crops and decrease yields.  Sometimes tile can become damage or broken, so it needs to be repaired, or simply more tile needs to be added.  When the crops are out of the field in winter is the perfect time to do this, although sometimes the weather isn't ideal….you have to dress for the weather!
Anywho, back to this sandwich which was inspired by The Pioneer Woman..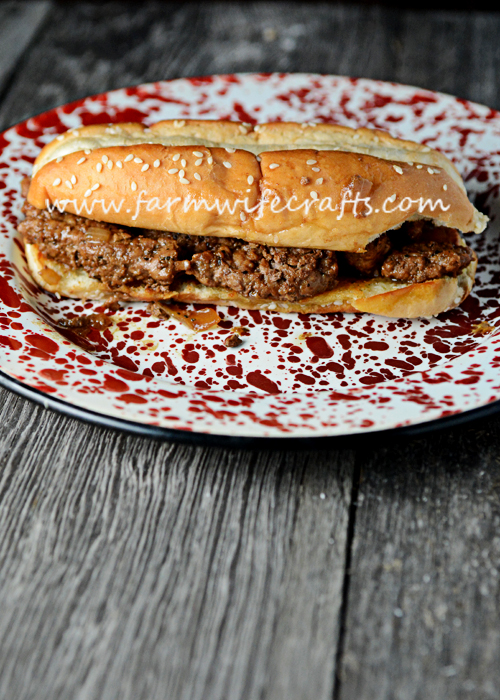 Cube Steak Sandwiches
All you have to do is cook the onion with a little bit of butter, brown the cube steak strips, then add the onion and more butter to the pan as well as Worcestershire sauce and simmer.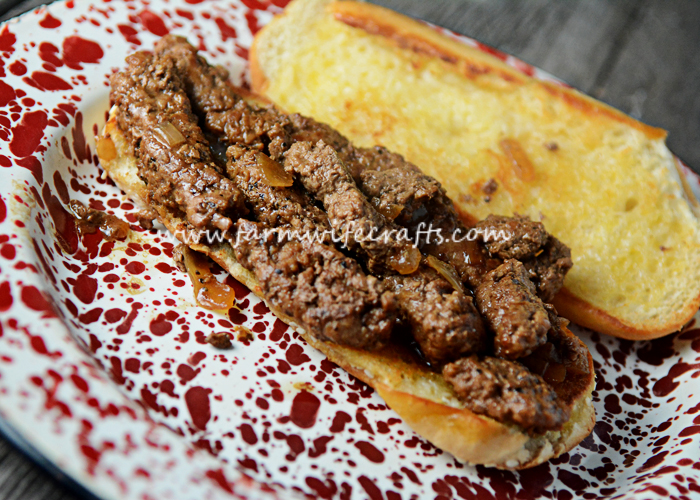 Add to butter toasted hoagie rolls and done.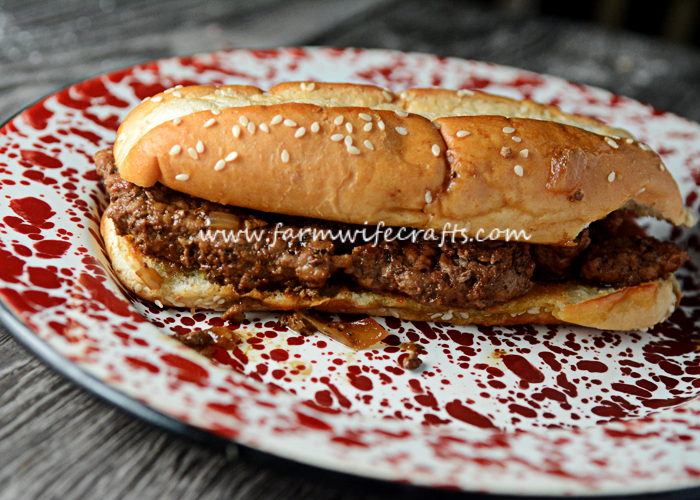 Oh my goodness.  My mouth is watering!  I think I need to make these right.now.
Cube Steak Sandwiches
Ingredients
1

Cup

onion

sliced

Butter

2

pounds

cube steak

1

teaspoon

seasoned salt

1

teaspoon

pepper

1/2

Cup

Worcestershire sauce

Hoagie rolls
Instructions
Slice the onion.

Melt 2 Tablespoons butter in a skillet over medium heat. Add the onion and cook over medium-low heat for about 5 minutes, stirring occasionally.

Remove the onion and set aside.

Slice the cube steak into strips about 1-inch thick.

Sprinkle the cube steak with the salt and pepper and toss with your hands to combine.

Add an additional 2 Tablespoons butter to the pan and melt.

Add the meat to form a single layer. Let it cook for a couple minutes, flip, then cook for 2 more minutes. Remove to a plate and continue this process until all the meat is cooked.

Put all the meat back into pan as well as the onions. Pour in the Worcestershire sauce and 2 more Tablespoons of butter.

Simmer for 10-15 minutes.

While the meat is simmering, spread butter on each side of the hoagie rolls and brown on a griddle.

Spoon the meat mixture onto one side of the rolls and serve.

You can use more or less butter and Worcestershire sauce to your liking.