Probably one of our favorite crafts to make are crystal pipe cleaner crafts.  Our kids love to watch the crystals form on the pipe cleaners.  Our oldest loves science experiments, so while some of the crafts that we make that are geared more toward our 3 and 7 year old may not be ones she wants to participate in anymore:(, the crystal pipe cleaners always keep her intrigued!  We've made crystal pipe cleaners for several holidays/seasons.  We've made crystal shamrocks, crystal snowflakes, and just recently we made crystal hearts to celebrate Valentine's Day.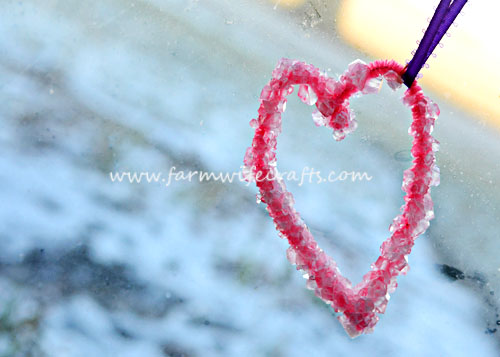 Crystal Hearts
This craft is so simple to make.  You will need: pink pipe cleaner (or purple or red), borax (this can usually be found in the laundry aisle), water, wide mouth mason jar, string (I used baker's twine), popsicle stick, ribbon.
Begin by bringing some water to a boil.  While you are waiting for the water to boil, make the heart from a pipe cleaner, tie a string to the top and set aside.  Then add 6 Tablespoons borax to a quart sized mason jar, 3 Tablespoons for a pint size.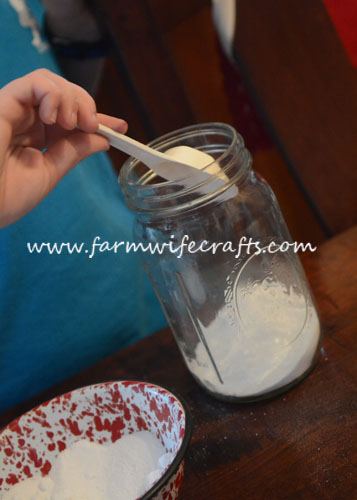 Carefully pour the boiling water in the mason jar (I highly recommend an adult doing this part.)  Stir the borax into the water until completely dissolved and the water is clear.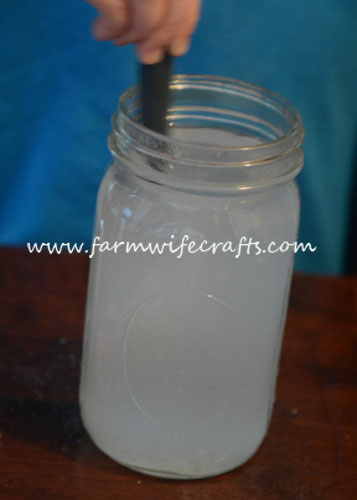 Next, place a popsicle stick through the string and lower the heart into the water mixture.  Be careful as the water will still be hot.  Make sure the heart isn't touching the sides or bottom of the jar.  You may need to squeeze the sides of the heart together to prevent this.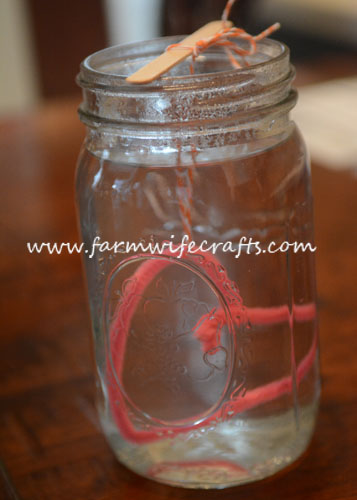 Now, wait patiently;).  We let our jars set on the counter overnight and when the girls woke up the next morning, they were amazed at all the crystals.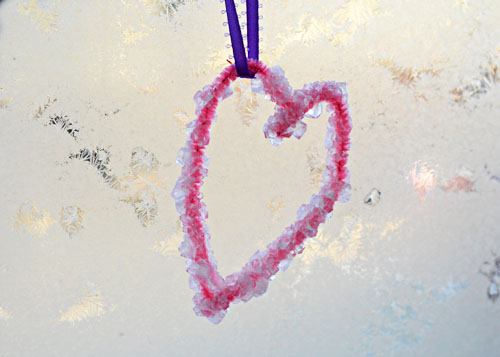 Cut the string and gently remove it from the heart.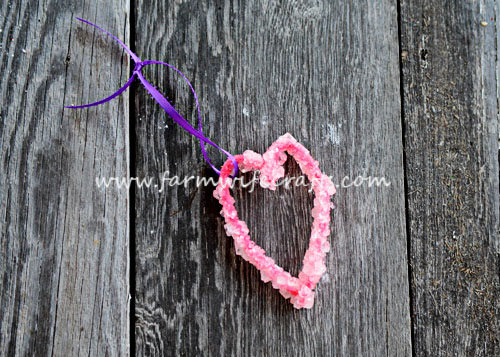 Add a colorful ribbon and hang in a window or doorway.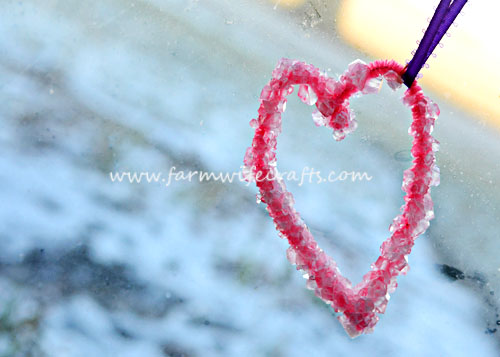 What You Do
Bring water to a boil.
Place 6 Tablespoons in a quart sized wide mouth jar, 3 Tablespoons in a pint size wide mouth jar.
Form the pipe cleaner into a heart and tie a string to the top.
Carefully pour the water into the jar.
Stir until Borax is completely dissolved and water is clear.
Place a popsicle stick through the string and carefully lower the heart into the water making sure it's not touching the sides or bottom of the jar.
Let the jar set overnight if possible.
Remove from jar, then cut the string from the heart and add a ribbon. Hang in doorway or window.