This recipe for Crockpot Chex Mix is my new favorite way to make a traditional holiday snack.
I love Chex Mix.  It is the perfect salty snack to enjoy at Christmas time…or any time.  I remember making it with my mom as a kid.  One of the few times you could actually find me in the kitchen growing up.  I didn't like being in the kitchen, but I have always loved Christmas, so I guess if it involved Christmas that seemed a bit more enticing to me.  Making Chex Mix as a kid seemed to take forever.  We made it in the microwave.  I honestly haven't made Chex Mix since I was a kid living at home.  A couple weeks ago I got a huge hankering for some good ole Chex Mix, but I wondered if there was an easier or faster way.  Then a light bulb went off and I decided to try it in the crockpot!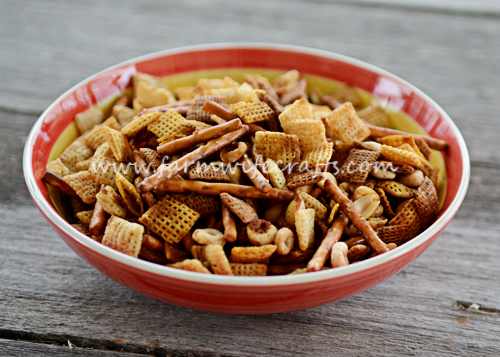 Now, I wouldn't say this method was faster as it took about 3 hours to cook, but it was definitely easy.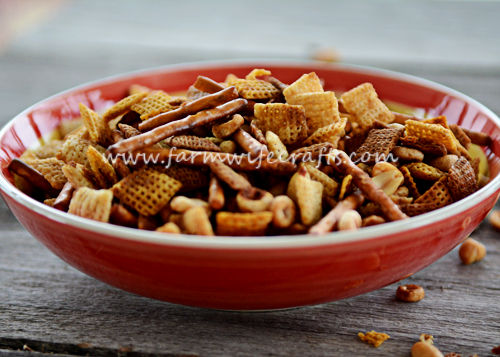 Crockpot Chex Mix
I used the same recipe that my mom used to use.  I just dumped everything in the crockpot, gave it a toss to make sure it was all coated and walked away.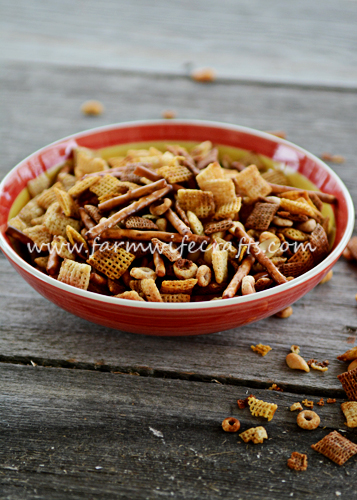 I stirred it every hour to prevent it from burning, then the last hour I stirred it every 30 minutes.  I also put a paper towel under the lid to soak up some of the moisture so it wouldn't get soggy.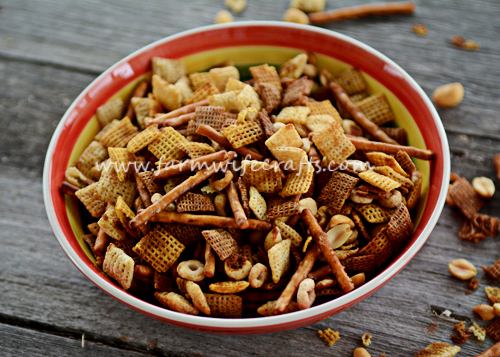 Lay it out on a cookie sheet to cool, then store in an airtight container or Ziploc bag and done!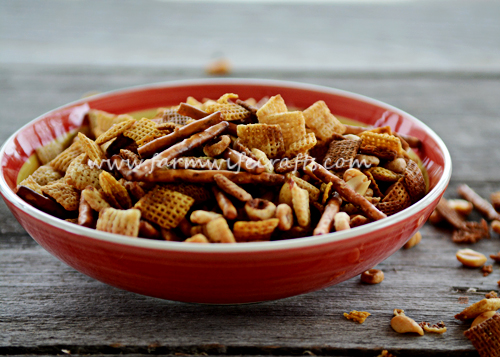 You can make this while you are busy wrapping presents, baking other holiday goodies, or just enjoying the season.
For more great crockpot recipes visit:
Crockpot Chex Mix
Ingredients
3

Cups

Rice Chex

3

Cups

Corn Chex

3

Cups

Wheat Chex

2

Cups

pretzel sticks

1

Cup

Cheerios

1

Cup

cocktail peanuts

6

Tablespoons

butter

melted

1

Tablespoon

seasoned salt

1/4

Cup

Worcestershire sauce

1

teaspoon

garlic powder
Instructions
Add cereals, pretzels, cheerios, and peanuts to a 6 quart crockpot.

In a separate bowl, combine butter and seasoned salt until salt is dissolved. Stir in the Worcestershire sauce until just combined.

Drizzle the sauce evenly over the cereal. Toss gently until cereal is evenly coated.

Place a paper towel over top of cooker and cover with lid. Cook on low for 3 hours, stirring at 1 hour, 2 hours, and 2.5 hours to prevent burning.

Spread the mixture onto parchment covered baking sheets until it cools to room temperature.

Store in an airtight container for up to 3 weeks.