I recently wrote a post explaining  the different cuts of beef and what they can be used for, how to cook them, etc.  It was so well received that I decided to do a post explaining the different cuts of pork.
Have you every stood at the meat counter and wondered what in the world the difference was between a pork chop and a pork steak?  Well, look no further because in this post all of the cuts of pork will be explained!  I'll also be sharing some of my friends' most favorite pork recipes along the way!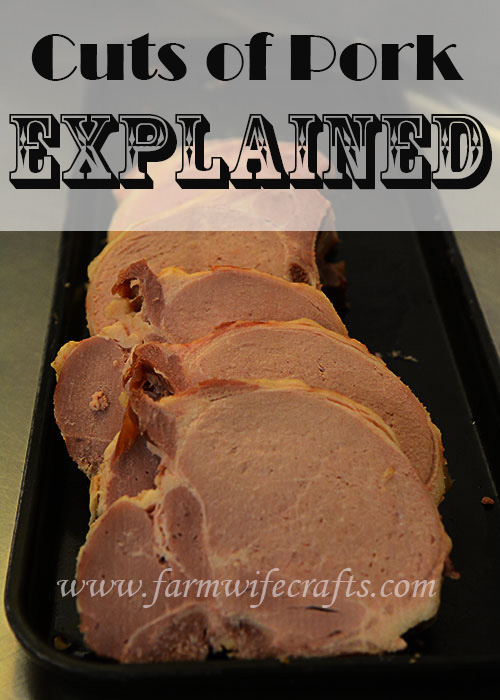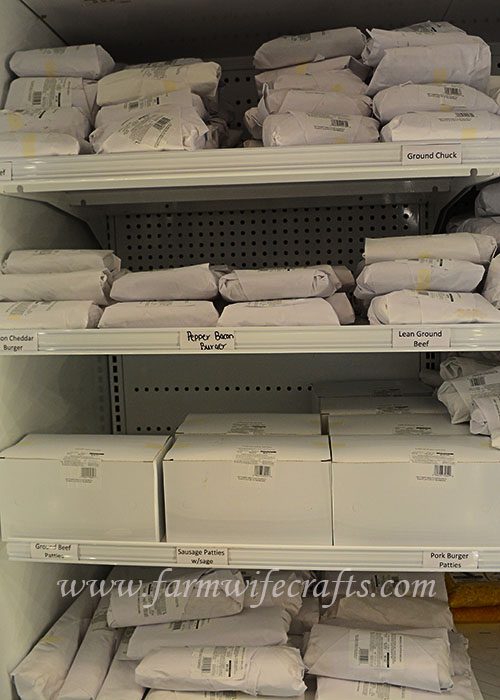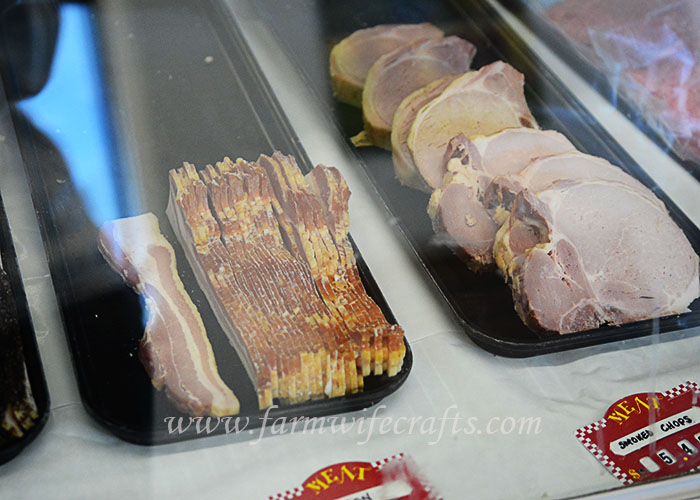 A pig is divided into 7 sections…well, actually 8 if you count the hocks, or pigs feet.  The sections are the same on each side.  If you are having a pig butchered, or are ever asked if you would like to have one butchered, know that they can be split into halves or quarter, or you can even get the whole thing to yourselves.



Blade Shoulder
First we will begin up by the head in the section called the Blade Shoulder.  Depending on the region you live, this may also be called the Boston Butt, or the Shoulder Butt, however the lower arm region is called the arm pork roast.  The upper arm portion is called the Blade Pork Roast and comes from the area near the loin and will contain the shoulder bone.  The Blade Roast is very well marbled, which means it has some fat mixed in with the meat to give it a marbled look and makes it more tender and flavorful.  These roasts are delicious slow-cooked, cut-up for stews or as pulled pork.  The average size of a boneless roast from this area is 4-7 pounds, bone-in would be about 6-9 pounds.
Megan from These Old Cookbooks shares a delicious recipe for Island Sweet and Sour Pork that uses a pork roast.

And Crystal from Chasing Saturdays has this yummy recipe for Crockpot Pork Carnitas on her blog.

And this recipe for Crockpot Cola BBQ Pulled Pork is from Yours Truly and it is my favorite way to serve pulled pork.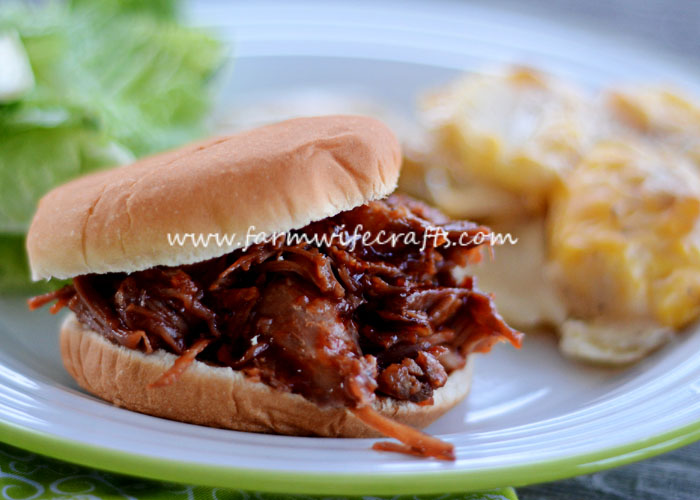 Also, from this area are the Blade Steaks, also called Pork Steaks, or Ham Steaks.  These steaks come from a roast that has been sliced.  Since they do come from the shoulder area, they do contain the blade bone.Like the roasts, they are very flavorful and tender because of the marbling and they are excellent on the grill!  When cooking these steaks,  becareful not to overcook and this will make the pork very dry and tough.  Pork should be cooked to 145 degrees with a 3 minute rest.  This will result in meat that is juicy and very tender.
Liz from The Farmwife Cooks shared her recipe for Grilled Pineapple and Ham Steak with us.  This looks so good and grilling season is here, so I can't wait to try it!

Picnic Shoulder
An area that gets a lot of exercise, the picnic shoulder can be cut into a roast although it will be a little bit tougher than the Shoulder Butt area.  Some of these roasts are smoked.  A lot of the ground pork comes from this area, although the ground pork can come from anywhere on the pig.  Any of the cuts that people don't prefer when the animal is processed can be made into ground pork.
Jeanette from Fencerow to Fencerow, and is a hog farmer, shared her recipe for Biscuits and Gravy with us.  In the picture below, she shows us what the sausage looks like as it's going through the grinding process.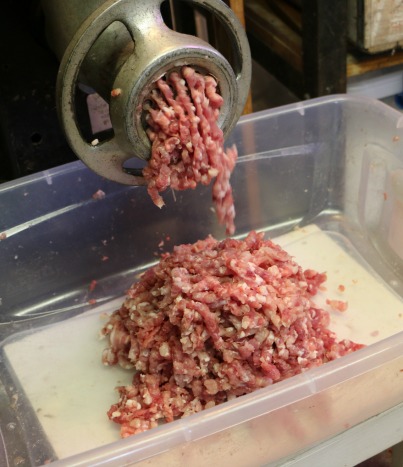 Jent from Jent's Front Porch, also a hog farmer, shares her recipe for Hog Farmer's Chili where they use ground pork insteak of hamburger.

Some people prefer sausage links. The sausage which is ground pork in a casing also may come from this area as well as anywhere else on the pig.  The sausage can come fresh, cured (which means saving and preserving the meat), or preseasoned.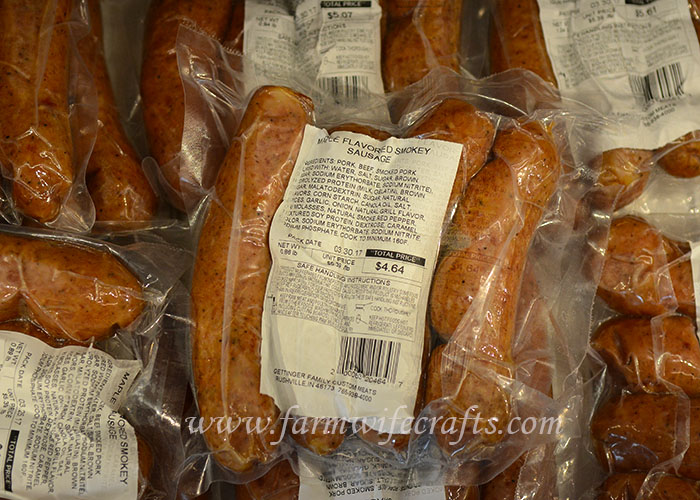 Loin
Next, we will go to the loin area which is where a lot of the cuts come from…and I mean A  LOT!  Pigs are bred to have extra long loins, or backs so they can have up to 17 ribs(beef only has 13).
The tenderloin comes from the rear of the pork loin.  It is the most tender cut of pork and usually weighs between 3/4 pound to 1/2 pound.  It can be roasted, grilled, or sauteed and has a mild flavor that is best served with a rub or marinade.
Heather from 3 kids and Lots of Pigs, a pig farmer herself, makes a delicious Garlic Pork Stir-Fry.

And Lana from Lana's Life shares her recipe for Pan-Fried Pork Tenderloin.

The most popular cut from the loin area are the beloved Pork Chops.  These come in a variety of different cuts.

Porterhouse Pork Chops have a T-Bone shape to them and come from the center of the loin.  They have a lot of meat on them and some tenderloin meat as well. (this is the most common cut.)
Ribeye Pork Chops come from the center of the loin.
Sirloin Pork Chops are from the hip area and include the hip bone.
New York Pork Chops are also knows as the center cut chops and are boneless.
Blade Chops are thicker and more marbeled.  They can also be butterflied and sold as country-style ribs.
Any of the porkchops can be smoked for a delicous smoked flavor. (my personal favorite way to enjoy a pork chop.)  If they are smoked, we enjoy them on the grill!
Kimmi from Kimmi's Dairyland has a delicious recipe for Parmesan Crusted Pork Chops on her blog.

This recipe for Pork Chop Delight is another favorite of ours and is perfect for busy nights as it only takes a few ingredients.  I do not use smoked pork chops for any recipe like this.  I save those for the grill and the grill only!:)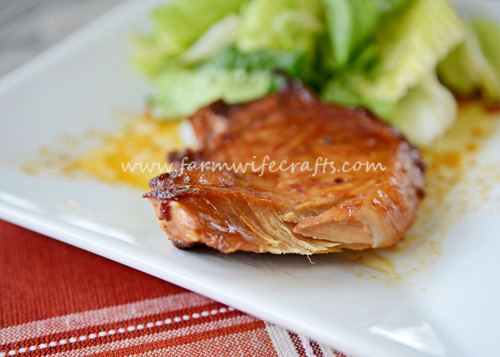 The Pork Rib Roast of Rack of Pork also comes from the loin area.  This cut contains a fair amount of fat which makes it very flavorful.  This is the choice for many elegant dinners and needs to be "frenched" before cooking, which means the meat is cut away from the end of each rib so that part of the bone is exposed.  You can ask the butcher to do this for you.
The Pork Rib Roast can also be tied into a circle before roasting.
It needs to be "frenched"  before cooking as well.
Another cut is the Loin Roast.  This can be boneless, or can be left bone-in.  With the bone in it is juicier.  The loin roast weighs about 2-4 pounds.  These are delicious brined or rubbed with a spice mixture, or even barbecued.
All of the cuts from this area can be sliced, cubed, or pieced as well.  These cuts are perfect for kabobs or stews.  The strips are great for sandwiches.
Next are the ribs!  These are a favorite among a lot of people.  The Back Ribs are often referred to as Baby Back Ribs because they are a bit smaller in size.  They can be prepared with either a wet or dry rub.  A full rack weighs about 1 1/2 to 1 3/4 pounds.
Marybeth from My Fearless Kitchen has a mouth watering recipe for Honey-BBQ Oven Baked Ribs.

Country Style Ribs are the meatiest of ribs and are sold as slabs or individual servings.  If you don't like to get your hands all sticky then these might be the choice for you.  They are perfect to eat with a fork.
Side or Belly
Mmmm Bacon!  Who doesn't love bacon?  It makes everything better, right?  Well, the meat from this area is cured and smoked and becomes bacon.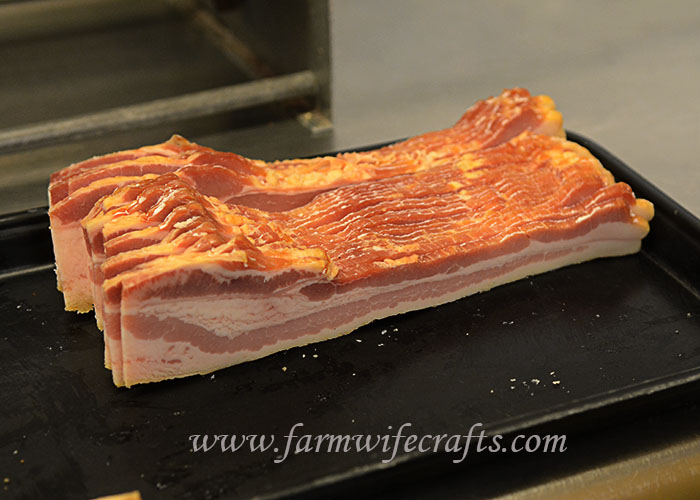 The flavor from the fat in this area gives bacon its sweet flavor.  Bacon can be cut into: thin slices which will be about 35 slices per one pound package, regular slices which will be about 16-20 slices per pound, or thick cut which will be about 12-16 slices per pound.  The bacon can also be peppered.
Bacon can come in slab form which is one solid piece.  It will have a rind around it which will need to be removed before slicing.
Pork Belly can also be cut into steaks and is most tender when it is slow cooked.
Spare Ribs
The Spare Ribs are located between the Belly and Loin area.
These ribs have a delicious meaty flavor, however they are the least meaty.  If the bone and cartilage are removed from the spare ribs, they are called St. Louis Style Ribs.  These are flat which makes them perfect for recipes that require the ribs to be browned before baking.
Ham
And last, but certainly not least is the Ham area.  Can you guess what comes from  that area?  Yep!  The ham;)  This is another area of the pig that is most exercised, so it is actually low in fat!  Hams are labeled according to the amount of water added during the curing process.
Ham with natural juices has had little water added and is the most common choice for holiday cooking.
Ham with water added holds more water during curing and is a good choice for steaks and shaved ham.
Ham and water product is often the ham that is at the deli counter.  It has the most water added during curing and is best served cold.
Hams can either be boneless or bone-in.  Most people prefer bone-in because of the flavor and look, but the boneless hams are easier to carve.  Most hams are fully cooked and can be eaten warm or cold.  Be sure to check the label for preparation instructions.
Shew!  I know this is a lot to take in, but hopefully this helps a little bit!






This post was sponsored by The Glass Barn, which is funded by the Indiana Soybean Checkoff.